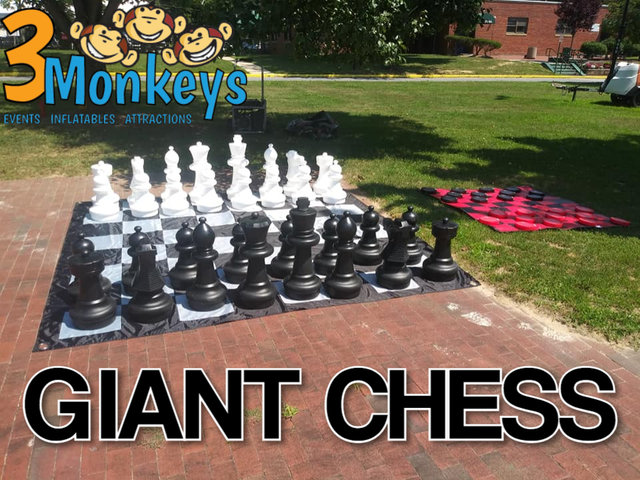 Description
Oversized Chess Lawn Game Rental
3 Monkeys Inflatable
Rentals delivering to York, Harrisburg, Lancaster, Carlisle, Baltimore, Reading, and more Pennsylvania & Maryland Cities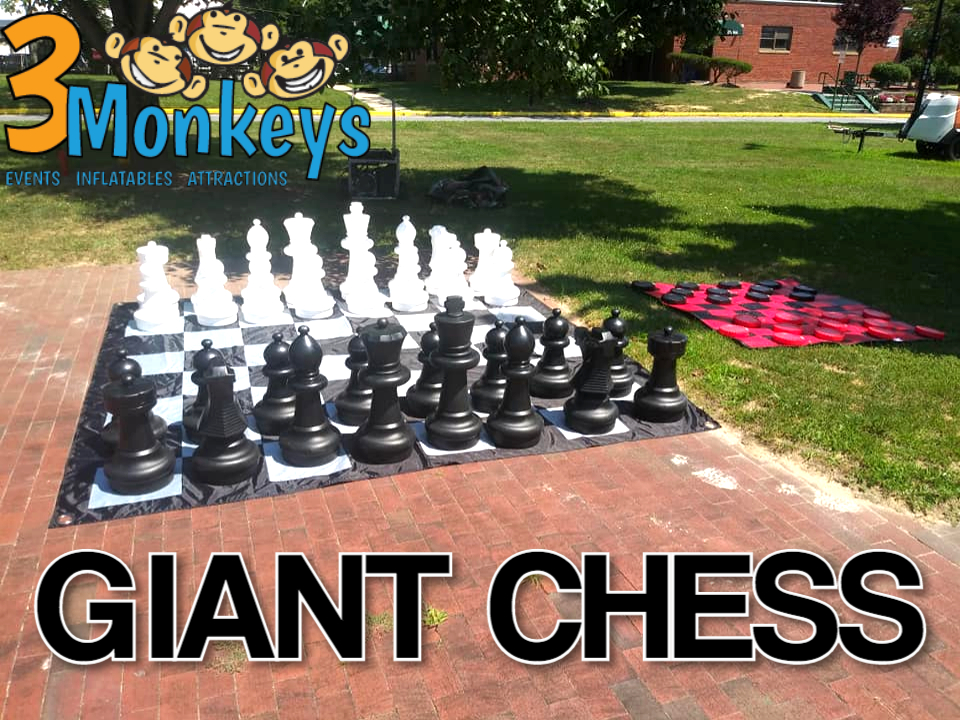 Fun for everyone. Oversized Giant Chess is a great backyard, campground, shopping mall, Grand Opening, Old Age Home, Municipal park, libraries, school, university, corporate event, local park, resort, hospital, nation night out events, post prom, and so many other fun places. 3 Monkeys Inflatables Rentals offers fun, excitement, and laughter to your backyard and giant game rentals!
The Giant Chess Game is a great beginner easy to learn game perfect for both outdoor, indoor, and gym settings. It is nicely sized at 10x10.
Benefits of Playing Giant Chess
A large chess set can bring a classic chess game outdoors and give it a physical dimension that most regular-sized board games lack. Also, since the pieces are human-size, you can have more than two people participate. Everyone can take part in a single game, moving the pieces around the board and working together on strategy. This creates a team-building opportunity.
Giant Games perfect for any type of event
This type of chess set turns the game into a social event. You can get your children or younger family members to participate in a group game. Young players may be attracted because of the unusual size of the pieces and have a reason to learn chess (instead of spending time on video games). The pieces and board are portable, so you can take the game with you when you go on a picnic or camping or to the beach. The unusual size of the chess pieces will always draw attention and create a fun, social environment around you.
We deliver to all of Central PA and Northern Maryland in popular cities like; Mechanicsburg, Enola, Camp Hill, New Cumberland, Hummelstown, Carlisle, Etters, Middletown, Hershey, Elizabethtown, Palymra, Annville, Lebanon, Myerstown, Steelton, Pine Grove, Duncannon, Jonestown, Halifax, Newport, Millersburg, Lewisberry, Mount Wolf, Lemoyne, Boiling Springs, Shermans Dale, Marysville, Dauphin, New Bloomfield, Mount Holly Springs, York Springs, Lykens, Millerstwon, Grantville, Fredericksburg, Elizabethville, Liverpool, Bethel, Tower City, Landisburg, Tremont, Williamstown, Loysville, Wellsville, Bainbridge, Highspire, Thomsontown, Grantham, Ellitosburg, Dalmatia, Wisconisco, Gratz, Summerdale, Cornwall, Maytown, Mount Gretna, Rehresburg, Struasstown, Plainfield, Emigsville, Muir, Pillow, Rheems, Lawn, Mount Aetna, New Kingstown, Campbelltown, New Buffalo, Quentin, Rossville, Ono, Perry County, Cumberland County, York County, Lancaster County, Adams County, Franklin County, Berks County, Schuykill County, Northcumberland County, Juanita County, Bucks County and many more!