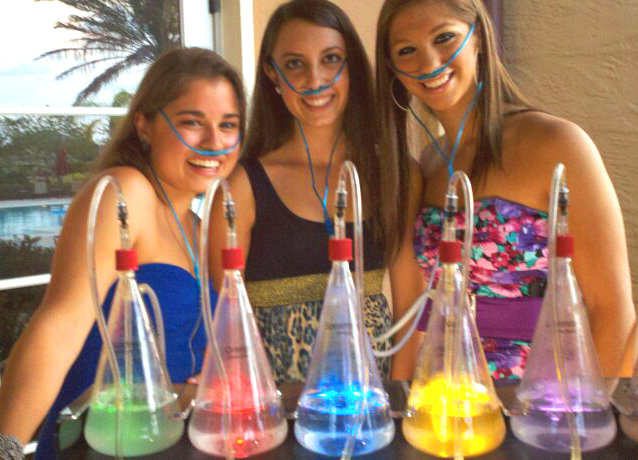 $1,100.00
Please call to reserve this item.

Description
Oxygen Bar Novelty Rental Central PA

3 Monkeys Inflatables offering Oxygen Bar Novelty Rentals in Central PA and Northern MD area.
What is an Oxygen Bar?
3 Monkeys Inflatable provides a free-standing Oxygen Bar in which participants can stand or sit (whichever makes them most comfortable). They will breathe 90% pure oxygen and aromatherapy from a disposable nasal cannula (nose hose). The bar can serve up to 6 people at a time and manned by one technician also knows as "oxy-baristas."
How does it work?
The oxygen is not kept under pressure nor is it administered from a tank. 3 Monkeys Inflatables Oxygen Bar is produced by oxygen concentrators (generators) which take the ambient air that we breathe every day and separates the nitrogen from this ambient air with a molecular filter. Most of the nitrogen is expelled during this cycle and the oxygen is concentrated and pushed out of the machine through a tube that is attached to the Aromarizer, which sits on top of the bar. The bartender/technician controls the flow of the oxygen to the individual bottle that holds water and the all-natural essential therapeutic-grade aromas. In turn, the bottles bubble when turned on and oxygen is forced into the bottle which has another open-ended tube on it. Nasale Annuals are connected to that tube while the user breathes normally. Please note: Oxygen is a very dry gas and needs to be humidified and this is one of the two reasons why it is passed through the water. The other reason is to have it pick up the pleasant scent.
Event Types
These are great for Corporate Events and Student Life at colleges/Universities. This is an innovative way to keep staff/students engaged socially and academically. Colleges, Universities, High schools, and Corporations are now using Oxygen bars to help relieve stress, and create an overall increase in health and stress-free wellness. Think about exam weeks, stressful deadlines, everyday stresses that are occurring in students, and co-worker's lives.
CREATE A STRESS-FREE DAY FOR STUDENTS/STAFF
Students/Staff line up for the relaxing and stress-reducing effects by breathing oxygen with the added benefit of aromatherapy through the use of all-natural and organic essential oils. We have up to 6 scents per day/session that is offered to choose from. Lavender and Vanilla add to the already calming effects of oxygen, while other scents such as eucalyptus and peppermint will energize students/staff looking to be "on top of their game" studying, focusing on a big project, or just allowing them to de-stress and re-group.
Just a 10 minutes session on an oxygen bar provides:
Healthy revitalizing oxygen
Stress relief
Benefits of Aromatherapy
A social environment where students and staff can interact with their peers/co-workers.
Homecoming Events
Fraternity and Sorority Pledging Party and Events
Smoking Cessation Events
Student Orientations
Concerts and Campus Special Events
High Schools
Corporate Events
Event Planners
Parties
Trade Shows
Delivery Area
3 Monkeys Inflatables proudly deliver in York, PA, and surrounding areas in Central Pennsylvania and Northern Maryland like popular cities such as Lancaster, Harrisburg, Hershey, Ephrata, Lititz, Hanover, Owings Mills, Manchester, and many more! Give us a call or email us if you have any questions.