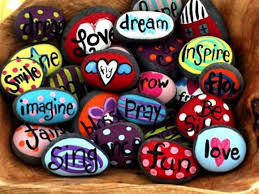 Description
Painted Rocks Make and Take
3 Monkeys Inflatables offers Novelty Rentals in Central PA & MD

40 unique Rocks - A large number of paints to decorate your rocks to the most creative combinations Additional Rocks would be $150/40 additional rocks. Rock project will take up to 1 1/2 depending on class size. We can rent you a picnic table or table and chairs if you would like us to bring a lot of seating. You would just need to let us know how many seats you want at a given time and we will add that to your order for you. Feel free to call us for more questions you might have on this craft.
Creative Crafts
Spread kindness and positivity by painting and hiding rocks throughout the community, college, or something to make and take and spread love to whoever your participants want. The Painted Rocks Craft comes with all the paints, rocks, and supplies like Markers, and paint to create the perfect masterpieces. Hide your rocks inside or add it as a special gift for a desk or work of art to display anywhere in your home or business. Arts and Crafts are known to encourage positivity, creativity, and self-expression all-important for kids and adults for having positive ways to express themselves.
Skills Required
That is the best part, there are no skills required to paint rocks as it's art of expression. Decorative rocks are easy and come out beautiful and with great success as it is so much you can do... You can paint the rock with just colors, or with a favorite quote, or thought. You can add patterns or just your favorite colors, whatever you do it is your own and there is no right or wrong way to make your painted rock to display. Painted rocks are all the rage right now as Kindness Rocks Project, which has become especially important while navigating through the Covid closures with a lot of people having the pressure of not seeing loved ones, smiling faces, and just personal contact was hard to deal with. We love the thought of creating a masterpiece and gifting it to someone to brighten their day to display outside, on a shelf, at the office or in a garden! Painted rocks can even be great paperweights! You can even change it up and make the trending flip rocks that allow the beholder to fip to receive one of 2 messages like " Life is tough", and then flip so and so is you. Or "Don't count the days", "Make the days count." These are just a few examples of masterpieces you can make.