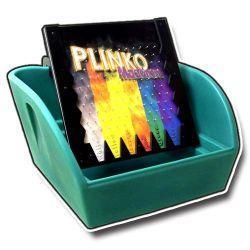 Plinko Carnival Bin Game
Plinko Carnival Bin Game Rental York Pennsylvania Area
3 Monkeys Inflatables is your carnival game rental specialist in Harrisburg, Lancaster, Hanover, Gettysburg, Hershey, Reading, Baltimore, Towson, and Hagerstown Area.
About the Plinko Carnival Bin Game
3 Monkeys Inflatables is helping you spice up your carnival, Mayday, church event, corporate event, backyard party, or special event with the Plink Carnival Bin Game. This is played like the beloved Mobile Plinko Game from the game show Price is Right. However, before you play this version of Plinko you choose and announce the color that you think will be the winner. Then, you simply lay your Plinko washer flat against the board, look at it carefully, and try and decide which set of pins to release your chips in so that you get it in the color you chose. The goal is to pick just the right path for your chip to land in your predicted color. You can make this game even more fun by giving prizes for each win or by simply giving points and seeing who the high point winner is once all the competitors have taken their chance at this awesome game.
Want to add to the Plinko Carnival Bin Game and complete your party and carnival game rental experience?
Adding several carnival games to your event will make it the ultimate carnival, special event, festival experience, or backyard party experience. Ask about game packages if you are planning an event where you wish to have multiple game options for your guests. Adding games to your event can be what classifies a backyard birthday party as extraordinary and will leave the kids talking about how fun your party was for months to come. You can keep all age groups (including adults) occupied at your party or event with carnival games. No one will ever be bored or without something to do when you add games to your order. You will find that the kids will challenge the adults and the competition will be intense for the duration of your event.
How to book this item
To reserve this item for your next event, click on the 'add to cart' button above, select your event date and times, and follow the directions to complete your order and pay your deposit. 3 Monkeys require a minimum of a 25% deposit to reserve the rental items. The deposit goes directly towards the rental price and is subtracted from the total. It is NOT in addition to the total rental price. If you do not wish to use the online reservation system, please feel free to contact us and let one of our expert reservation specialists assist you with the booking process. We can even take your deposit over the phone. We are always available to assist our customers in any way that we can. 3 Monkeys Inflatables provides bounce house and party rentals to all, but not limited to, Central PA and Northern MD.