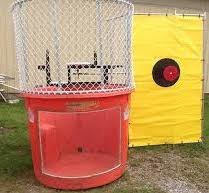 Setup Area: 10x10
Monitors: 1 required at all times (drained when done)
Outlets: none
Description
Red Dunk Tank Rental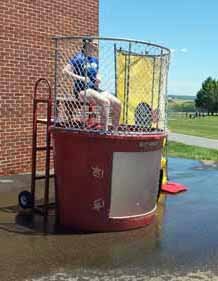 Red Dunk Tank Rentals Delivered to York, Lancaster, Harrisburg, Bel Air, Baltimore, Freeland, and other Central Pennsylvania and Northern Maryland cities.
About the Red Dunk Tank Rental
Our Dunk Tank rentals are frequently rented for various types of events. From church fundraisers, maydays, baseball opening day celebrations, park days, camps, corporate events, festivals, bridal or baby showers (where you dunk the Groom or Dad to be!), charity event fundraising. You can use the dunk tanks for just about anything you can think of! Dunk tanks are also commonly used at carnivals.
Sometimes the dunk tank rental can be your leading money generator at your event. All you need to do is place someone in charge of collecting money in exchange for throwing the dunk tank balls at the target. You would be surprised how people reach into their pockets when a teacher, principal, coach, youth leader, ceo, boss, or president is in the hot seat! Students, in particular, love the opportunity to dunk their teacher, gym teacher, counselor, or principal!
How do you participate in the Dunk Tank?
A participant will approach the dunk tank and be given a dunk tank ball to throw at the target. They will focus, aim, and take their best shot at hitting the target which will release the seat and send the person who is sitting on the seat, splashing into the water filled tank. Add to the fun by having the person on the seat playfully taunt the crowd to encourage participation. You can give them a water squirter to squirt passing event-goers to get them to want to retaliate by throwing a dunk tank ball. This rental can be a ton of fun for everyone involved!
Specification of Dunk Tanks for rent:
Specs: 500 gallon
Polyethylene Tank
Vinyl Coated Steel Protective Cage
High Density, UV Resistant Seat
250 pound weight capacity

Requirements:
You will need a water hose that reaches to the area to fill up the Dunk Tank. (on average it will typically takes up to 45 min to fill with a moderate flow hose that is about 25ft)

Attendant needs to be over 18 years of age

Participants using the dunk tank needs to be over 18 years of age.

We do not allow non-swimmers

250lb weight capacity

You are required to drain the dunk tank when you are finished using it so that there is no chance of a person stumbling near it without someone seeing and drowning.

Delivery Area
Our delivery area includes cities in all of Central Pa and Northern Md including York, Red Lion, Dallastown, Felton, Delta, Brogue, Stewartstown, Glen Rock, New Freedom, Spring Grove, Manchester, Columbia, Hempfield, Millersville, Lancaster, Brownstown, Manheim, Lititz, Mohnton, and more!
.00