Roulette Game Table Rental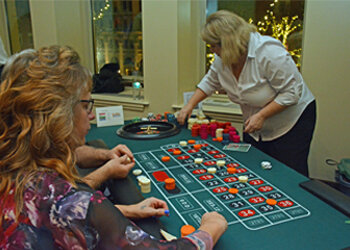 $449.00
Please call to reserve this item.

Actual Size: 3W x 6 1/2 L x 3 W
Description
Roulette Casino Game Table Rental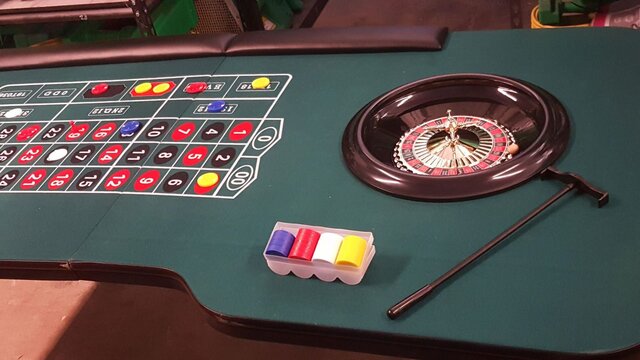 Casino Game Rentals in York, Lancaster, Harrisburg, Reading, Bel Air, Baltimore, White Hall, Columbia, and other Central PA and Northern MD Cities
What is Roulette?
Did you know that 'Roulette' is French for "small wheel"? Roulette is a random numbers game so it is all a game of luck and chance! In this game of chance, players bet on red or black numbered spaces that are near the small wheel, which is numbered 1 through 36. Once the wheel is spun a ball goes round-and-round in the opposite direction until it comes to a stop. Players are then paid out according to their bets. Several things matter in this casino game rental: red, black, even numbers, odd numbers, a single zero, a double zero, high (19 through 36), or low number (1 through 18).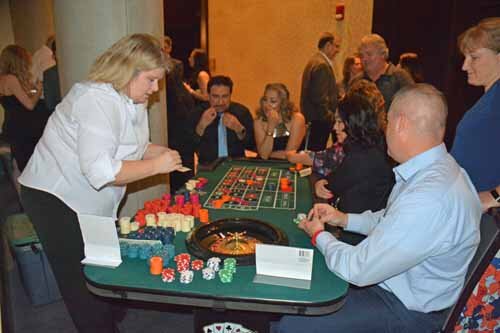 How to Play the Roulette Casino Game.
Players will receive a certain color of chips to differentiate the difference between players' bets. This will also allow the dealer to keep track of who gets what payout according to bets. Players will wager their chips on the numbers they like and the wheel determines the winners. Our tables support up to 6 players comfortably. They are finished in a nice green felt with padded bumpers around the edges. These tables are authentic as you can get without being at an actual casino. This is a very social game as players have time as the wheel is spinning and while bets are being paid, to converse and laugh with one another. This makes it a great game for events like corporate picnics, bachelor parties, and holiday parties.
Pairing Other Casino Game Tables with Roulette
Often coordinators want to put on a great casino event. Pairing well with Roulette are our Blackjack and Poker Casino Table Rentals. Or perhaps even the Craps Casino Table for Rent. Adding additional tables allows for more participants at a given time as well as offers a variety of games. Participants may not know how to play all the games but that's okay. That is part of what these parties are all about. They give novice players the opportunity to learn the ins and outs of the games before they tackle them in an actual casino with real money! We also have Craps which players seem to be less familiar with and the game is a little harder to learn. It is also recommended that you include a Pit Boss with your Casino Party Rental so he/she can oversee the event and roam the event to make sure things are going smoothly.