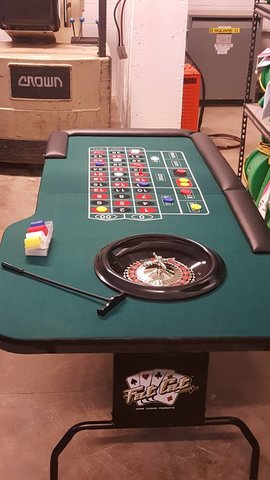 Roulette Game Table Rental
Roulette Casino Game Table Rental
Roulette is a real game of chance. Will it be red or black…or maybe even green, even or odd, high or low? Players wager their chips on the numbers they like and the wheel determines the winners. Players use our colored chips to designate who is on what spot on the table which allows the dealer to keep the payouts strait.
Our tables support up to 6 players comfortably. They are finished in a nice green felt with padded bumpers around the edges. As authentic as you can get without being at an actual casino.
This is a very social game as players have time as the wheel is spinning and while bets are being paid to converse and laugh. This makes it a great game for events like corporate picnics and holiday parties.