Shark Attack Frame Game #537/#538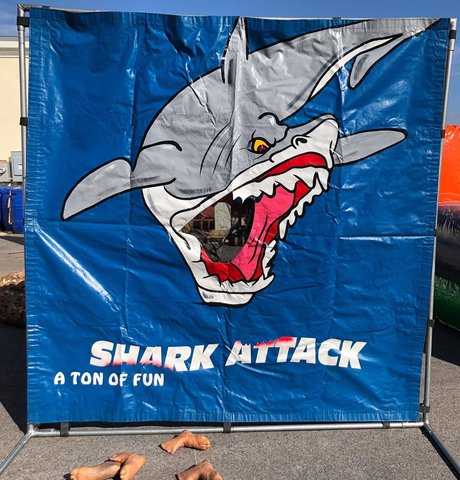 $200.00
Please call to reserve this item.

Description
Shark Attack Frame Game Rental
3 Monkeys Inflatable
Rentals delivering to York, Harrisburg, Lancaster, Carlisle, Baltimore, and more Pennsylvania & Maryland Cities
Shark Attack Frame Game rental is one you probably have not seen before. It's unique, interesting and terrifying! As you attempt to throw body parts in the sharks mouth to avoid becoming the shark bait. This is just a fun silly game that makes everyone laugh at the funny nature that you are throwing body parts into the sharks mouth. The most body parts that land in the shark mouth becomes the winner. Add this and many other of our carnival frame games, along with our lawn games, bin games, and Giant Games to your next party or event.
About the Shark Attack Frame Game
Let us quick talk about adding something fun and silly to your event! I would venture to say that this Shark Attack Frame Game rental is probably one you have not seen before! It is extremely unique, interesting, and terrifying all at the same time! To play the Shark Attack game, you step up and make your attempt to toss body parts into the shark's mouth so that you can avoid becoming shark bait! This is just a fun and goofy game that makes everyone laugh because it is not every day you see something standing with a rubber foot or hand in their hand as they are about to attempt to toss it into the mouth of the shark. How do you win? If playing as a two-player game, the player that lands the most body parts in the shark's mouth is the winner! If playing as a single player game, award a prize for getting a targeted number of limbs in the shark's mouth. This game pairs awesome with our Shark Dunk Tank for a shark or beach themed party. Add other games from our bin games, frame games, or inflatable games to complete your next event.
Do I need an attendant for the Shark Attack Frame Game?
Quite simply, the answer is, Yes! When you rent with 3 Monkeys Inflatables, we require you to have at least one attendant per rental item. This does not however mean that you must get your attendants through our company. You can add attendants to your rental order, and they are based upon availability. If you choose to hire or find your own attendants, please make sure they are over the age of 16. This is particularly important for Inflatable ride rentals. If you are having a larger event, with many items we like to suggest contacting your local high school guidance department to find out if they have any clubs or individual students looking to gain volunteer hours. Having attendants sign up for 30- or 60- minute time slots is another suggestion we like to make.
What type of surface can you set up on?
Most of our rental items can be set up on grass, concrete, asphalt, turf fields, or indoors. This is a particularly important detail during the booking process because we need to be able to arrive prepared with the correct items to secure your rental items. When securing on grass we often use stakes for the items that allow. Setting up indoors, on concrete, on asphalt, or on turf we use sandbags or water bags. This is a detail that cannot be changed at the last minute because we need to load the proper equipment on the delivery trucks. There are a few rental items in our inventory that are specific to what type of set up surface we require. If you are unsure, please contact our office by calling 717.650.7657 or emailing info@3monkeysinflatables.com