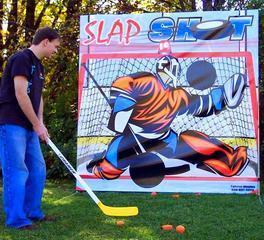 Slap Shot Hockey Game
Slap Shot Hockey Game Rental York Pennsylvania Area
3 Monkeys Inflatables is your Hockey Festival Frame Games Rental specialist in Harrisburg, Lancaster, Elizabethtown, Hanover, Gettysburg, Hershey, Reading, Baltimore and Bel Air.
Slap Shot Hockey is a winner at any sporting event, fund raiser, or carnival. It's a very simple game but irresistible! Step up and see if you can slap the puck threw either of the two holes right past the goalie. Hockey players from the little tikes to the big boys will be lining up to give it a shot.
Frame Game Rentals
Frame Game Rentals are easy to play backdrop game rentals that allow for just about any age to participate and have fun with. The ease of the game makes it a winner for elementary school events, backyard parties, corporate events, bar/bah mitzvahs, block parties and everything in between.
Hockey Game Rentals
Your hockey lover is going to fall in love with this game as he/she shows off his mad skills to his/her friends and family. This game is simple to participate in with just literally hitting the hockey puck into the hole to avoid the goalie! This game rental is perfect for a hockey themed party, and comes with 2 plastic pucks and a hockey stick for the game. We recommend this game rental for ages 5 and up. It is rated a medium for level of difficulty.