Spin Art Machine with supplies for 50

Description
Spin Art Machine Rental with supplies York Pennsylvania Area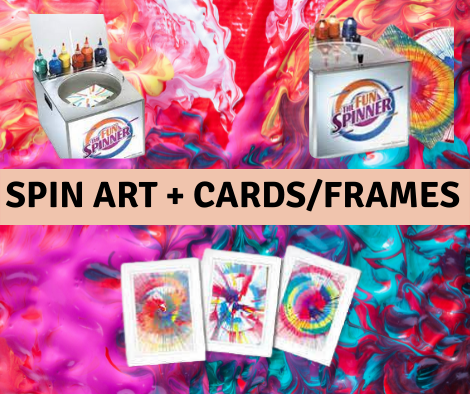 3 Monkeys Inflatables is your Spin Art Game Rental specialist in Harrisburg, Lancaster, Dallastown, Hershey, Reading, Millersville, Hanover, Baltimore, Frederick, and surrounding areas.
York, Pennsylvania Spin Art Machines for rent are popular for all types of events. It's one of those great extras that is usually something that gets the kids excited and is a great low-cost extra fun activity. Great for preschool events, camp events, school events, Jewish events, college events, church events, and more!
What's included in the Spin Art Rental?
This comes with the Spin Art Machine and 50 cards, 50 frames, and 3 paints that will allow you to have 50 guests make a beautiful and completely unique painting that they came up with using the pattern they decided on squirting the paint into the slot to get the colors and effect they are looking for. This is definitely a must-have with the preschool, and grade school through middle school crowd. We even have Spin Art Frisbee's too if you are looking for something else to make it unique. The Spin Art Machine Rental comes with the Spin Art Machine, 50 cards, 50 frames, and paints that come in THREE different colors. This will allow 50 of your guests the opportunity to make a beautiful and completely unique painting that they get to come up with using the pattern that they decide, by squirting the paint into the slot to try to achieve the color combination and splatter effect they may be looking for. Spin Art is an absolute must-have item at your event where there are preschoolers, grade-schoolers, and even middle schoolers! Even colleges frequently rent the Spin Art machine for their students. In addition to cards and frames, we have frisbees available in case you are looking for something else to make it an even more unique experience. You can also add our frisbee package to the spin art machine rental to add some summer fun paired with the creativity of spin art!
Looking for additional items to complete your party rental?
3 Monkeys can complete your party needs with all the other party essentials you need because we have tons in our inventory to offer our party planners! Do you find yourself in need of tents or canopies to provide shade for your guests? 3 Monkeys has you covered. We have 10x10 canopy rentals as well as larger tent rentals to accommodate a higher quantity of guests. Let us make planning remarkably simple for you and tell us how many tables and chairs you need so that we can be your one-stop-shop. We have a variety of concessions to choose from so that you can offer your guests a tasty treat! Choose from cotton candy, popcorn, snow cones, shaved ice, mini-fair donuts, or a hot dog roller. And do not forget the inflatable rides, because everyone loves them! And lastly, be sure to check out our carnival game or oversized game selections.
Why choose 3 Monkeys for your party and event rental needs?
3 Monkeys is family-owned and operated and has been in business since 2007. The happiness of our customers is why we do what we do. Often seeing the smile on the guest of honor's face when we arrive to set up is priceless! We also have extremely high expectations of our employees and to help them achieve these expectations we provide high-quality, continuous training to them. We treat not only one another because we are, but our employees and our customers, like family. We want your party to be as successful as you do, so we will do everything we can to make sure that happens. We pay attention to all the party details at the time of booking and will be in contact with you throughout the rental process so you will always know what comes next. We welcome all questions and are happy to help you with your party planning needs.