Splash Down Waterslide (#63)
Size 33L X 10W X 18H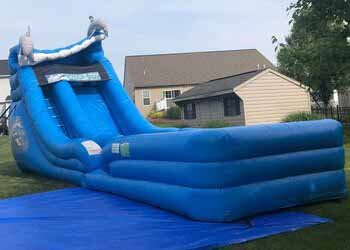 Setup Area: Level ground – Make sure the setup area for your slide is mostly level. It can have a very, very slight slope or grade (under 3 degrees)
Description
Splash Down Waterslide Rentals
3 Monkeys Inflatable

Rentals delivering to York, Harrisburg, Lancaster, Carlisle, Baltimore, Reading, and more Pennsylvania & Maryland Cities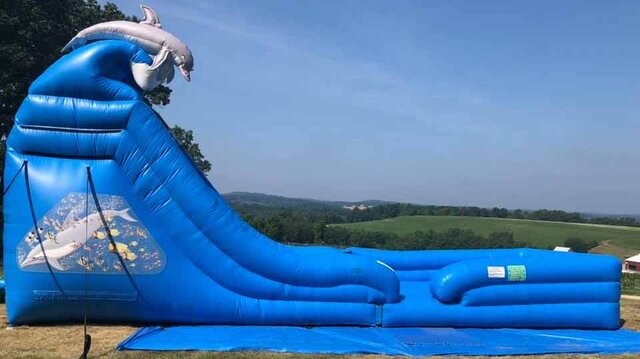 The Splash Down Waterslide gives you 32 feet of sliding fun! Cool off this summer with this great waterslide. Designed to offer the best ride for your guests! Water Slide Rentals are fun and cool summer activity for your next party or event rental. Splash Down Water Slide rental is 18 ft tall slide that has a slip n slide attachment to ensure you have huge fun in this water slide rental.
Splash Down Water Slide Rental Details
The Splash Down Water Slide Rental features 2 Dolphins on top of this water slide rental and dolphins on the vinyl graphic along the side of the slide. It features a single-lane water slide with comfortable foam stairs and a handrail to climb to the top. This slide creates quite a buzz from its length and will feature a small splash zone that acts as a brake for riders as they descend to the bottom of the slide. The great thing is this slide is great for kids as it's not too intimidating for little ones but yet is big enough for bigger kids and adults to enjoy as well. This is a moderate water slide with a great length that really adds to the water slide ride itself.
How can I prepare for my water slide rental?
This is easy! Simply you will need to have a power outlet within 50 feet of where we will place the water slide rental. (We can bring an extra cord if you request and go as far as 100ft total if you need, however, 100ft is the max cord that can be added to a blower, so if you need more than 100ft for the power you will need to add a generator to your order) We also will need your garden water hose to reach to the area we are putting the slide so we can attach your hose to the hose within the unit. This is important to have these 2 items prior to delivery worked out. Lastly, we suggest you mow the lawn 2+ days prior to the rental and not the day of or the day before if you can as this usually makes a mess with loose grass all over everyone's feet and legs, and makes it quite a chore to get off the water slide rental.

We will set the water speed which should be set at a trickle, you don't need any more than that as the water slides are designed to have the momentum built to propel you down with little to no water. We do warn you at setup not to turn the water up much because it will cause mud if you have it too high which is a nightmare to clean up and pack up when we arrive, could leave you with a mud spot and could lead to an additional cleaning fee, so please head our warnings and keep the water at the speed we set it on when we drop off. You can also turn it off when the water slide is not in use (nap times, lunchtime, presents, etc) then simply put it back to the same setting and enjoy.
Splash Down Waterslide Rental R

equirements:
Occupancy: 1 (1 at the top, and one on the stairs)
Dimensions: 33' L x 10' W x 18' H
Water Source: Hose
Outlets: 2 Standard 110-volt GFCI outlets (14 amps total) within 100 feet of the unit.
Generator
Rentals are available.
Attendants/Monitors: This item requires (1) Attendant to stay with the unit while in use. You may use your own attendant, or book an attendant with us here. Read more about attendants here.
Setup: We would need to know specifically if it will be on grass or asphalt a minimum of 5 days prior to your booking. All anchors need to be secured using a spike or sandbag according to the manufacture's guidelines. We prefer to use ground stakes when possible, if this is not an option we will need to anchor using sandbags.
Setup Location:
1. Your setup location needs to be free of rocks, pet waste, sharp objects, or any other hazards.
2. We cannot setup under any utility lines and must have a clearance of 5 feet in all directions away from any obstacles.
3. Please make sure you clear a spot for us to park & unload the equipment as close to the location as possible. If your parking is further than 75 feet please notify our office or put it in the notes portion of your booking.
Splash Down Waterslide Rental Includes:
Professional setup/tear down.
We are registered with the Dept of Pennsylvania/Maryland State Amusement Industry
We have Liability Insurance
Pre and Post Event Cleaning, Sanitizing and Inspection
Staking and/or Sandbagging
Tarping (not indoors as it becomes a safety concern)
Extension Cords (we bring out the extensions needed to get electric to the spot you are setting up in) Keep in mind we can only go 100 ft max.
Safety Training

8