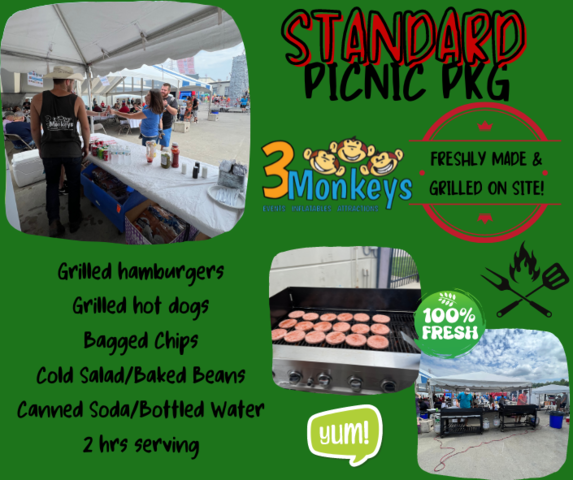 Description
Standard Picnic Package
3 Monkeys Inflatable

Rentals delivering to York, Harrisburg, Lancaster, Carlisle, Baltimore, Reading, Owings Mills, and more Pennsylvania & Maryland Cities
Standard Picnic Package Menu

d
3 Monkeys Inflatables has designed a standard picnic package for our customers. When developing this picnic catering package we knew we wanted to provide our customers with a home-cooked grilling meal option that was simple, yet was still hot and fresh for our customers and their event guests or their staff members. We wanted to create something they could really enjoy over the time frame of a two-hour lunch period. Our servers will cook the hot dogs, hamburgers, and/or baked beans right on-site so that everything can be hot, fresh, and ready! Additionally, we will provide your guests with individually bagged chips, bottled waters, and a variety of canned sodas to choose from. The menu also includes all of the necessary condiments (ketchup, mustard, mayonnaise) as well as plates, napkins, and utensils.
Included in the Standard Picnic Package
Grilled Hamburgers
Grilled Hot Dogs
Potato Chips (individually bagged)
Baked Beans
Variety of Bottle/Can Water/Soda
Plates/Napkins/Utensils
Condiments

Includes 1 server, the total is $12.49 per person | 2 hours
Meal Prep and Clean up
3 Monkeys Inflatables will prepare and make your meal on your premises with hot, fresh, and delicious food that includes high-quality ingredients. We are a family-owned and operated business and great pride went into designing the menu to ensure it has quality ingredients even down to the seasoning we add to the burgers so that we can create that backyard picnic menu while creating a professional setup for your event.
Please note we do require a minimum of 100 people for catering services.
Try One of Our Other Available Picnic Packages
Choose from the Classic Picnic Package, Hot Dog Basic Picnic Package, Hot Dog Deluxe Picnic Package, or the Customer Picnic Package.
Let Us Be Your One-Stop Shop!
In addition to picnic catering and concession rentals, we can provide tents, tables, and chair rentals so that your guests have an inviting place where they can sit and eat together while relaxing in the shade of the tent. Go one step further and include Giant Games with your picnic package rental so that your guests can interact, have fun, and team build all at the same time. Some of our giant games for rent include Checkers, Chess, Jenga, Connect Four, Battleship, Light Bright, Operation, Horseshoes, and Corn Hole to name a few.
Make Your Event Event Bigger!
After you have added your picnic catering, concessions, and giant games to your rental be sure to look at our Inflatable ride selections. We have everything from Bounce Houses, to Combo Bouncer Rentals, to Obstacle Courses, to Extreme Interactives! If you are planning a corporate or university event Obstacle Courses and Extreme Interactives like the Big Red Baller, the Hungry Hippo Chow Down, the Grand Slammer Meltdown, and Human Foosball, to name a few, are quite popular inflatable rental choices. If it sounds like a lot to plan and you want to talk your event through or get advice from one of our booking specialists give our office a call at 717.650.7657. We would love to help you plan a stress-free event!
shoptagr:installed