Team Building Corporate Package 1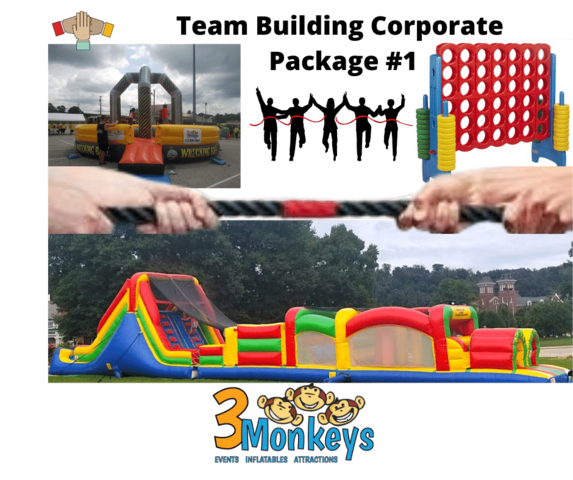 Description
Team Building Corporate Package #1
3 Monkeys Inflatables delivers Team Building and Corporate Entertainment Rentals to Pennsylvania Cities of Harrisburg, Lancaster, Hershey, Reading, and Northern Maryland.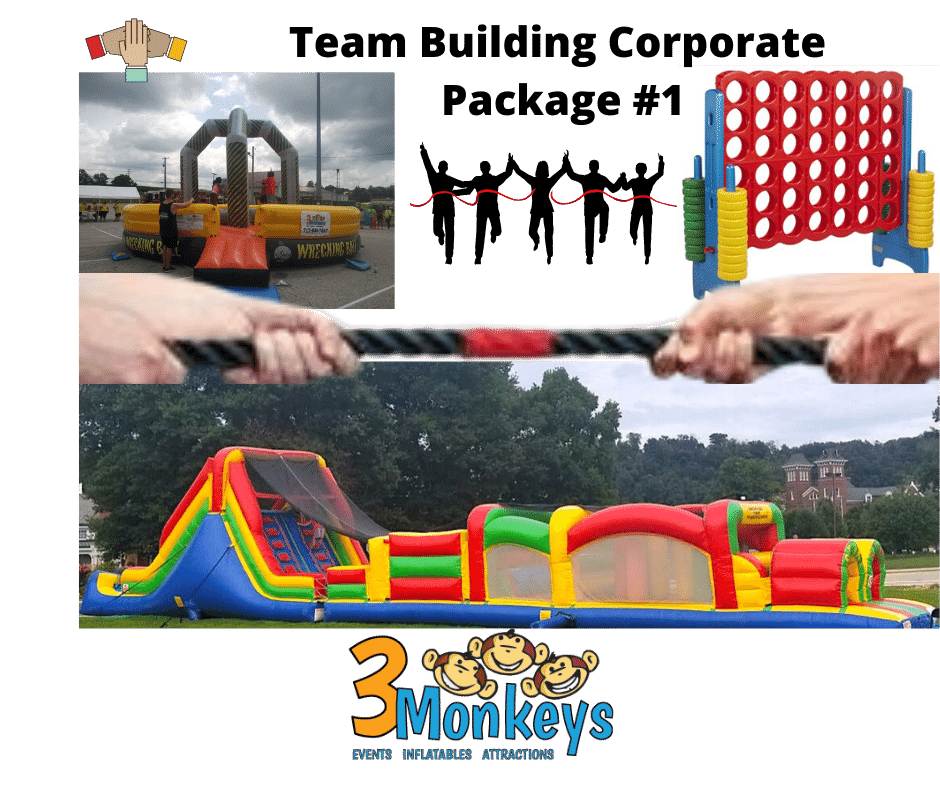 65ft Obstacle Course Inflatable Rental
The 65ft Obstacle Course is classified as a race-type obstacle course allowing 2 opponents to race against each other. In a team-building corporate event, we would line up a team of opponents to face off against each other and create a race. The 65ft Obstacle Course offers the race obstacle which is perfect for corporate events, school events, college, and organization events with this being a fast-moving low line entertainment option. When you are planning for your events this is important to have several fast line movers to make sure you are balancing with slower attractions so you don't face long lines for everything.
Tug a War Challenge Game Rental near me
The Tug of War Rental is perfect for any type of company picnic, church event, corporate event, school field days, and more! This is perfect to get your staff/opponents into a competitive mood. Action filled and ready to get team workers to work together to build up a friendly competitive fun activity. You can set this up easily in a field or add on an obstacle that drags a team into a muddy area, sandpit, waterway, or something that adds a little extra element to the challenge of being the victor!
Connect 4 Giant Game Rental
The Connect 4 Giant Game Rental guarantees to be a hit at just about any type of party or event. Players build teamwork, cooperation, and challenge while trying to connect 4 colored rings in a row to win. This is perfect for any team-building exercises to work together (not alone) to figure out the best team strategy to win! This game is also a winner for your less active guests who attend who maybe have physical limitations or challenges that don't allow them to run through an obstacle course but they still want to be involved and have options they can do to have fun and interact with your group.
Wrecking Ball Interactive Inflatable Rental
Wrecking Ball Interactive Inflatable Rental is perfect for any type of Corporate Event like team building, picnics, holiday parties, and retreats. Look to add the excitement of the Wrecking ball while your teams of 2 try to take on another "rival" team to see if they can eliminate the competitors by working together with strategy and skill to knock the other team off of their prospective pedestals. This is a great interactive inflatable that brings crowds to watch the play and see who is able to come out as the winner. It is just as much fun to play this game and also become a spectator rooting for your favorite group or team to win!
This Corporate Event Package is built around providing a group an opportunity for team building and fun carefree entertainment for the extent of their event. We suggest you find out exactly how large your group will be so you can either take this package as is, or add more attractions to the package to ensure you have enough attractions for your group size. We also offer the Corporate All Inclusive Package if you are looking for something a bit different. Don't forget we also provide tents, tables, chairs, misting tents, generators, game rentals, and concession rentals as well as large attractions rentals like our Mobile Escape Rooms, Trackless Train Rental, Mobile Axe Throwing Trailers, Bumper Cars, Giant Movie Theater events, foam Parties and so much more!