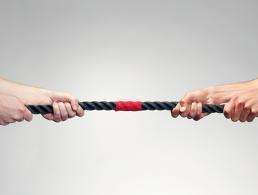 Description
Tug a War Team Building Game Rental York Pennsylvania Area
3 Monkeys Inflatables offers Tug a War and Team Building Events throughout Central PA like Harrisburg, Lancaster, Reading, Baltimore, Millersville, Gettysburg, Hanover, and Hershey Area.
Test your strength and Team Work
When it comes time to challenge two teams to a test of strength, there is no better tried and true way to do so than with a classic battle of Tug-of-War. 3 Monkeys Inflatables & Entertainment now offers you the convenience of settling the score between teams with its newest product addition: a special-made 50' Tug of War Rope!
Classic Games
Tug-of-War is a pretty simple game that has stood the test of time. It has been, is, and always will be a fun and competitive challenge pitting two teams face-to-face against each other. Although it isn't a contact sport, the risk of injury is present, so be sure to play fair.
How to Play:
Align two teams at either end of the rope and set the designated markers (a centerline and marker directly beneath it on the ground and two lines on either side of the centerline at an equal distance). Make sure the teams consist of an even number of players that do not pass a fair maximum weight limit. Once everyone is on their marks and set it's time to have a go at Tug-of-War.
Rules
The rules are simple, grip the rope under the arms and pull until the other team's marker passes the center marker to win. Falling, sitting, touching the ground for an extended period of time, and pulling over the shoulder are considered fouls, but you need not be overly strict, after all, you're simply having some fun with a classic game of Tug-of-War.
For added excitement, you may even create a neutral zone in the center with mud, water, or any other sort of soft pit for players to fall into when they get pulled forward. Just make sure you play outdoors.
Team Building & Corporate
Unlike the rope used, Tug-of-War is a flexible game that can be played in a variety of scenarios. Whether you're in gym class, at Army boot camp, schools, universities, fitness training or even just a picnic/party with family and friends, you can always have fun at Tug-of-War. It is also a great team-building activity for corporate events.
For only $40 it is a great addition to any event, from birthday parties to company picnics. Get together and test each other's strength at Tug-of-War, you certainly won't face the same challenge when deciding what game to add to your next party.
York, Pennsylvania
Tug of war is a popular schoolyard, carnival, and backyard bbq game rental in York, Pennsylvania. We deliver rentals with qualifying orders all throughout York, and Central PA.