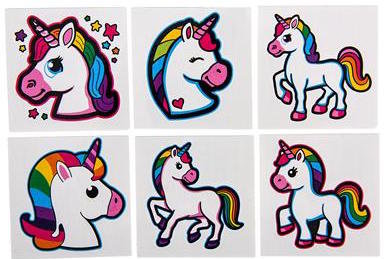 Description
Unicorn Temporary Tattoos 72 count

3 Monkeys Inflatable
Rentals delivering to York, Harrisburg, Lanc
aster, Baltimore, and more Pennsylvania & Maryland Cities
The unicorn tattoos come in a variety of super cute designs from just the face of the unicorn to a full image of the unicorn that any little girl will just adore. They are roughly 2 inches in size so they will fit nicely on a little girl's arm or hand. They do come in super cute rainbow colors that are well known to be associated with unicorns in general. These unicorn temporary tattoos are water activated so they will stick to the skin when they are applied with water. The directions are printed on the back of each tattoo making it super simple to adhere to your participant's skin. They however can easily wash off the skin with just a simple soap and water handwash. There are 72 various unicorn stickers in each set making this a pretty great deal. There are great for party favors at your unicorn themed party rental.
Unicorn Party Favors:
There make great unicorn themed party favor ideas to complete your Unicorn themed celebration. Add the temporary tattoos to the beginning of the party when guests arrive, and let them go home remembering what a great party they had with a memory on their arm or hand to smile at and remember what a great time they had on the unicorn bounce house while they admire their temporary tattoo they got as a party favor!
Unicorn Tattoo Application:
These are non-toxic unicorn temporary tattoos so therefore they are safe for skin contact on ages 3 years and older. They are easy to apply simply press firmly on dry skin and wet the back of the tattoo with a damp cloth or towel for 20 seconds. That is it...it will stay on temporarily until you wash it off with soap and water.
Idea's for use:
These make excellent party favors for any type of backyard party. These are also great for any fair, festival, corporate event, school event, church events, and open houses. There are unlimited possibilities of what type of events you can use these for. This item does not come with an attendant as it's pretty self-explanatory of how to use these tattoos.
Great Unicorn match-ups!

Add the Unicorn Tattoos to your shopping cart that pair great with our Unicorn Bounce House Rental. They make the perfect Unicorn Themed Party for your unicorn lovers! The pairing of the tattoos and unicorn Bounce house will make any little girl's party the perfect party!