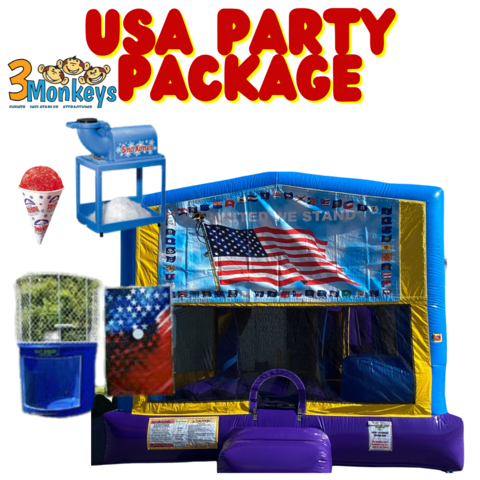 Description
USA Party Package York
Party Packages USA in Harrisburg, Lancaster, and surrounding areas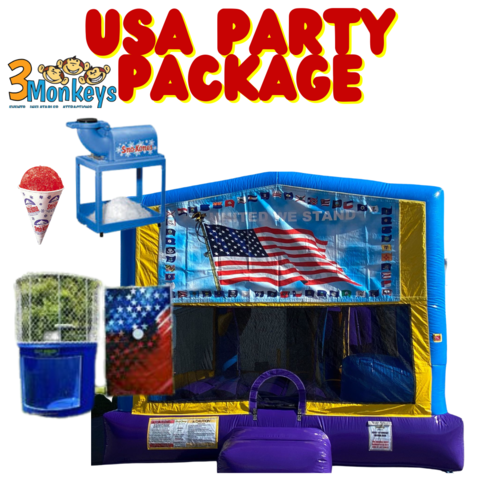 "It's a party in the USA!" The USA Party Package is perfect for your Memorial Day, Fourth of July, Labor Day, or just an all-American-themed party rental. This package features a USA-themed Combo rental that has a bounce house, climb, slide, and basketball all in one inflatable, the USA-themed Dunk Tank, and course the Snow Cone Machine Rental with servings for up to 50 guests! (The sno-cone machine rental does not include ice which is your responsibility to purchase ahead of time.)
The USA combo rental features a 16 foot long, 15 feet wide, and 13 feet tall combo bouncer rental that allows for plenty of room for kids to jump and play with their friends and family. It features a basketball net and slide which are all tucked into this one, fantastic USA combo rental.
The USA Dunk Tank is a 550-gallon tank that allows your guests to take turns trying to knock the person off of the dunk tank seat straight into the water by throwing the ball the hardest they can at the target! Will they be accurate enough to knock the seated participant into the water? This is a lot of fun to both play and watch! Take note that you will need to have a hose, connected to a water source, that reaches the area so that you can fill the dunk tank. However, once it is filled (takes about 45 minutes on a regular flow hose) you are ready to play and have fun all day long, at your party!
The Snow Cone Machine Package comes with the snow cone machine rental that is very simple to operate. You will simply need a table to place the machine on. This rental does include paper cups, a scooper, and different flavors which your guests can choose from to flavor their ice! Whoever is operating the machine will simply run the machine through the ice to crush it, scoop it into the paper cups, and voila! It is ready for some syrup! Don't forget to purchase bags of ice from either a convenience store, food store, or gas station so that you have some bags set aside specifically for your snow cone machine rental. It is recommended that you keep the bags of ice in the freezer or in a good, air-tight freezer storage container.
Why Rent the USA Party Package?
Customers love the convenience of their favorite USA party rentals in one spot. With one click you can add all of these items to your cart for a bundled price. Packages make for a quick and easy checkout. Once you add the USA Party Package to your cart proceed through our online checkout procedure where you will be prompted to enter both your personal information and your event information. Also, an All-American favorite is the Take Me Out to the Ball Game Package! If you have any questions or difficulty throughout the process just give our office a call by dialing 717-650-7657 and one of our booking specialists would be happy to assist you!
What cities can you rent the USA Party Package in?
Our shop is located in York County, Pennsylvania, however, we provide delivery to all of the Central PA area and surrounding cities including Northern Maryland.