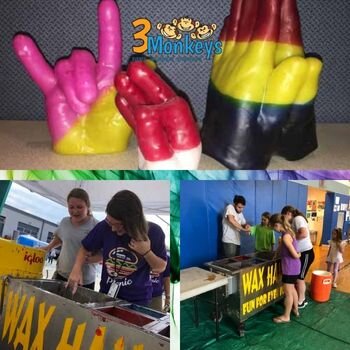 Description
Wax Hands Rental in Pennsylvania and Maryland
York Pennsylvania Wax Hand and Novelty Rentals
3 Hours of Unlimited Hands
Wax Hands is a fun, interactive, and unique activity to add to your event with the keepsake element that your guests can take home as a keepsake. Keep in mind that we typically get lines at least 15+ deep waiting for this exciting attraction! You may want to have a line jester to do quick tattoos we offer them on our website (all they would need is an apron filled with tattoos and a sponge (keep a pail behind wax hands to rejuvenate the sponge to make it wet again after a bit). This line jester should also cut the line off a minimum of 20 minutes prior to the event ending to ensure that we are able to get to everyone and no one is disappointed.
Plan for your Line at Wax Hand Dipping
Wax Hands Dipping is always going to be one of the most popular attractions at your event and draws very long lines. Plan ahead and think about adding an extra attendant to help keep your line moving for events with large groups. You also will need to assign someone the last hour to cut off the line so that you don't have too many of your guests expecting to get a wax hand and the event is over. It is hard for our wax hand artist to watch the line and keep the line moving working on the creative hands so making sure you have someone who can cut that line off is very important.
How does it work?
We simply dip your hand in a clean solution and then into an ice solution, and then dip into the clear wax while encouraging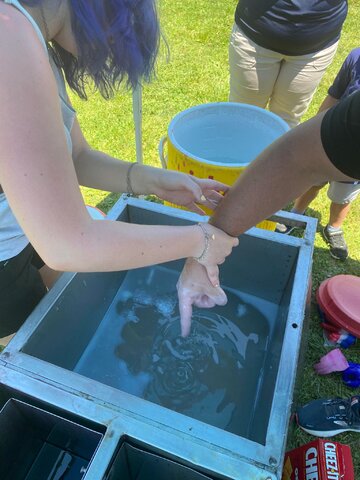 you to keep your hand motionless the entire time we are doing the dipping. Slight movements will crack the mold and therefore won't be able to be fixed. We dip 2-3 times depending on firmness, and outside temperatures. After that, we will remove the wax hand while keeping the mold intact, and ask what colors you want to dip with so we can present you with your masterpiece. We do recommend that the participants are old enough to understand how to keep their hands still and in the same position in order to make the mold. The wax is hot, not enough to make you burn but hot enough that some small kids may not tolerate it well.
Booking Wax Hands
So you are ready to book the Wax Hands rental unit with 3 Monkeys Inflatables. Your entire group is going to love this wax hand unit and you definitely won't be disappointed. You will get one attendant with the wax hands and of course, you can add another if you think you have a big group that would have a big line. We offer 2 options for large events because the wax hands are so popular we suggest you consider at a minimum adding an extra wax hands attendant or add another wax hands unit (we can bring 2!). Our wax hand rentals is for up to 3 hours. Each additional hour is $75.00 per hour.
Popular Event Types for Wax Hand Dips
-Birthday Parties
-School Events
-Carnivals or Festivals
-Bar Mitzvahs or Bat Mitzvahs (One of our customer's who had the wax hand dip machine at her daughter's Bat Mitzvah said, "Wonderful! Excellent service! Great activity. We had so much fun.")
We provide wax hands for rent to central Pennsylvania cities like York, Harrisburg, Lancaster, Hanover, Dauphin, Lititz, Manheim, and more. Wax Hand Rentals are a highly sought-after activity at community day events, colleges, school events, birthday & graduation parties, and so much more!
Maryland Rentals
Wax Hands of Maryland are one of our popular event items serving Northern Maryland. Popular towns in Towson, Baltimore, Hagerstown, Owings Mills, and Pikesville.
Wax Hands Frequently Asked Questions
Q: How many people can I get through a line?
A: We typically say we can do one hand every 3-5 minutes depending on if it's a single hand or a double hand adds different time, as well as young children who may not be able to understand enough that you have to keep your hand still in order for the wax to setup.
Q: Should I plan to have a volunteer to help assist at wax hands to help things move quicker?
A: It is not necessary to have a volunteer on hand, however, it does help to make sure to check the line and ask the staff member if you need to cut the line off around 30 minutes prior to the event ending time.
Q: Do I need to provide electricity? water?
A: We will need a basic outlet for the wax hands to run on. We do ask that you get us as close as possible as to not add extension cords on the line unless absolutely necessary, however, it cannot ever exceed 50 ft from the outlet. Keep in mind we will need water when we arrive to fill the buckets.