Mechanicsburg Mechanical Bull Rental
Rent a Mechanical Bull in Mechanicsburg
Are you looking to rent the best mechanical bull in Mechanicsburg? 3 Monkeys has the best looking bull rentals in Central PA. The bulls are made of real hide and have soft heads and horns which offers the safest ride. The patriotic, inflatable landing pad creates a safe, soft landing when you are bucked off the bull. This is a high quality bull rental with safety features built right in which makes this as safe an activity as any others. We will also send a specially trained operator to run the bull event at your party from start to finish.

Because we ensure that our amazing staff members are trained and certified by the manufacturer to operate this ride, mechanical bull rides with 3 Monkeys Inflatables are as safe for children as they are adults! The operator controls the speed and movements of the bull so even a small child can ride the bull because the movements will be much slower and less vigorous, all thanks to the operator!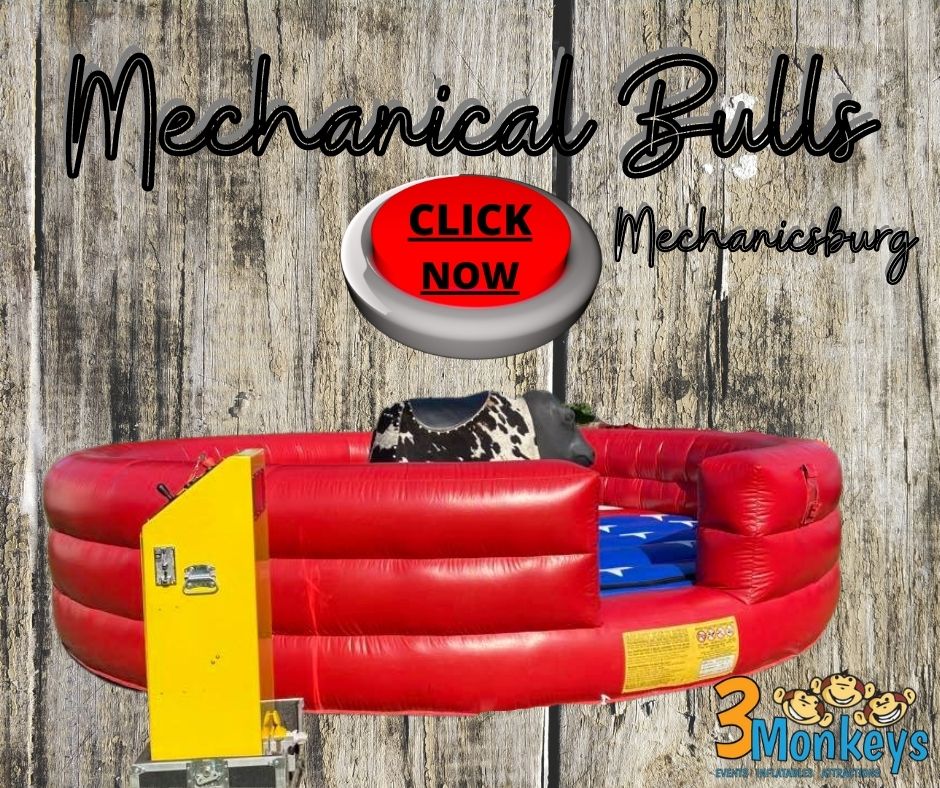 Best Mechanical Bull Rental
The mechanical bull rental is for up to a 3 hour event. If you wish to rent the bull for a longer period of time we can certainly do so however there will be an additional charge, per hour, past the initial 3 hours. If you wish to rent the bull in Mechanicsburg you can either place your rental order online through our web site or you can call our office staff to help you book over the phone.

Mechanical bull rentals near me are perfect for college events, corporate picnics, community days, school carnivals, festivals, birthday parties, bachelor and bachelorette parties, graduation party rentals, and more. Be sure to book a mechanicsburg mechanical bull rental today!
Rent Mechanical Bull