Party Corporate Event Planning York, PA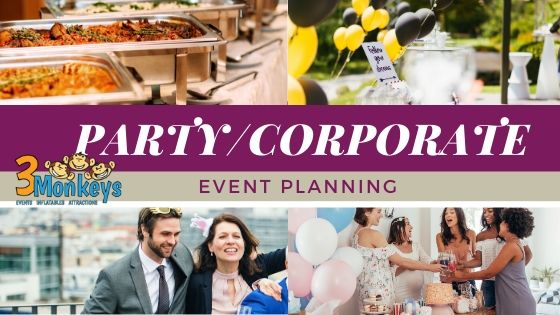 Party and Corporate Event Planning in Lancaster, Harrisburg, Hershey, and more!
Party for Corporate Event Planning is critical to ensure you have the best corporate events, and 3 Monkeys Inflatables can help you with creating the perfect Party Event Planning and Corporate Event Planning. We aim to make you the star of your own event and ensure we have all the bases covered with electricity, water, food, and entertainment. Trust 3 Monkeys Inflatables to create the perfect corporate and party event for your needs.
Party/Corporate Event Planning York, PA
We have Party Planners available for any budget, or project type. Your party planner will work with you to find out what type of event, budget, and what you have in mind for the party. We will work with you to ensure all expenditures are approved prior to purchasing. Our party planners start at $50 per hr and up. Depending on what exactly you are looking for and what your budget is, we can put together quite an event/party! The party planners can include booking DJs, Entertainment, and Catering.
Party Planning Lancaster, PA
Are you currently searching for an Event Planner, Party Planner, or Caterer? 3 Monkeys Inflatables has the best Party Planning services in Lancaster County. We will work alongside you to create the look and feel for your backyard party, graduation party, Wedding, Anniversary Party, Grand Opening Party, or just about any other type of party you are thinking of tackling but don't have the time to plan from start to finish. Have our professional planners hit the ground running and get all the logistics worked out for you and stay within your budget?
Party Planning Harrisburg, PA
When searching for a Party Planner or Event Coordinator for your Corporate Parties we realize this can be tough. Keeping in mind that 3 Monkeys Inflatables can assign you a party planning coordinator that can work with you to create that perfect party whether it be a corporate event, youth community event, backyard party, graduation party, or celebration of some kind, our party planning experts will be your event planning superstar to help you shine throughout the entire process.
Contact us!
Email us at info@3monkeysinflatables.com for more information. Please provide as many details as you can about the event you are planning. It is important to include the size of the event, budget, decor, or theme, and if you already have a location for your event. We are able to secure locations, plan the entire party from start to finish, provide services (inflatables, concessions, and catering) We look forward to working with you soon.
Copyright © . 3 Monkeys Inflatables LLC. All rights reserved. Red Lion PA (717) 650-7657