Foam Parties
Foam Parties York, Pennsylvania Area
3 Monkeys Inflatables is your Pennsylvania and Maryland Foam Party Specialist for the cities of York, Harrisburg, Lancaster, Camp Hill, Carlisle, Reading, Baltimore, Owings Mills, Frederick, Towson, Bel Air, Hagerstown, and many more.
3 Monkeys Inflatables offers a selection of foam party rentals from a smaller backyard foam pit to our large red/grey foam pit that can double as a Gaga Pit when used dry without foam. Our delivery area is pretty huge as we deliver to York, Lancaster, Harrisburg, Reading, Baltimore, Hershey, and most of the PA and Northern Maryland area.
Foam Party Rental Information
To rent a Foam Party rental with 3 Monkeys Inflatables, simply pick the Foam Pit you are interested in renting by adding to your cart (don't forget about the tents, tables, chairs, concessions, and game rentals we have to add to your cart) and then simply add your booking details like your address, email, and phone number and complete the order with just a 25% deposit now with the remainder not being due until the day of your event. It's simple and easy! We have been been in business since 2013 so your order helps our small family business continue to thrive. Thank you! Call or email us with any questions.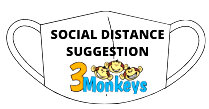 Foam Parties + Social Distancing = Is it possible? Yes! We have spoken with the manufacture and though there are no soap ingredients just suds we can, however, add some hydrogen peroxide without affecting the foam to the foam machine allowing a sanitizing element to the mix providing participants with an extra level of safety along with of course suggesting you have anti-bac stations and face masks used during the participation of the foam machine.
Call 717-650-7657 | 410-581-5867 or email: info@3monkeysinflatables.com Support your local business! Check out our videos! https://www.youtube.com/c/3MonkeysInflatables
Who doesn't love the idea of showing up at an event and playing in foam? Count me in! Not only does it sound like fun - it is fun! We fill up a foam pit and allow participants to enter the foam pit and hang out with friends. Add music to your background and make it a foam dance party which just makes it even more awesome of an event. We can add neon lighting to the entire foam pit for just an amazing lighted foam pit background that when you pair this up with the music and foam pit it is a teenagers and college students dream party.
Great for any age!
The foam parties are great for just about any age, but really popular with the high school and college crowds. This makes it perfect for post proms, lock-in events with teens, graduation parties, college parties and so much more!
College and School Fun Factor!
A foam party is the best social event that pairs foam, and dancing (
Rent our Sound System by clicking here)
for participants who dance and just have fun in several feet of foam, suds, bubbles that are being pushed out through our foam machine. We have 2 size foam machines available for rent from our Standard size 18ft round foam machine to our Large 24ft x 24ft foam machine.
We do ask that you have a constant water source available like a garden hose. When considering your event location keep in mind this is an event where there will be water left at the end of the event and soap suds, so it needs to be an event location that the area is fine to get wet and have water left at the end of the event.
For music, you can rent our sound system above and then use your phone to Bluetooth your music for your event. Create your own playlist and have an instant live DJ running your music the entire event at a fraction of the price.
Blacklight Options available
We can always add blacklight to your event as well for an additional $200 for the entire event you will just need to have electricity available. This would include 2 black lights on a pole so that you can move and add the lighting to wherever you would like. Keep in mind when you add black light to a product you need to have an area that is free of spotlights and overhead lighting as it takes away from and makes the blacklight not as good to use. You may want to add some neon body paint or some other items like blacklight neon jewelry and fun stuff like that to create a bigger blacklight theme for your event. We can help you plan this out and even book those items you may need like the paint and jewelry if you would like for your event. Give us a call at 717-650-7657 or 410-581-5867 so that we can create your ultimate foam blacklight event for you!
Copyright © . 3 Monkeys Inflatables LLC. All rights reserved. Red Lion PA (717) 650-7657