Toddler Inflatables
Toddler Inflatable Rentals York, Pennsylvania Area
3 Monkeys Inflatables located in York, Pennsylvania is your Toddler Inflatable and Event Rental Specialist for many Central PA such as Lancaster, Harrisburg, Hershey, Baltimore, Dallastown, Reading, Owings Mills, Frederick, Towson, Hagerstown, Camp Hill, and many more.
3 Monkeys Inflatables offers a huge selection of Toddler Inflatable rentals for little ones ages 1-6 is our recommendation. Our delivery area is pretty huge as we deliver to York, Lancaster, Harrisburg, Reading, Baltimore, Hershey, and most of the PA and Northern Maryland area.
Toddler Inflatable Bounce House Rental Information
To rent a Toddler Bounce House rental with 3 Monkeys Inflatables, simply pick the Toddler Bounce House you are interested in renting by adding to your cart (don't forget about the tents, tables, chairs, concessions, and game rentals we have to add to your cart) and then simply add your booking details like your address, email, and phone number and complete the order with just a 25% deposit now with the remainder not being due until the day of your event. It's simple and easy! We have been been in business since 2013 so your order helps our small family business continue to thrive. Thank you! Call or email us with any questions.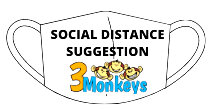 Toddler Inflatable Social Distance Tips: 3 Monkeys Inflatables sanitizes and cleans each toddler inflatable ride prior to it going out on site for a rental. Additionally, we spot clean the inflatable on-site to ensure it is clean and ready to go for your event. Our suggestion for the rentals with social distancing would be to move the capacity from 8 kids at a time down to 4 kids at a time so they are able to social distance with each other with the exception of families who are in the same household. We also suggest that you hire our attendants, or sanitizing attendants to offer cleaning in between uses as an added suggestion. 3 Monkeys Inflatable can also provide signage and social distance 6-foot signage and line control if needed as well.
Call 717-650-7657 | 410-581-5867 or email: info@3monkeysinflatables.com
Support your local business! Please subscribe for fun & informative videos! https://www.youtube.com/c/3MonkeysInflatables
The Inflatable Toddler Playgrounds are best for children ages 1 through age 6. Toddler units are great to add to any event that might have those little guys/gals at that might be intimidated by a larger bounce house and just are not ready to transition into that quite yet. The toddler units are especially great also to add to an event where you will have mixed age groups attending as this gives you an exclusive item that if for the youngest attendees which parents will love. This also free's up your lines on some of the bounce houses where you would otherwise have to really split up your groups waiting so you are putting same size children in at one time.

Toddler Inflatable Rentals are perfect for first birthday parties, preschool parties, mommy and me fun events, and so many more fun idea's for little ones to have fun and celebrate toddlers.

New Adventure await!
Toddler Inflatable Rentals are also perfect for acclimating and introducing new adventures to your toddler. The toddler units are specific in the skills levels of younger kids with the great vibrant and interesting colors to draw the play to the inflatable.

3 Monkeys is fully insured for a worry free Entertainment Rental Experience! Call us at 717-650-7657 or 410-581-5867 or CLICK HERE to reserve your rental by date now!