Company Picnic Central PA & Northern MD
Employee Appreciation | Corporate Fun Day
Have you been to a Corporate/Company Picnic and it's ho-hum? It's just one of those obligations you have to go to? This is common unfortunately amongst a lot of the previous company picnics we have seen scattered across Central Pennsylvania and Northern Maryland. If your last corporate event suffered from a severe case of boredom, you might want to consider doing something different this year. If your last corporate event suffered from no one seeing each other and not team unity happening because it was held at a theme park where there was no focus on the team...you may want to start changing that now!
Perfect Recession Picnic's
Having a company picnic on site is a perfect value in today's economy. Increase your employee morale by hosting a picnic. This is a great marketing tool that big companies know and utilize today. Work hard, play hard is a common phrase most people have heard...Picnics allow for that participation and engagement in fun activities that are not only good for the soul but are also an amazing way for employee's families to become involved. The key to the family's involvement in family support. We all know if the family supports the employee that is golden!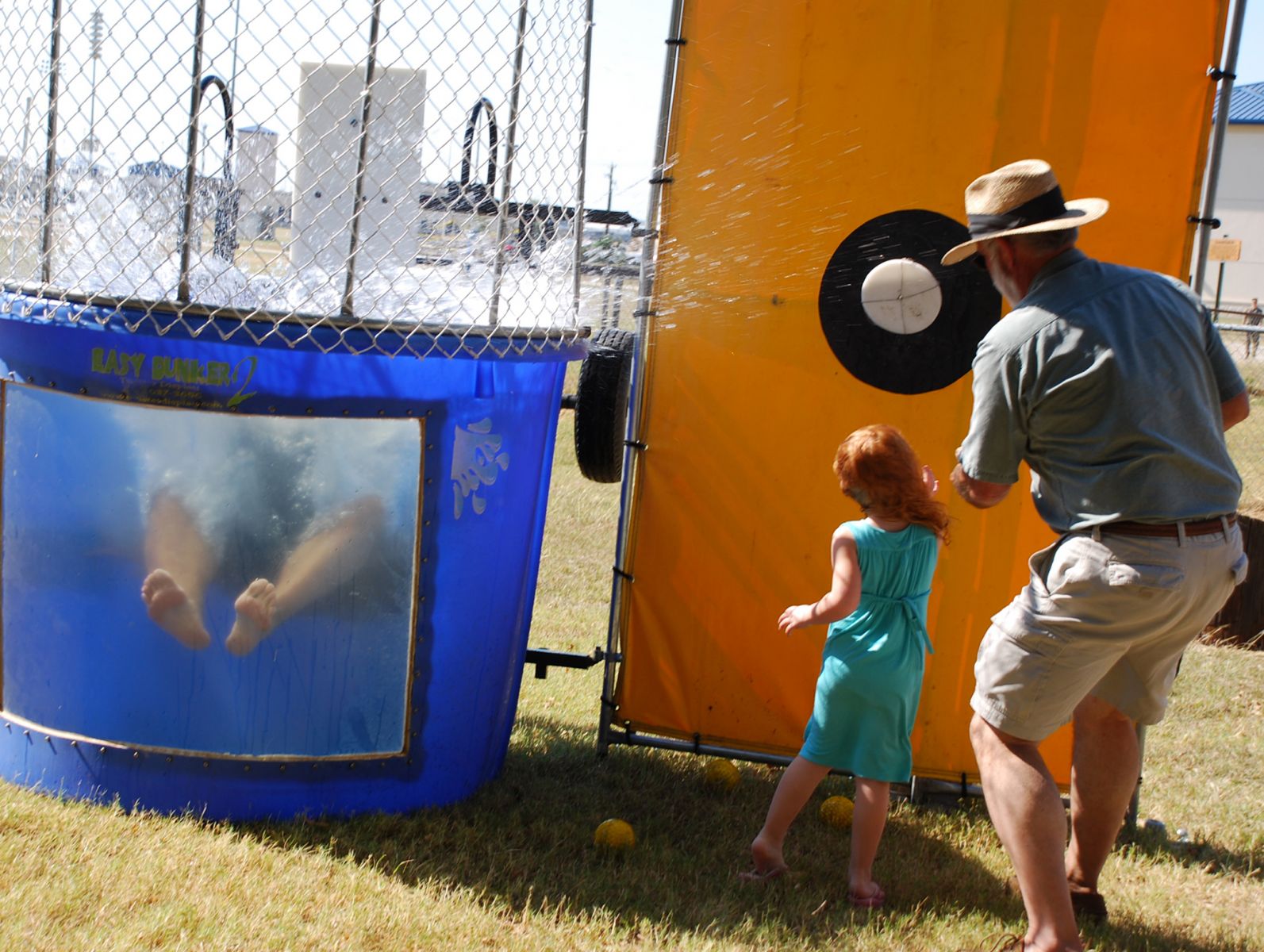 Who doesn't want to dunk their CEO in the dunk tank ?
Appreciation
Company and Corporate Picnics are perfect for rewarding and recognizing your employees paired with a fun time. What better time to reward and recognize those when they are with their proud families. The gratitude to that recognition then translates to your employees being more committed and appreciative/proud of where they work.
Inspire & Excite Team Building!
Employees appreciate events that they can have family participation and it helps with the purpose of the company picnic/event. This helps continued hard work, loyalty, and getting staff excited about the upcoming year. The goal is to share with employees about the previous year and excite them about making it an amazing new year with having them onboard focused on specific goals...sharing those goals with your employees will have the company feel a sense of commitment and achievement to focus on for the year.
Corporate Event Specialists
Find a company that specializes in corporate entertainment and company picnic activities. If you are in the Pennsylvania or Maryland area and a successful company picnic matters, then work with a company that specializes in
corporate entertainment and company picnic activities
.
3 Monkeys Inflatables & Entertainment is dedicated to providing amazing customer experiences from the very first phone call to ensuring your event is the Best.Event.Ever. One very important consideration when renting equipment is the concern that the vendor might not arrive on time, the equipment won't be in good shape, or perhaps other equipment shows up in place of what you have ordered. This won't happen with 3 Monkeys. 3 Monkeys own and operate all their equipment and all their employees are trained in set up, operational and safety procedures giving you peace of mind knowing you are working with a company that has over 13 years of experience.

Making you the star of your event
3 Monkeys will go the distance ensuring you are overjoyed over our level of care for your corporate picnic. In fact, they will do whatever it takes to ensure your event a success. While smiles are vital, there no aspect that is more important than safety. The staff undergoes various training to assure that they are not only meeting industry standards but are on the forefront. All of the staff is trained by Training Supervisors and Licensed PA inspectors, paired with safety documents that are reviewed and tested to all the staff in things such as Driving & Trailer Training & Testing, to Attendant/Staffing Training, Site Supervisor Training, and Driver/Assistant Training and Testing. Since so many companies tend to use subcontractors these days, it's rare to find this type of commitment with any amusement company.

In the days leading up to your event, a 3 Monkeys employees sole focus will be making sure that everything is ready for your company's event. There won't be any surprises. 3 Monkeys Inflatables attention to detail with making sure to provide on-time delivery and setup is essential to your event success. This entertainment is delivered through the use of safe, professional, and insured equipment and professionals. A really successful amusement company won't want your event for one year. They will want your company to call upon them again and again for all your entertainment needs. So let 3 Monkeys turn those bored faces into smiles at your next corporate event in Pennsylvania or Maryland! Think about the need for a company picnic and how the value of having it overweighs any type of cost savings as you will get it back two-fold just by sponsoring a company picnic in your employee morale and overall commitment to your brand. We do all the work from the planning (just provide us with a few details: Budget | Overall goal | Participation expected and breakdown on ages | Location. We will plan and share with you the vision for your company picnic...from there we will go over the setup and operation with you to ensure everything is perfect and then we will operate your picnic from start to finish. The goal is to have everyone energized and excited about the new year, have made connections with other employees and even their supervisors, and making memories while building those relationships which will translate to more committed employees who are working harder and driving your goals for the year. Let's get excited together - Give us a call or email us the details now!
Copyright © . 3 Monkeys Inflatables LLC. All rights reserved. Red Lion PA (717) 650-7657