Hunt Valley Bounce House Rentals
Best Bounce House Rentals in Hunt Valley MD
3 Monkeys Inflatables rent Bounce House Rentals for your bouncy house rental needs. We take price in our Inflatable Bounce House rentals using only quality equipment, that is registerable in Maryland with the Ride Safety Division, and by reputable inflatable manufacturers that have proven safety and reputations in our industry. We are truly the best place to rent in Hunt Valley, Maryland. Our company is committed to providing you with great customer service, quality, and safety. We have been in business since 2007, and operate not only a great inflatable rental location, but we also have experience repairing inflatables from other companies Inflatable Doctor where we provide inflatable repairs in our industry and for our manufacturers. All of our experience has led us to provide our employees with a wealth of training details to create amazing experiences for our customers. We offer our jumper rentals for up to 8 hours for one low price. Our customers in Hunt Valley find this is a great value for their money.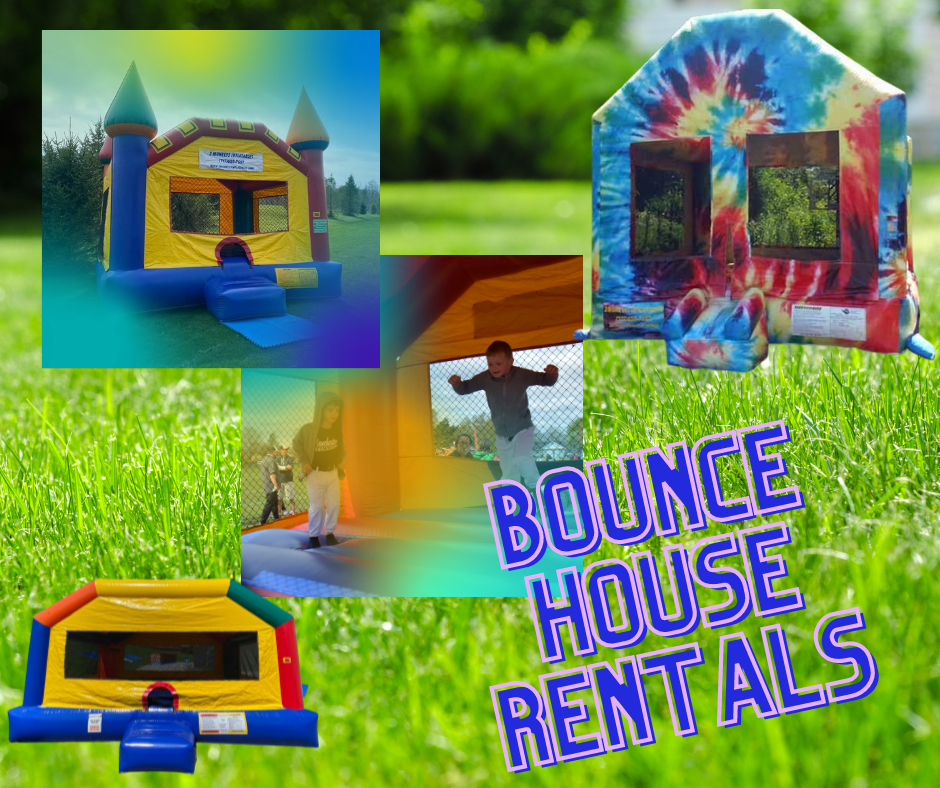 Hunt Valley Bounce House Rentals
Rent an inflatable bounce house in Hunt Valley, MD, and see why our customers find us to be the Best Bounce Houses in Hunt Valley! We have licensed and themed jump houses to rent. Our bouncy castles are purchased by nothing but the best in Manufactures with good track records for quality and safe equipment. Our Hunt Valley bounce house rental themes are plentiful with themes like Zombie, Hot Air Balloon, Castle, Unicorn, Tie Dye, White Castle, Kingdom, Big Stinka, Jungle, Pirate, Princess, Train, Clown, Mini, Batman, Superman, Dr.Suess, Holiday, Happy Birthday, Fire Truck, Dinosaur, USA, and many more. We also offer a huge selection of basic and generic bounce houses that will suit just about any type of party bounce theme. If you are searching for small bounces we even have a few of them to choose from. We also offer Combo Bounce House Rentals that pair a bounce and slide together for the ultimate in fun! Bounce House rentals Hunt Valley are best from 3 Monkeys Infaltables.
Hunt Valley Bounce House Rentals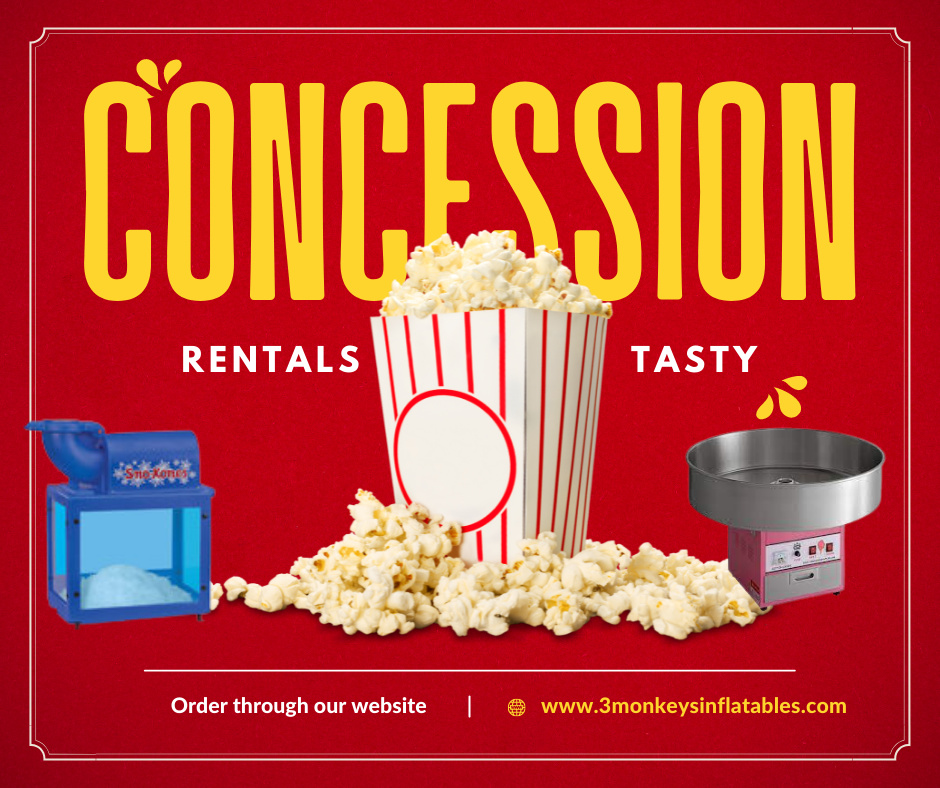 Hunt Valley Concession Rentals
3 Monkeys Inflatable has concession rentals to add to your party needs. You can choose from Cotton Candy Machine Rentals, Snow Cone Machine Rentals, Popcorn Machine Rentals, Hot Dog Machines, BBQ Grill rentals, and even Mini-Donut rentals! Check them all out! We even offer catering and picnic food rentals!
Check out the Concessions Here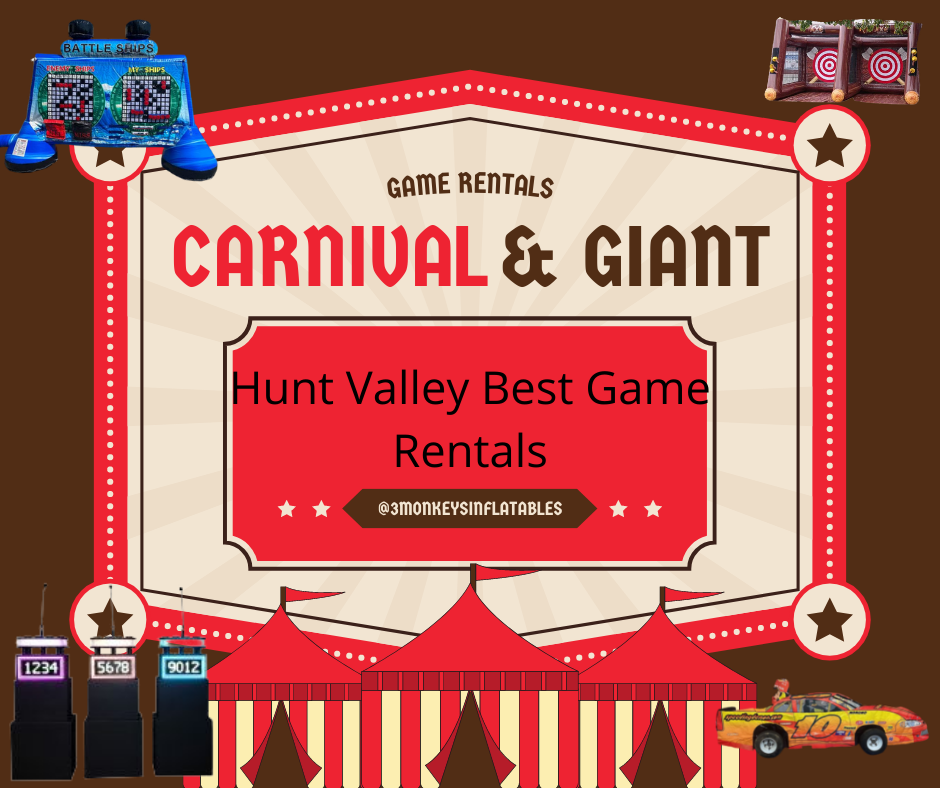 Hunt Valley Giant Game Rentals
We have tons of carnival games to choose from for your rentals in Hunt Valley starting with our
popular bin packages
, and our popular
mega game package
that features brand new bin games, a large Plinko, and even our axe-throwing inflatable! We have tons of items in our Carnival Game section for the Hunt Valley area parties like 4 in 1 Inflatable Carnival Games, Pinball Carnival Games, Axe Throwing Inflatables, Bin Games, Inflatable Games, Lawn Games, and oversized Giant Game Rentals.
Carnival Game Rentals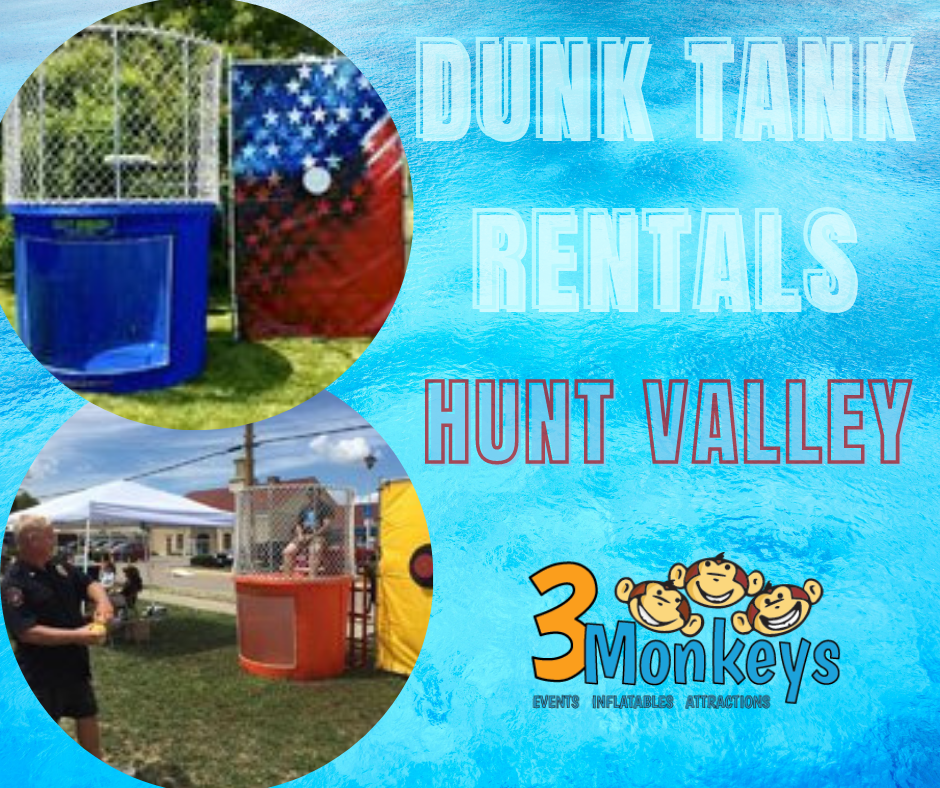 Hunt Valley Dunk Tank Rentals
Offering Dunk Tank rentals in our red dunk tank rental, USA banner Dunk Tank and our cute Shark dunk Tank for the Hunt Valley, MD area and surrounding cities.
Hunt Valley Dunk Tanks check out here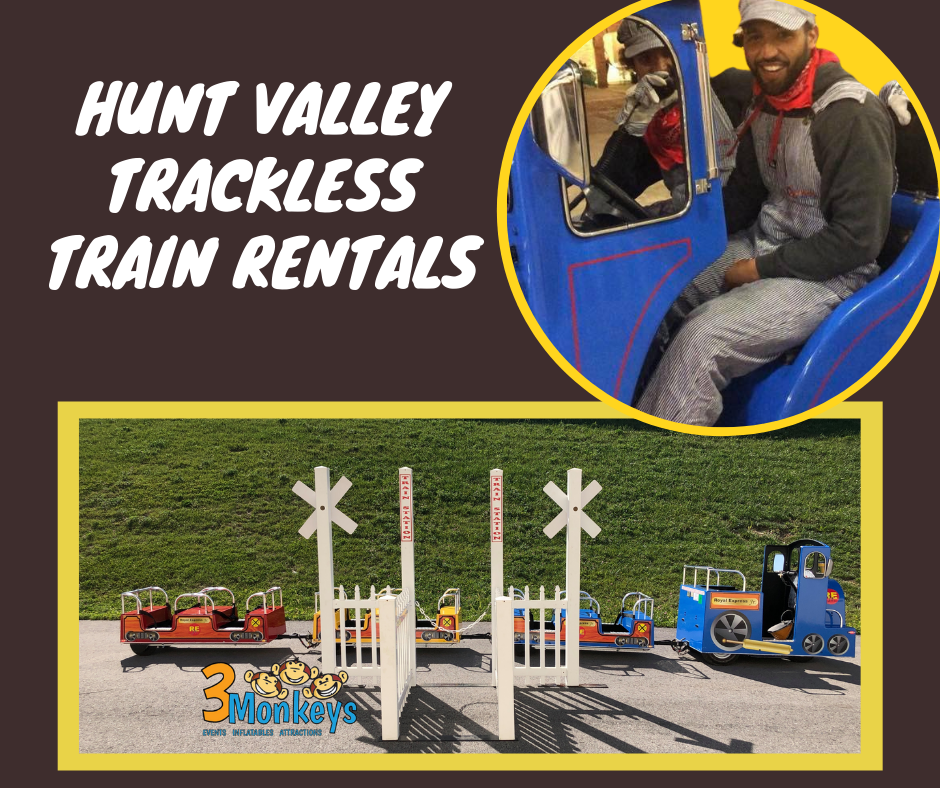 Hunt Valley Trackless Train Rentals
When you are searching for Trackless Train Rentals Hunt Valley, you have arrived at the right place. 3 Monkeys Inflatables offers our standard Electric Trackless train Rentals as well as our Holiday Trackless train Rentals, where the train can be decorated to follow the holiday you are celebrating, along with the conductor as well. The trackless train rentals always come with a trained conductor and are a lot of fun both for kids and adults to ride.
Check out Train Rentals in Hunt Valley here
Why we rent Bounce House in Hunt Valley

3 Monkeys Inflatables provides bounce house rentals in Hunt Valley and not only is it a registered business with the Depart of Agriculture Ride Safety Division regulating inflatables but we also carry more than the state minimum in Insurance Liability coverage to protect our customers. On top of that, we carry workers comp and commercial auto policies for added protection to our customers and employees. When you decide who to work with for your party needs we hope you consider the safety measures of the companies, cleanliness, and quality of customer support the business you are using provides. We put a ton of training into our staff, both in-person hands-on, and with training documents and videos. Our continued education is something we feel strongly about with our employees. We have a great number of real reviews, not fake ones that were paid for. We are a family-owned inflatable rental company that cares about its employees and customers.
We deliver party rental equipment in the Hunt Valley area
Hunt Valley Tent Rentals
Hunt Valley Mini Golf Rentals
Hunt Valley Catering Rentals
Hunt Valley MD along with Cockeysville Area is a strong horse country area that is a beautiful area to shop and play. The wide-open terrains are great for hosting backyard parties, graduation parties, school events, church and community events, and more.