Best Axe Throwing Rental Harrisburg
Safest Mobile Axe Throwing Rentals in Harrisburg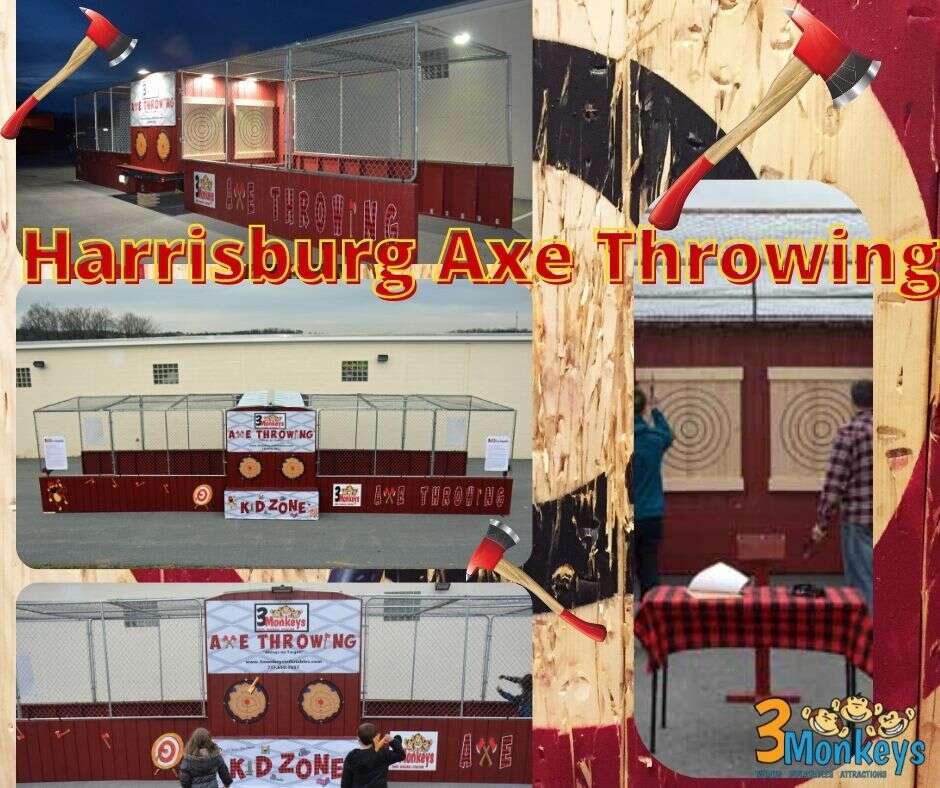 Harrisburg Axe Throw Rental near me
Are you looking to make your party go from great to awesome? Harrisburg area Axe Throwing Rentals is a mobile-friendly axe throwing trailer that can be set up inside or outside and rolls up in this tiny enclosed trailer and transforms into a huge axe throwing trailer offering you a 2 lane option or a 4 lane option for larger groups. The best part is each lane comes with a dedicated Axepert that will be sure to teach you and all of your friends, family, co-workers, or complete strangers how to throw axes as if you have been doing it forever! 3 Monkeys Inflatables provides the best-rated mobile axe throwing in Harrisburg and the Central PA area. We also go a step further and offer on the middle of the double lane axe throw we feature a velcro axe throwing safe enough for your littlest competitor so they can get in on the action of throwing and slinging those axes on an expert level before they level up to the older kids axe throwing lanes.

3 Monkeys Inflatables designed the mobile axe throw portable axe throwing trailer with easy of locations and size restraints but more importantly with safety in mind. We have rules signs, waiver tables with your axe pens, and of course floor to ceiling safety measures with walls/fencing to protect from any overthrows. So now that safety is not a concern, let's talk about getting your next event booked as this ever-popular new trend is hot for parties, events, and community events.
Book the Mobile Axe Throwing Rentals Harrisburg
Why rent our Axe Throwing Rental in Harrisburg?

3 Monkeys Inflatables has been in business in Harrisburg for a decade and a half offering not only creating exciting and fun entertainment with the Inflatables & bounce houses for rent but also offering safety and peace of mind when it comes to having trained operators who are properly trained and the amusement rides are safely set up. We have been offering the Mobile Axe Throwing Rentals in the Harrisburg, Dauphin and growing Central Pennsylvania area for about 2 years now under our 3 Monkeys Inflatables entertainment business and be able to create a tremendous amount of events with the Police Departments, Schools, Universities, Camps, Day Schools, Sororities, Bah/bar Mitzvahs, Bachelor and Bachelorette Parties and community events continuing to add innovative creative and fun items that will make adult parties, teen parties and community events a new big thing to do!


What type of party can you rent a Mobile Axe Throwing rental for?

The sky is the limit on the types of events and parties you can attract and feature the Axe Throwing for. The axe throwing rental is perfect not only for your typical backyard party events like graduation, anniversaries, and milestone and typical birthday parties, but also great to attract for your community event, football games, sporting events, school functions, college parties, and of course large corporate events. The adaptability of the axe rental is wide open! We have offered Grand Opening events, Block Parties, Fundraisers, Fire Department Picnics, Bar and Bat Mitzvahs, and Church events to just name a few.

What age groups can participate in axe throwing?

Axe throwing participants can range in age from teens through adults. Safety is of utmost importance to us so only one participant at a time will be throwing the axe at the target. Our axepert will remain present from the start of the event until the end. And, fear not! The little ones are not left out. There is a kids zone included with both the 2-lane and 4-lane axe throwing that has velcro axe throwing so that they can feel like they are part of the fun too!
What is your Mobile Axe Throwing Trailer delivery area?
Portable Axe Throwing by 3 Monkeys Inflatables delivers in Lancaster County Pennsylvania area including popular cities like Mount Joy, Lititz, Ephrata, Manheim, Strasburg, New Holland, Columbia, Elizabethtown, Bird in Hand, Ronks, Millersville, Willow Street, Intercourse, Quarryville, Mountville, East Petersburg, Denver, Marietta, Gap, Brownstown, Brickerville, Conestoga, Lampeter, Akron, Paradise, Gordonville, East Earl, Holtwood, Narvon, Stevens, Christiana, New Providence, Reinholds, Washington Boro, Bainbridge, Smoketown, Ephrata, Pennsylvania Mechanical bulls, and many more.