Mobile Axe Throwing
Mobile Axe Throwing Rentals
3 Monkeys Inflatables offers Mobile Axe Throwing Rentals in Central PA and Northern MD
3 Monkeys Inflatables is Central PA and Northern MD's Premier Event & Party Rental voted #1 by our customers for customer service, innovative rental items, as well as setting the standards in cleaning and sanitizing. Check out our new Mobile Axe Throwing Rental available for rent in 2 lane version, or 4 lane version that includes a free kids zone area with velcro axes and targets. Check out our Axe Throwing Trailer in our hometown of York, PA
Have Questions?
If you are looking for axe throwing near me please give us a call at 717-650-7657 or email us at info@3monkeysinflatables.com. We provide Mobile Axe throwing for private parties, festivals, or corporate event on your location or choice of venue. We don't even need a ton of space for setup. Experience the new trend with axe throwing with our custom-built axe throwing with safety cages above and to both sides of you to keep the fun flowing and the safety in place. We have great portable axe throwing trailers that will have the best competitive tournament or fun axe-throwing event for your friends and family.
Axperts Present during your event
We have an axpert on site for the entire event managing the lanes to ensure an extra level of safety. Axe Throwing is a great social distance event since the only thing participants touch is the axe itself and that takes just a second to clean and sanitize making this along with the distance you have to stay away from each other a perfect social distance event rental.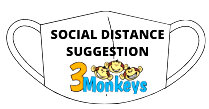 Axe Throwing Social Distancing Suggestions:
Mobile Axe throwing is already a socially distanced sport as we keep guests back. Participants take turns like our traditional axe throwing they are going to be within the 6 feet distance making this a perfect event attraction while staying social distanced. We will also provide some disinfectant wipes and wipe down the handles in between uses to allow for sanitized axes for each new thrower. We suggest you also add a table with some anti-bac and encourage all throwers to use prior to touching any axes.
Support your local business!

Please

subscribe/like and follow our youtube

for fun & informative video's

https://www.youtube.com/c/3MonkeysInflatables
Copyright © . 3 Monkeys Inflatables LLC. All rights reserved. Red Lion PA (717) 650-7657