27FT LAVA WATER SLIDE(68)
Size 76L X 21W X 27H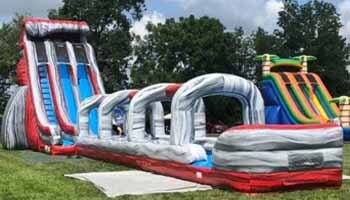 Setup Area: Level ground – Make sure the setup area for your slide is mostly level. It can have a very, very slight slope or grade (under 3 degrees). We do not set up on hills.
Actual Size: 76' L x 21' W x 27' H
Monitors: This item requires (2) Attendants to stay with the unit while in use. You may use your own attendant, or book an attendant in your cart
Outlets: 3 Standard 110-volt GFCI outlets (21 amps total) within 50 feet of the unit.A generator for rent is available if you are farther than 100 ft from the outlet of where you want the rental placed.
Age Group: Kids | Teens | Adults - 2 participants at a time, one in each lane, up to 200 lbs per lane
Description
27ft Lava Water Slide Rental York, PA
Biggest Waterslide Rental in Pennsylvania and Maryland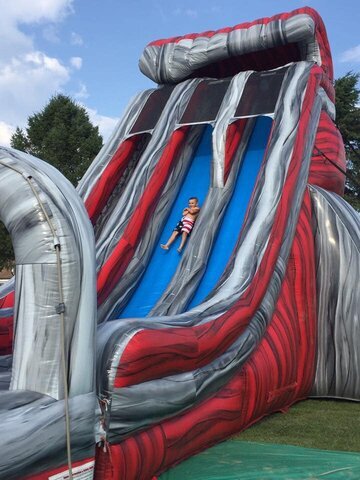 The 27ft Lava Water Slide Rental is our most popular inflatable water slide. Want the biggest most amazing Water slide for your event? The 27ft. Lava Giant Water Slide Rental offers a sliding thrill with its steep slope and fast-paced sliding surface. You will fly down this slide on twin lanes competitively racing against each other. If you are looking to rent the 27ft. Lava Water Slide in York Pa, or Central Pennsylvania and Northern Maryland. 3 Monkeys Inflatable offers the biggest and best water slide rentals. Our Lava Water Slide Inflatable Rental is a slide that will excite literally every age group for your party! Perfect for birthday parties, block parties, Fourth of July, Graduation parties, and more! This water slide is a thrill seeker's dream! It is also the most popular water slide in our inventory so it typically books up quickly! The 27ft Lava Water Slide is our biggest water slide standing over 27ft high and 76ft long this double lane water slide is an epic ride in itself, then you add the race element and it's just one-of-a-kind of fun that will not only engage the kids but the adults at your party too! 3 Monkeys Inflatable Rentals in York, PA provide a myriad of party rentals to the many cities and towns that comprise Pennsylvania. Their massive inventory includes water slides, bounce houses, tents... even picnic tables! They also have plenty of experience when it comes to catering to people's different needs - you can get anything from just one inflatable rental all the way up to hundreds if necessary. So whether you're looking for something small or large scale be sure 3 Monkeys is your first stop because they won't let their customers down with quality service at competitive prices. We often get asked Is this a Water Slide for Adults? Yes! We have many water slides for adult rentals. I mean we want to have fun too right?! The water slide is fine for adults up to 220 lbs, and we recommend that you put a lighter person on with that maximum 220lb person or have them slide down alone to help the pressure of 2 large adults coming down the water slide at the same time hitting the wall at the end of the lane. Big Water Slides are so much fun for mixed groups of kids, teens, and adults for water slide backyard parties, and everything in between! Don't say we didn't warn you though, rent this slide and you will never go smaller again! :) Our families have fallen in love with the adventure and extreme ride this slide offers. Fun all day long is not even half of it!
Specifics on 27ft. Lava Water Slide Rental
On this slide, there is one staircase with soft stairs that you can grip while you climb up but also climbing handholds to help with balance. The Lava 27 ft Water Slide measures 21' wide by 76' long and 27' tall. You need a fairly big area for this slide to sit without any low-hanging trees. 3 Monkeys Inflatables provide tarps to put under the entry and exit to minimize the muddy mess water activities can sometimes bring. There is a wall at the end to stop the momentum from the slide so you are not able to fly off the edge. All inflatables through 3 Monkeys Inflatables are licensed and inspected with the state of Pennsylvania for safety and are lead-free! For set-up on this slide, you will need three separate outlets on two breakers, as this unit requires three blowers.
Requirements for the 27ft Lava Water Slide

Water Source:

your garden hose


Outlets: If you don't have power within 50ft, you can add a generator for rent is available if you are farther than 100 ft from the outlet where you want the rental placed.
Attendants/Monitors:

This item requires (2) Attendants to stay with the unit while in use

. You may use your own attendant, or book an attendant with us here. Read more about attendants here.
Setup: We would need to know specifically if it will be on

grass or asphalt

a minimum of 5 days before your booking. All anchors need to be secured using a spike or sandbag according to the manufacturer's guidelines. We prefer to use ground stakes when possible, if this is not an option we will need to anchor using sandbags.

Frequently Asked Questions About the 27' Lava Water Slide
Q: Why should I trust 3 Monkeys Inflatables for my 27ft Lava Water Slide Rental?
A: 3 Monkeys Inflatables has been in the party rental industry for over 13+ years with a proven track record. All our inventory including the Lava 27ft Water Slide Rental is regulated by the Department of Agriculture Ride Safety Division for safety and standards. 3 Monkeys Inflatables has three state ride inspectors on our staff who are heavily involved in creating and executing our Ride Safety Training with our other staff members. We continually evaluate the safety standards by the state paired with our own safety standards, perform parent testing, & add continuing education for our team. 3 Monkeys Inflatables is also the only company in the area that is a trusted manufacturer and industry repair company. Our Giant Water Slide Rentals near me and Party Rental Equipment near me are well maintained, cleaned, and sanitized. We are fully insured and meet/exceed all safety inspections daily. 3 Monkeys Inflatables is family-owned and operated. The business is part of our family and began in 2007 when our kids were small. In 2020 both of our oldest sons became full-time in the business, with the youngest son joining the business part-time as well.
Q: How long do I get to keep this huge waterslide rental?
A: Our rentals are for up to 8 hours. We offer up to 8 hours for one low price. We treat all our customers like family and old friends. Each one is important to our business and we love making sure their events highlight the fun and easy water slide rental with lots of love and laughter and the only focus is the actual celebration!
Q: Do I need to supply power for the water slides?
A: All of our water slide inflatables do come with the necessary blower(s) to inflate the unit(s) and we ask that if possible, you have power available within 50 feet of where the unit is going to be placed. If there is no power available, we have plenty of generators available for rent for a small, additional fee.
Lava Water Slide Delivery Area:
Our delivery area for the Lava Water Slide includes Pennsylvania cities of York, Lancaster, Harrisburg, Dallastown, Hanover, Dover, Wrightsville, Shrewsbury, Mechanicsburg, Lakewood, Boiling Springs, Middletown, Pottstown, Millersville, Elizabethtown, Manheim, and Northern Baltimore cities of Baltimore, Woodstock, Laurel, Owings Mills, Randallstown, and many more.
If you want to book the 27 ft Lava Water Slide, here is what you should do!
Hurry! This is our most popular Water Slide Rental so if you are interested in this Water Slide you will want to book it fast! In this slide, we will warn you books up on certain dates a year in advance along with its sister slide which competes with the popularity of our 22ft Tropical Slide. If you would like to book the Lava Slide Inflatable Rental for your party, simply click Add to Cart or start a reservation at the top of the page. Once you enter your party information and 25% deposit to hold the slide, an automatic email confirmation is sent confirming your order. Don't forget to check out our tables and chairs, tents, and snow-cone machines to complete your order for the perfect party. If you would rather call to book or need more information, give us a call as we would love to assist you. Let 3 Monkeys Inflatables help you organize your party today!
shoptagr:installedshoptagr:installedshoptagr:installed
Lava Water Slide Rental Setup Location:
1. Your setup location needs to be free of rocks, pet waste, sharp objects, or any other hazards.
2. We cannot set up under any utility lines and must have a clearance of 5 feet in all directions away from any obstacles.
3. Please make sure you clear a spot for us to park & unload the equipment as close to the location as possible. If your parking is further than 75 feet please notify our office or put it in the notes portion of your booking.
27ft Lava Inflatable Water Slide Includes:
Professional setup/teardown.
We are registered with the Dept of Pennsylvania/Maryland State Amusement Industry
We have Liability Insurance
Pre and Post Event Cleaning, Sanitizing and Inspection
Staking and/or Sandbagging
Tarping (not indoors as it becomes a safety concern)
Extension Cords (we bring out the extensions needed to get electric to the spot you are setting up in) Keep in mind we can only go 100 ft max.
Safety Training