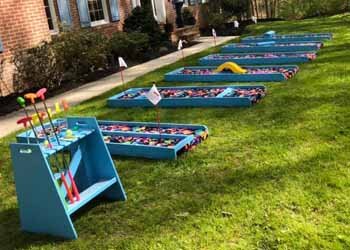 Description
6 hole Mobile Mini Golf
Mobile Mini Golf in Lancaster, Harrisburg, York, and many more


6 hole Mini Golf Features

Your choice of 12 kiddie putters or 12 adult/teen Putters

Miniature Golf Balls (12)



Score Cards and Pencils (12 each)

The Mini Golf features all wood mini Golf stations along with a glow-in-the-dark high-quality rug and interactive and amazing mini-golf courses to choose from! The putters, balls, scorecards, and pencils all come conveniently packaged in a stand that holds everything for your participants offering a professional and tasteful look to your event package! Of course, if you are renting 6 holes already for an extra fee you can add the entire 9 holes mini golf course to have the ultimate putt-putt course for your participants. We can space them far apart or close together whichever you would prefer. This can be easily adapted for a social distance golf game rental.
Rental Details
The rental is up to 3 hours. Each additional hour would be $75 hr. Blacklight can be added on for an additional $150 for the entire event. You are required to have an attendant (Volunteer 16yrs+) with this equipment to ensure the equipment is not broken. You can order online by going to our website order by date and clicking your date and times in and choose how many holes mini golf you want to rent. We rent 1 hole, 3 holes, 6 holes, and the complete 9 hole series for your convenience. Feel free to call us at 717-650-7657 or email us at info@3monkeysinflatables.com if you need further information. We do all of the setups and tear down of the mini-golf and will set it up inside or outside on any flat surface you would like us to.
How to book your 6 holes mini golf rental
The 6 holes mini golf rental is easy to rent with a 1 hole, 3 holes, 6 hole, and 9 hole mini golf rentals. Once you choose how many holes you want to rent then simply add that selection in the cart, and choose checkout if you are done with your order. Then add your personal information, and event location and choose checkout. We take a 25% deposit at the time of booking and then the remainder of the day of the rental. If you need any assistance during the rental process online feel free to call or email us at the above information.