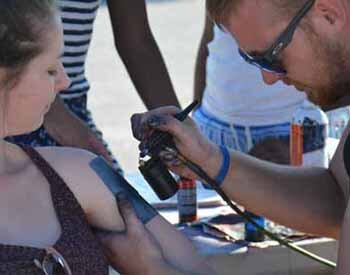 Description
Air Brush Body Art York, Pennsylvania
3 Monkeys Inflatables is your Air Brush Body Art Specialist in Lancaster, Harrisburg, Hershey, Baltimore, and surrounding counties.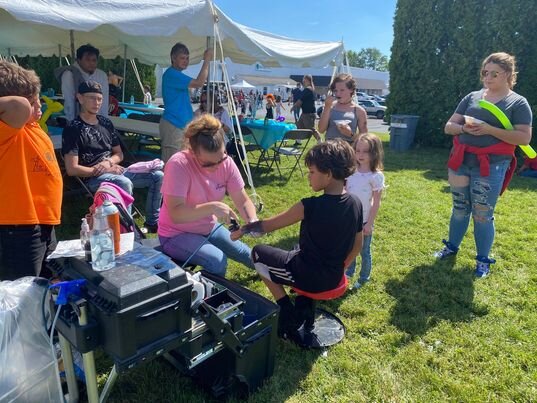 Quick and Easy
Air Brush Tattoos are one of the most popular novelty items we offer. At every event we have done, both children and adults have enjoyed getting these painless tattoos. Our airbrush artist will tattoo any one of the 200 tattoos you choose onto your body. We offer simple, airbrush tattoos which help keep your line moving super fast by offering just one color, black, on all of the tattoos. This allows the tattoo artist to make simple, fun, but fast tattoos. This is usually preferred in most locations we go because time sometimes is taken too long with picking out a tattoo and the lines are typically long because just about everyone wants to get a temporary tattoo including adults who are typically just as eager to get in line as the young kids.
How long will my airbrush tattoo last?
Tattoos will last 1 to 4 days depending on how it is cared for it. Tattoos can very easily be removed with rubbing alcohol. These are great for picnics, carnivals, school, college events, company parties, birthday parties, and more.
How long is the rental?
This comes with a dedicated body artist and sometimes an assistant to help clean the templates in between. (Please note this needs to be booked for a minimum of 2 hrs, and generally needs to be booked at the beginning or end of your party times in order to avoid a 2nd delivery charge.) The rental time we suggest for the air brush tattoo body art is typically for the entire event rental because a lot of times you will find the line will stay steady and long the entire length of your event.
To Book Air Brush Body Artist
Simply click on add to cart and choose the times you want to have the airbrush tattoo rental for. The cost is per hour so you will need to choose a minimum of 2 hours for the rental and choose the start and end time of the event. If we have any questions with the times chosen we will get in touch with you typically a few days prior. If you are uncertain or want help figuring out how much time you need or booking the item please feel free to call us at 717-650-7657 or email us at info@3monkeyisnflatables.com and we will get right with you to make sure your event is a big hit! Want to make Airbrush Tattooing a little more exciting? We offer Glow Air Brush Body Art too! We offer delivery options in Central PA and Northern MD with York, Pennsylvania being our hometown area.