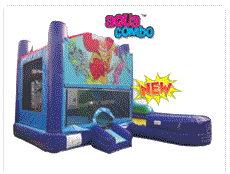 Aqua 3 in 1 Combo
21L x 17W x 15H | 9.8 amps
Aqua 3 in1 Bounce House Combo Rental
3 Monkeys Inflatable Rentals delivering to Central PA in popular cities of York, Harrisburg, Lancaster, Carlisle, Baltimore, & more Pennsylvania & Maryland Cities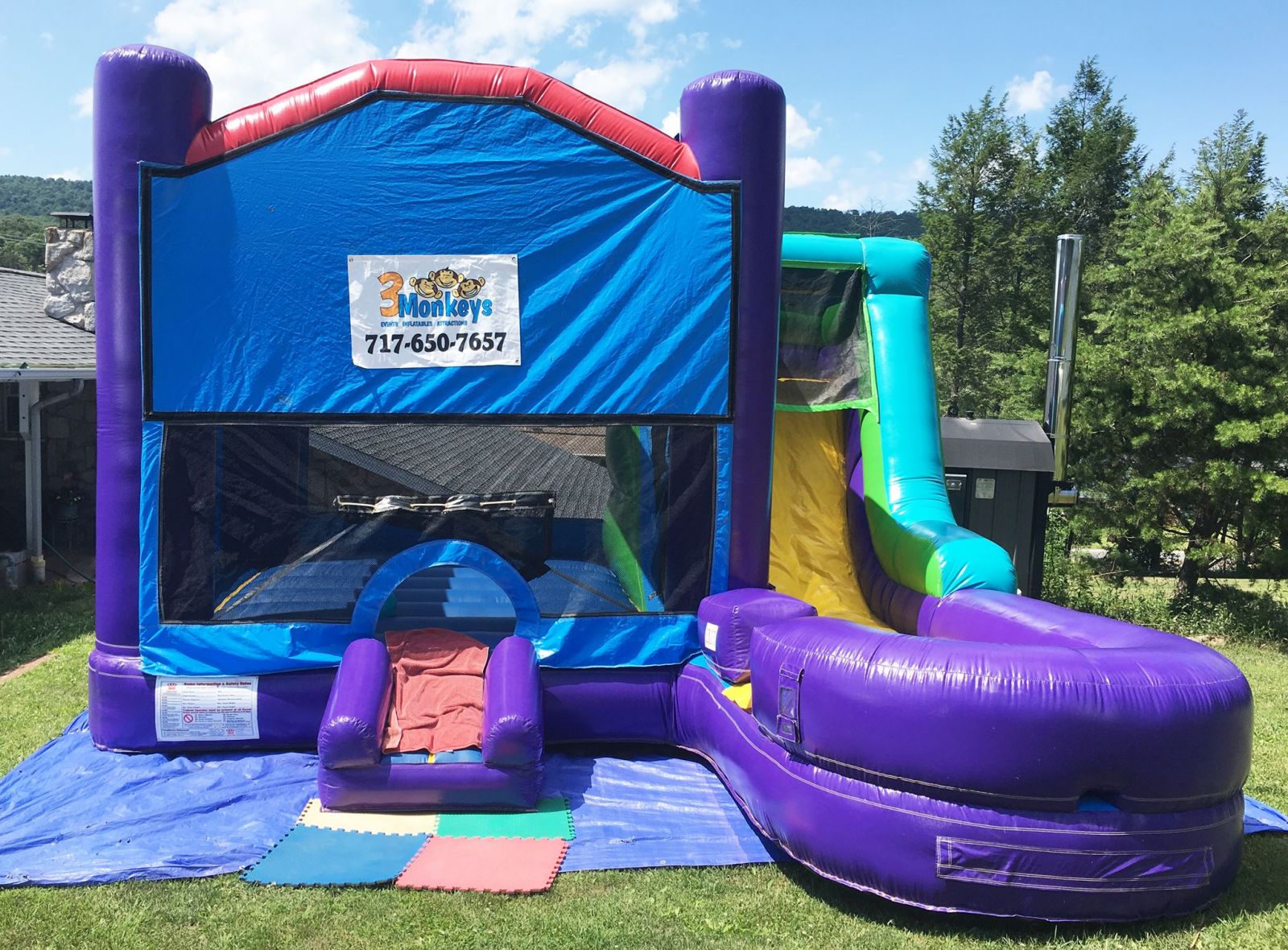 The Aqua Combo has revolutionary technology, Featuring Aqua Grip™ floor panels and Aqua Seal™ Seams, the Aqua Bounce Combo offers fun for everyone! Use this wet or dry! The Aqua Combo offers a waterside or dry slide capability, as well as a bounce area & basketball area that your wet riders can go from wet slide to bouncing without worrying about getting the bounce area wet! This is one of our very few units that can get wet! Let 3 MOnkeys and this Aqua 3n1 Bounce House Combo Rental be the center of your party or event. We have a youtbue video below that will show you the inside and some testimonials.
Unique and Fun Wet or Dry Rental Options
3 Monkeys Inflatables offers a unique rental with this Aqua 3 in 1 Combo. This combo offers a large, open bounce area where the kiddos will have a blast jumping, bouncing, giggling, and playing basketball! Then they can climb their way to the top of the slide and make their way down the thrilling waterslide! You are probably wondering what makes this unit so unique? This is our only unit that has the capability of having water spray inside the bounce area! AND it is designed with a non-slip floor material to make for safer, wet bouncing! This unit is loved by all parents and kiddos who have had this unit.
What ages is this unit best for?
The Aqua 3 in 1 Combo is a great unit for children up to about ages 10 or 11. At those ages kiddos still love to jump and bounce, so this unit offers the best of both worlds to them. The slide on this combo unit has a steep enough downgrade that it offers a bit of a thrill to them too! And maybe you have younger kiddos who are not so sure of the slide. This is where that added water feature in the bounce area comes in extra handy because they can still get wet, have fun, and feel like one of the 'big kids', even if it is just bouncing.
I want to rent this unit for my event, what do I do?
If you would like to rent this Aqua 3 in 1 Combo for your next backyard party, picnic, birthday party, or event you can do one of two things. Please always feel free to call one of our reservation specialists at our office by dialing 717.650.7657. We are always happy to help our customers secure a reservation over the phone. You can also scroll back up to the top of the page and click the 'Add to Cart' button. This will take you through our checkout process online. Don't forget we also rent tents, tables, and chairs to complete your event.

Requirements:
Occupancy: 8
Dimensions: 21' L x 17' W x 12.5' H
Outlets: 9.8amps | 110 volt GFCI outlet within 100 feet of the unit.
Generator
Rentals are available.
Attendants/Monitors: This item requires (1) Attendant to stay with the unit while in use. You may use your own attendant, or book an attendant with us here . Read more about attendants here.
Setup: Please specify when you book this item if you will be setting up Indoors or Outdoors. If outdoors we would need to know specifically if it will be on grass or apshalt a minimum of 5 days prior to your booking. All anchors need to be secured using a spike or sandbag according the manufacture guidelines. We prefer to use ground stakes when possible, if this is not an option we will need to anchor using sandbags.
Setup Location:
1. Your setup location needs to be free of rocks, pet waste, sharp objects, or any other hazards.
2. We cannot setup under any utility lines and must have a clearance of 5 feet in all directions away from any obstacles.
3. Please make sure you clear a spot for us to park & unload the equipment as close to the location as possible. If your parking is further than 75 feet please notify our office or put it in the notes portion of your booking.
Includes:
Professional setup/tear down.
We are registered with the Dept of Pennsylvania/Maryland State Amusement Industry
We have Liability Insurance
Pre and Post Event Cleaning, Sanitizing and Inspection
Staking and/or Sandbagging
Tarping (not indoors as it becomes a safety concern)
Extension Cords (we bring out the extensions needed to get electric to the spot you are setting up in) Keep in mind we can only go 100 ft max.
Safety Training

Check out the inside with the basketball hoop