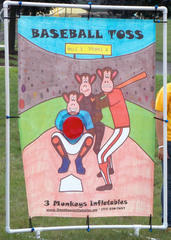 Baseball Toss Carnival Frame Game
Baseball Toss Carnival Game Rental York Pennsylvania
3 Monkeys Inflatables is your Sports Game Rental Specialist in Lancaster, Harrisburg, Baltimore, Hagerstown and many more cities
Baseball Toss Carnival Frame Game
The Baseball Toss Carnival Frame Game allows you to compete against the 3 Monkeys to throw/toss your ball into the "home plate/catchers mitt". Who will be able to get the win? Compete against one another for prizes, tickets, bragging rights, or just for the fun of it!
Competitive Game
You can add a competitive nature to this game allowing participants to get 3 shots at getting the ball into the catcher's mitt and the one with the most balls in is the winner. You can also sell tickets for so many balls and 2 in wins or whatever type of play you want to add to this with a twist.
Easy Fun & Portable
Baseball Toss Carnival Game is easy to play the game that is completely portable to be set up indoors or outdoors so regardless of your event weather or type you can provide fun carnival games that are perfect for any age to participate and win! It requires no power and setup can be done in as short as 10 minutes!