Home Run Derby Inflatable Baseball Game (#3G)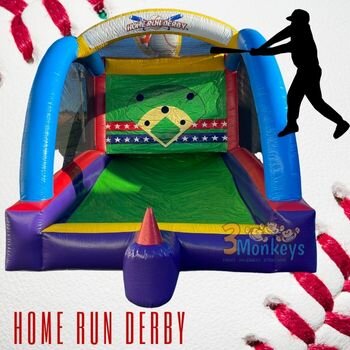 Actual Size: 18L x 12W x 16H
Outlets: 1
Description
Home Run Derby Inflatable Baseball Game Rental York, PA
Baseball Themed Carnival Game Rental in Central PA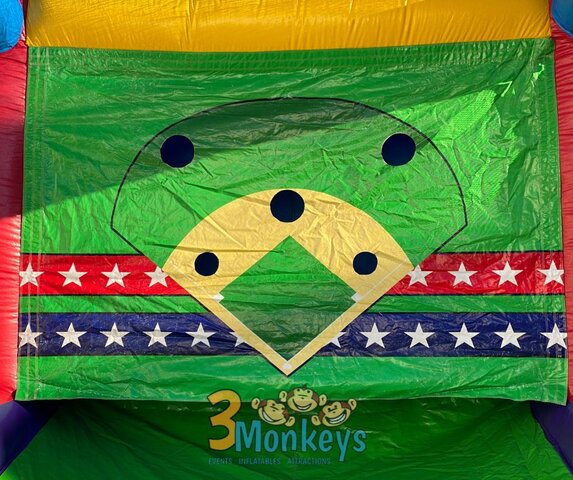 It's a tie game with two outs in the bottom of the 9th inning, bases are loaded and you're up to bat. Are you going to swing for the fences? Of course, you are! Our Home Run Derby Inflatable Baseball Game Rental York, PA is great for players of virtually all ages as you swing the bat and hit the floating ball into the backdrop through one of the holes as you try to bring home the winning run! This inflatable baseball game is perfect for any type of event, fair, or festival.
About the Home Run Derby Inflatable Baseball Game Rental in York, PA
3 Monkeys Home Run Derby Inflatable Baseball Game is loved by participants of all ages: kids and adults alike. The batter steps up to the plate where the floating ball is just waiting to be hit. Swing, batter, batter! Take your best swing and send that ball sailing into the backdrop through one of the holes, as you try to bring home the winning run. The Home Run Derby Inflatable Baseball Game makes a great addition to any carnival, school festival, May Day, church event, corporate event, or baseball opening day event! This Home Run Derby Game pairs exceptionally well with our Speed Pitch which has a radar gun to report the speed of each pitch thrown. And definitely do not forget to check out our Grand Slammer Meltdown which is designed like a baseball stadium and allows up to four participants at a time. See who can stay on base the longest without being knocked off by the rotating bats!
Do you have other Inflatable Games to rent?
YES! 3 Monkeys has many Inflatable Carnival Games to choose from and we have nearly all sports covered. We have an Ice Hockey Shootout Inflatable Game, Speed Pitch, Basketball Toss Inflatable Game, a Basketball Link Four Inflatable Game, Skeeball, QB Blitz Football Toss, Soccer Shoot out Inflatable Game, Hose Hockey Inflatable Game, Hoverball Archery Target, and even an Inflatable Gaga Ball Pit which can also be used as a Foam Pit! Any of these Inflatable Games make awesome additions to your event because they provide a challenge, the use of motor skills, hand-eye coordination, and friendly competition amongst attendees! Doing a mix of Inflatable Games with bin games or frame games is always a fantastic idea too! That way you are providing a variety and are appealing to all ages.
Do we need to add attendants for carnival games?
An attendant on every rental item from 3 Monkeys, is a must. However, you do not need to get attendants through us. If you are a school or church, we always like to suggest contacting your local high school to see if there are any students interested in earning volunteer hours. High schoolers often make great attendants. Parent volunteers are a wonderful option too. If you have them sign up for smaller time slots you are more likely to get volunteers. If possible, we suggest offering 30- or 60-minute time slots to your volunteer attendants. Please keep in mind, attendants must be 16 years of age or older for Inflatables. You are responsible for all rental items and accessories that may be included. Attendants are available through 3 Monkeys and you can learn more about them on our attendant page.
Dimensions: 18'L x 12'W x 16'H
Blowers: 1
Home Run Derby Delivery Area
We deliver the home run derby inflatable game rental and other party rental items to cities in Central Pa and Northern Md. Some of the cities we frequently deliver to include Harrisburg, Lancaster, York, Manheim, Lititz, Stewartstown, Mechanicsburg, Carlisle, Baltimore, Owings Mills, Columbia, White Hall, Hunt Valley, Bel Air, and other surrounding cities.