Basketball Toss (#1G/#5G) Inflatable Game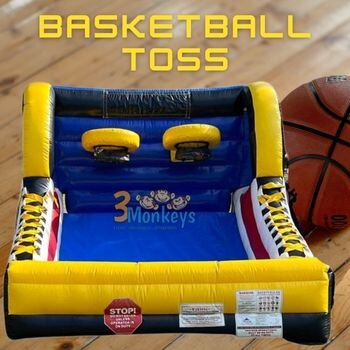 Description
Basketball Toss Game Inflatable Game Rental York, PA
3 Monkeys Inflatable

Rentals delivering Inflatable Game Rentals to to York, Harrisburg, Lancaster, Towson, Owings Mills, and more Pennsylvania & Maryland Cities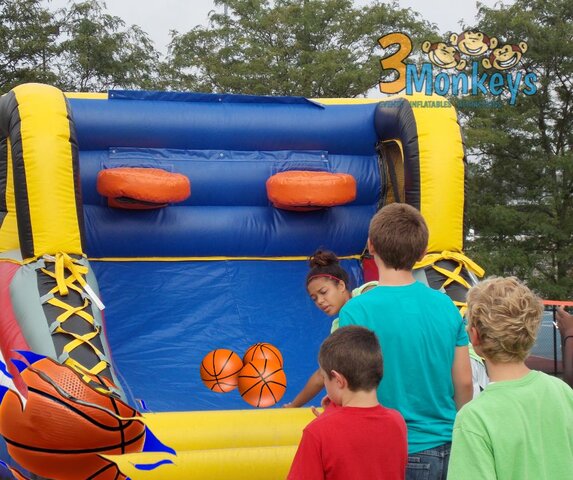 Partygoers will enjoy hours of fun shooting at this basketball toss game inflatable game rental York, PA. Perfect for all types of parties, special events, maydays, school carnivals, church events, and so much more. Who doesn't love to challenge each other in a little one on one? Small enough for smaller kids to enjoy, yet large enough for adults to still find challenging while competing against one another. Let 3 Monkeys Inflatable Rentals provide the inflatable party game rentals for your party or event.
Specifications of the Inflatable Basketball Toss Game
Basketball Toss Inflatable Game is a fully inflated game rental that encourages players to shoot against one another to see who can get the most shots in and win! You can offer prizes or nothing at all but the glory of the win for this game rental. The Inflatable Basketball Game dimensions are 10'L x 9'W x 8'H. It will require one outlet for power but it is just a standard outlet drawing 7.5 amps of power.
The Perfect Inflatable Game for any Event Rental
The Basketball Toss Inflatable Game Rental is a perfect addition to any type of event from backyard party, grad party, birthday party, team sports party, fairs, festivals, celebrations, corporate events, team building events, open house, camps, daycares, and just about any type of event because it is so easy to play. You can have all types of age groups play and love this game from preschool through adulthood. Basketball Toss is one of those timeless classic games that even if you don't play basketball the odds of you loving this game is pretty good as it's something everyone can play and want to try their luck at getting a basket. It can be competitive with the right kind of groups, but that is the beauty of this game as it can be just fun and non-competitive too at other types of group functions...this is why we love this game so much! If you are in search of other fun carnival games to rent check out our entire carnival game category! If you are looking for other inflatable games to rent check out the qb blitz football toss, soccer shootout, soccer darts, ice hockey shootout, skeeball, and hose hockey!
How to Rent the Basketball Toss Carnival Game Rental
Give us a call at 717-650-7657 | 410-581-5867 or email us at info@3monkeysinflatables.com to have us help you with booking your event rental. If you prefer our system is able to allow you to book online in real-time...so just head to our home page and click on the right side check availability. Once you do that it will ask for your date and time for your event, along with what item(s) you might be interested in. Once you have filled your cart with the items you want you can hit check out and it will take your delivery information from you and ask for a 25% deposit. The remainder of the balance can be paid the day of the rental with a credit card or cash (exact change).
Delivery Areas for Basketball Toss Inflatable Game and Other Party Rentals
3 Monkeys Inflatables delivers party rentals and game rentals to cities in both Central Pennsylvania and Northern Maryland. Some of our busy Pa cities include York, Red Lion, Harrisburg, Mechanicsburg, Lancaster, and Reading to name a few. Some of our busy Md cities are Baltimore, Owings Mills, Bel Air, and Freeland among many others.