Carnival Games
Carnival Games York, Pennsylvania Area
3 Monkeys Inflatables is your Carnival Game and Backyard Game Rental Specialist for many cities such as York,

Lancaster

, Hershey,

Harrisburg

, Reading, Baltimore, and many more.
3 Monkeys Inflatables offers a huge selection of carnival game rentals like lollipop trees, bottle ring toss, baseball and football toss games, and more. We have the most unique game rental options and largest Game Rental options in the area featuring Lawn games, Giant Games, Team Building Games, Mini Golf 9 hole, Gaga Ball, Inflatable Games, Frame Games, Station and Table Games, and so much more!
Carnival Games and Backyard Game Rental Information
To rent a Carnival Games rental with 3 Monkeys Inflatables, simply pick the Carnival Games Rental you are interested in renting by adding to your cart (don't forget about the tents, tables, chairs, concessions, and Pennsylvania bounce house rentals we have to add to your cart) and then simply add your booking details like your address, email, and phone number and complete the order with just a 25% deposit now with the remainder not being due until the day of your event. It's simple and easy! Game Rentals for parties, games for graduation parties, games for backyard parties, and block parties are super popular!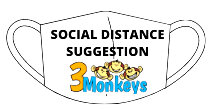 Social Distance Suggestion Tip: 3 Monkeys Inflatables offers cleaned & sanitized inflatables using Lysol Clean & Fresh as well as offering carnival game suggestions on how to have a safe event with safety suggestions on our social distance page, as well on individual category pages and item pages.
Carnival Games and Backyard Game Rentals offers you the ability to socially distance the games so that participants are 6 feet away from each other while enjoying the games, as well as encouraging participants to wear face masks and anti-bac their hands prior to entering and after jumping this will also help with any germ spreads. We offer other suggestions with encouraging signage and for more on this please check out our Covid Suggestion Page.
Call 717-650-7657 | 410-581-5867 or email: info@3monkeysinflatables.com
Support your local business!
Please subscribe for fun & informative videos!
https://www.youtube.com/c/3MonkeysInflatables
3 Monkeys Inflatables offers an unstoppable selection of Carnival Games available to rent in York Pennsylvania and surrounding areas. These games vary in assortment. We even have amazing Giant-sized Lawn Games like
Giant Connect 4 , Giant Yard Pong,
and
Oversized Chess to amazingly fun Inflatable Games like our most popular
Basketball Toss, and Hose Hockey. Party Game rentals are very popular for birthday parties, graduation parties, church events, community events, and any type of event or celebration. If you are ready to book your carnival game rentals, party game rentals, and more give our office a call at 717-650-7657 or simply check out online by adding the game rental to your cart, then picking any other carnival games you and bounce houses that you want and complete the order by adding your event location & personal contact information. Just finish your game rental with a 25% deposit and you are all reserved for your party game rentals and bouncy houses.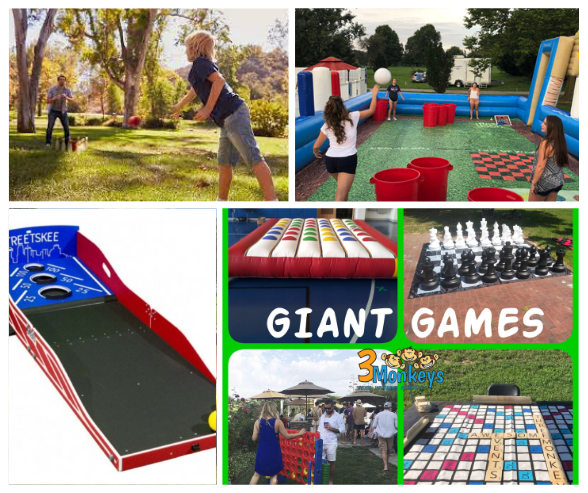 Carnival Theme Game Rentals
The 4 in 1 Inflatable Carnival Game is one of our big show stoppers that our customers love, with 4 games in one, that makes a huge splash! We also have single and double axe-throwing rentals, electrical games like Wacky Wire, and our very popular Strike a light Electronic Game.
Our bean bag style games are famous for making a big splash with a ton of lower priced games - choose from fun bean bag games like our Troll Dentist Game, Monkey Mayhem, Bullseye Carnival Game, Tic Tac Toe Carnival Game, Inflatable Bean Bag Game with choices of multiple banners, Duck Carnival Bin Game, Can Smash Carnival Bin Game, Knock down the Clown Large Carnival Game, Froggy Toss Game, and many more!
Our more giant carnival games that fit on 6-foot tables are perfect for attracting attention with a wow factor and attracting game enthusiasts! Check them out! Alien Pinball, Snake Pit, Roller Bowler, Oversized Ring Toss, Streetskee, Whip-n-skip, Plinko, Monster Blast, Giant Operation Game, and many more!
Our selection of Lawn Carnival Game Rentals is huge! They are extremely popular to have at backyard rentals, fairs, festivals, corporate events, and fun interactive events. Check out our Horseshoe Game Rentals, Lawn Bowling, Party Cannon, Tug-of-War Game Rope, Monkey Feet Challenge, Giant Kerplunk, Boom Blasters, Team Building Mat, Potato Sack Races, Giant Chess, Giant Pickup Sticks, Giant Yard Pong, Giant Jenga Tower Game, Giant Connect 4, Oversized Checkers, and many more!
We also have some uniquely fun games to rent! Check them all out here!
Angry Monkey Carnival Game
,
Laser Toss Frisbee Game
,
Shark attack Frame Game
,
Slap Shot Hockey
,
Mobile Fun Mirrors
,
Sidewinder
, and many more.