Battle Ships Inflatable Game Rental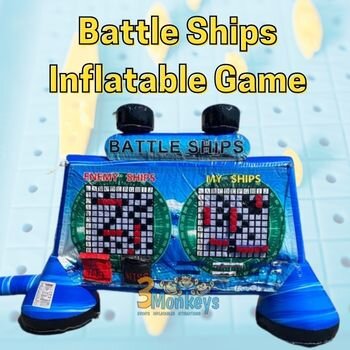 $299.00
Please call to reserve this item.

Description
Battle Ships Inflatable Game Rental
Inflatable Battle Ships Delivered to Central PA and Northern MD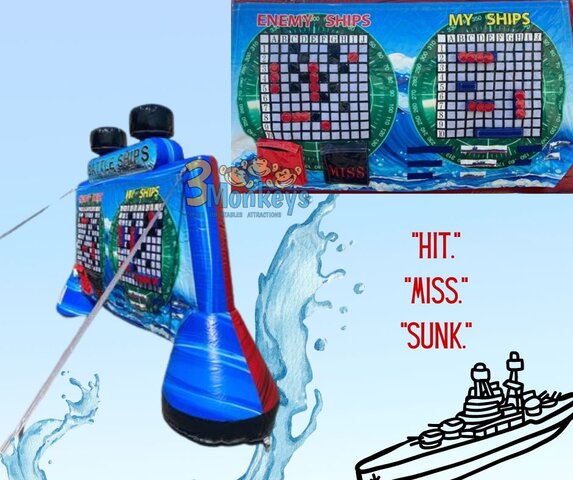 Have you ever played the battleship board game as a kid? It was one of those interactive games you just got into yelling out "You sunk my battleship" and trying to outwit and outplay your opponent. This inflatable battleship game rental is an interactive giant game rental that will be sure to encourage great exciting gameplay! Great for colleges, schools, camps, corporate events, community events, and more!
What is included with the Battle Ships Inflatable Game Rental?
Great question! You get the large inflatable battleship play board, plus all of the pieces necessary to play a 2 player or team battleship game that includes the battle ships to place & hide on your side of the board for the opponent to find as well as your hit and miss vinyl circle markers to mark where the attempts have been made on your battleships and that you have guessed on your opponent's ships. You also have 1 blower (so one outlet needed - 8 amps) for this to plug into for power.
How big is this battle ships game rental?
The battleship game is 3 feet long x 12 feet wide by 8 feet high. This is a giant game option available for both team play, and individual gameplay against 1 opponent. Battleship Inflatable Game rental is small enough to fit in a tight spot allowing you to make a larger splash of different activities for your event rentals.
How do I rent the inflatable battle ships game?
The Inflatable battle ships game rental is so easy to rent. You can go on our website and simply add the battleship game to your cart along with any other rental items you would like for your party or event rental. You then simply choose to check out and pay the 25% non-refundable deposit to book the inflatable and attractions for your date and times, and then we will confirm your rental with an email with the subject line: Order Placed. You can also choose to contact us by phone at 717-650-7657 or email us at info@3monkeysinflatables.com and we would be happy to handle the booking on end for you quickly getting your date/times and event information logged for you so you have this rental reserved in no time!
Do you deliver to my area for the Battle Ships Game Rental?
We deliver to cities in Central PA and Northern Maryland. Some of the cities we go to often are York, Lancaster, Harrisburg, Hershey, Felton, Ephrata, Lititz, and many more. Check out our delivery areas page for more cities or reach out to us by phone or email.
What other party rental games do you suggest renting with Battle Ships?
We have a great selection of inflatable games, tabletop games, traditionanl carnival games, and even giant games. Some of the other inflatable games are skeeball, qb blitz football toss, basketball toss, hoverball archery, hose hockey, and the 4 in 1 carnival game amongst many others. Our tabletop game selection is also quite impressive and includes whip-n-skip, wacky wire, alien pinball, bottles up, bullseye, and so many more!