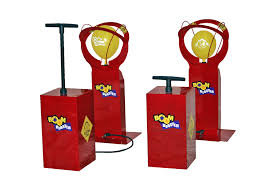 Boom Blaster (set of 4)
BOOM BLASTERS (set of 4)
This is a speed pumpin challenge that combines the excitement of popping a balloon with a safet, and fun balloon blasting detonator.
Up to 4 players frantically pump, inflating their balloons until they reach the getting to the popping point.. First to pop their balloont – BOOM! – is the winner. This is a great year round activity perfect for all ages! This is game that is great for all ages, but does require adult supervision. This game uses balloons and can be a choking hazzard which is why we require adult supervision.
What comes with this rental?
When you rent the 3 Monkeys Inflatable Boom Blaster we bring 4 machine blasters, and over 144 balloons so that you and your participants can frantically pump and pop balloons. This is perfect for carnival and circus theme events but very popular for School Fairs, Maydays, Scout and Community Events. This item does not require electricity so it's great to place in any outdoor or indoor space. Great for graduation parties, picnics, park events and so much more.
What is included?
4 machine blasters
Pack of 144 balloons comes with this game.

Copyright © . 3 Monkeys Inflatables LLC. All rights reserved. Red Lion PA (717) 650-7657