Boom Blaster Balloons (144 pk)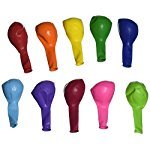 Description
Boom Blaster Balloons Rental York Pennsylvania Area
3 Monkeys Inflatables is your Boom Blaster 4 player Balloon Supply Specialist in Harrisburg, Lancaster, Baltimore, Reading, Camp Hill, Hanover, Spring Grove, Hershey, and Carlisle area.
Boom Blasters is a fun interactive 4 player game. If you ordered the Boom Blaster set you may want to order extra balloon packs that come in sets of 144 balloons. They are to be ordered only if you have already ordered the balloon blaster as they are extra supplies for that carnival game.
Extra Balloons
They are great to have on hand if you have ordered the balloon blaster because the boom blasters are such a fun and interactive game that you will get huge lines that will make you wish you had ordered extra balloons to ensure you have enough for this fun game. We do have a caution label on the packaging to ensure that you have parental supervision when using balloons since they can be a choking hazard and you will want to remember to have the used balloons picked up after your event so you don't leave them lying around.

About Boom Blasters


Boom Blasters is a game that can be played with kids and adults that will have a blast racing against each other to see who can blow up their balloon first as each player excitedly pump their balloons up. Watch out though because the winner is definitely going out with a bang!
How to book
To book the additional boom blaster balloons you will want to ensure that you already have the Boom Blasters Game Rental booked or in your cart at the same time as adding the additional balloons. This is something that will be added as an additional supply of balloons. This is wise to do because the kids love the balloon blaster and will go through the balloons super fast! If you are not sure if you already have the boom blaster game rental booked please get in touch with our office staff at (717) 650-7657 or info@3monkeysinflatables.com as they can help navigate what is already reserved and add on additional balloons onto an existing rental. If this is a new rental just simple add this item to your cart as well as and checkout with a 25% deposit with the remainder due the day of the rental.