Cake Rental Party Package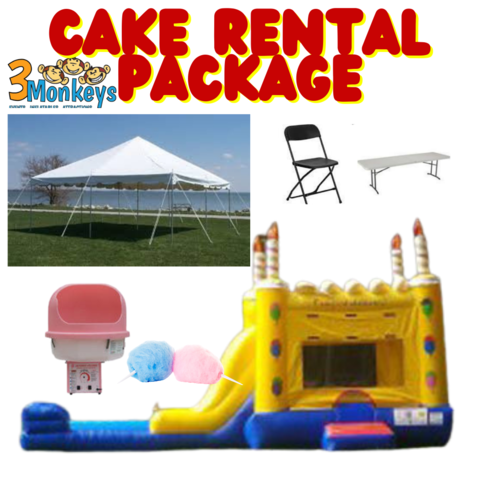 Description
Cake Rental Party Package York
Party Rental Cake Package in Lancaster, Harrisburg, and surrounding areas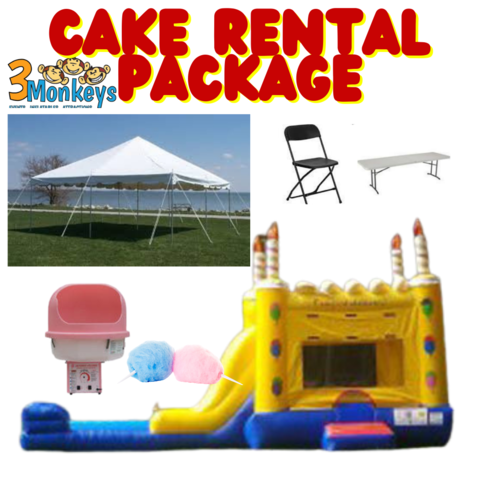 The cake rental party package is one that will help blow your party up and make it a really big deal for both you and your guests! This cake package starts out with our amazing Cake Combo rental which features a Bounce House with a basketball net inside and a slide rental all in one. Then you add in a 20x20 grass setup tent rental, along with a Table & Chair Package for up to 16 guests. And then, of course, finish that cake rental off with the delicious, ever-so-yummy cotton candy machine rental that includes enough product to provide servings for up to 50 of your guests. It really does not get any sweeter than this cake combo package!
This package is exclusively designed for not just birthdays but for any type of special celebration event (graduations, anniversaries, milestones, housewarming parties, First Communion celebrations, and more). If you would like to book this package all you need to do is add this item to your cart, choose the date and times you would like your rental to start and end (we deliver up to 8 hours for this one, low price), enter your personal information, and make your 25%, non-refundable deposit online. Setup on grass is preferred for the inflatable. If there is no option to set it up on any other surface other than concrete or asphalt we will need to know so that we can come prepared with sandbags to secure it to the ground. Please also know there is an additional fee for a sandbag setup. It is also highly preferred that the tent be set up on grass but again we would need to be notified if it has to be set up on asphalt as there would be an additional fee. Tents cannot be set up on concrete. If you are renting in York PA or surrounding areas like Central PA, Northern MD, and more rest assured 3 Monkeys will provide peace of mind delivery and setup options.
Complete with candles on top, this cake combo bouncer rental is very eye-catching, crowd-pleasing, and just plain cute! What makes it even better is that this unit can be used as a wet unit which means the slide can be converted into a waterslide during the hot summer months for the children to not only enjoy but also to cool off in! When used as a waterslide you will need a garden hose that is connected to a water source pulled out to the setup area so that our setup crew can connect your hose to our connector hose at the time of setup. Never run your water at full blast when using any of our waterslides. Keep your water on at just a trickle, just enough to keep the slide wet and the momentum of the slider going! To see more pictures of the cake combo, read more about it, and to see our YouTube video of it please click here.
If you are not sure you want to book online or require special assistance with setup surfaces please give us a call at 717-650-7657. One of our booking specialists can provide assistance in booking this or one of our many other great package specials where we put together ideas to show you how you can create amazing packages! Planning a Labor Day, 4th of July, Memorial Day, Veteran Appreciation, or Americana-themed party? Be sure to see what our USA Party Package entails!