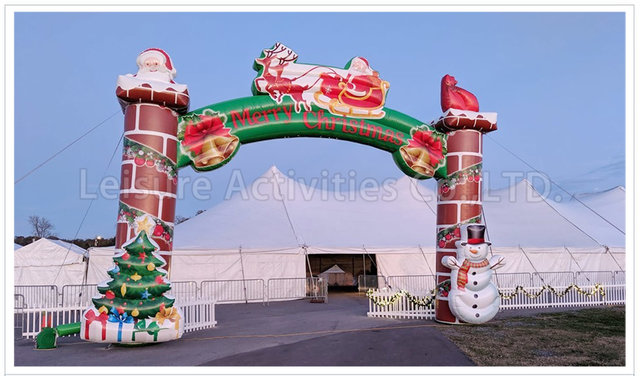 $199.00
Please call to reserve this item.

Description
Christmas Arch Rental York, PA
3 Monkeys Party Rentals delivering to York, Harrisburg, Lancaster, Carlisle, Baltimor

e, Reading, Camp Hill, Wyomissing, and more Pennsylvania & Maryland Cities
Give your event an extra holiday wow with the addition of our new Christmas Arch. The arch features santa claus, sleigh, and his reindeers. Imagine guests walking up to your event and being welcomed with this Christmas Arch. It is a great area to help designate where you want guests to come to when they arrive and you can build your event around this entranceway arch.
Christmas Arch features
The Christmas Arch features Santa, Sants's sleigh, and reindeers. It also has a chimney with Santa popping out that will get the kids excited and buzzing about when Santa will be arriving at their house. There is even a Christmas Tree with lights and a smiling Snowman on this arch and of course, Santa's bag of toys is even featured.
Photo Opportunity
This Christmas Arch is a must have at your Christmas Event and you will find it will create a photo op, as well as parents, teens and kids, will want their picture in front of the arch to post on Facebook or have as a keepsake for when they came to your event.
Create even more excitement with our other Christmas-themed items!
We encourage you to check out the growing Christmas-themed items that we have available for your fall/winter parties and even your summer Christmas in July events. What is cooler than a Christmas Wonderland Toddler Inflatable? An Entire Collection of Christmas Inflatables & Attractions.

Check them out below:
The Holiday Express Trackless Train Jr.
Our Holiday Express Trackless Train Jr entertains both kids and adults on our trackless train decorated beautifully with Christmas lights, wreaths, and garlands to create a magical holiday train for participants to ride around on and enjoy.
The Holiday Express SANTA Train Conductor
The Holiday Express Train SANTA Train Conductor adds Santa Claus to our Trackless Train Rental which is a 2 hr train rental so this would add Santa for the entire 2 hour train rental which creates even more excitement to your event.
Christmas Wonderland Toddler Inflatable
Our Christmas Wonderland Toddler Inflatable is the perfect inflatable for little ones that is holiday themed with amazing colors that will interest little ones, and fun features like Giant Candy Canes, Snowmen, Santa & his sleigh, reindeers, and presents along with a fun little slide!
Little Snowies
These little snowmen create little flurries of snow that will bring a holiday feel to your event regardless if it's fall, winter, summer or spring. Little Snowies make a fun, unique addition to your winter event!