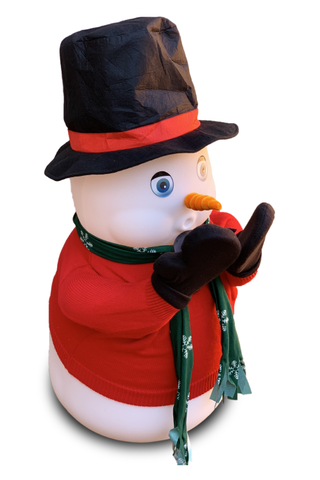 $149.00
Please call to reserve this item.

Description
Little Snowie Snow Machine Rentals York, PA
3 Monkeys Party Rentals delivering to York, Harrisburg, Lancaster, Baltimor

e, Wyomissing, Towson, Owings Mills, and more Pennsylvania & Maryland Cities
Our little snowies are the perfect addition to any Christmas or Holiday theme event where you want to have some flurries at your event. This is perfect for holiday parties, theme parties like Christmas in July, or if you are having a special play or presentation where you want to feature flurries/snow.
Features
These are mini snow making machines that can produce a flurry/snow from the snowman's mouth that will help create that winter snow effect regardless of your season. The Little Snowie stands about 2 1/2 - 3 feet high and can be placed pretty much anywhere inside or outside. Keep in mind they produce a snow substance so if you are placing it inside you will have a little clean-up at the end of the event. Think of the substance as foam snow that will dissolve and dry and could leave a soapy film on the floor that it is set up on. You can always add an indoor/outdoor carpet if that is a concern, but it is minimal.

This is for one snowman (however more are available) for a 2-hour rental.
Excitement
Create the feeling of the holidays to just about any type of event. The surprise and excitement on not only kids' faces but adults' faces when they walk into an event that has flurries (snow machines) throughout the event. You can rent these and pretty simply fill them up as your event is running not having to shut down the unit as you simply assign a volunteer or rent an attendant that can sit nearby and be in charge of filling up the snowman as he gets low. This is probably every 20 minutes if you were running it at the most output with the fastest amount of snow that is continually making snow.
Create even more excitement with our other Christmas-themed items!
We encourage you to check out our growing Christmas themed items that we have available for your fall/winter parties and even your summer Christmas in July events. What is cooler than a Christmas Wonderland Toddler Inflatable? An Entire Collection of Christmas Inflatables & Attractions.

Check them out below:
Our Holiday Express Trackless Train Jr entertains both kids and adults on our trackless train decorated beautifully with Christmas lights, wreaths, and garlands to create a magical holiday train for participants to ride around on and enjoy.
The Holiday Express Train SANTA Train Conductor adds Santa Claus to our Trackless Train Rental which is a 2 hr train rental so this would add Santa for the entire 2-hour train rental which creates even more excitement to your event.
Christmas Arch
This Christmas Arch is a grand holiday-inspired inflatable arch that is perfect to create an entrance area to your Holiday themed party. It creates excitement and gives you an entranceway that is quite grand.
Christmas Wonderland
The Christmas Wonderland Toddler Inflatable creates an amazing Christmas-themed toddler bounce and obstacle course/combo sampling of different pop-ups and elements within this fun, colorful, and fully themed Christmas toddler inflatable complete with a slide inside.
Planning a Christmas-themed party?
Check out our Ultimate Holiday Party Package that has several of our different holiday rental items in one grand package.