Christmas Wonderland Toddler Inflatable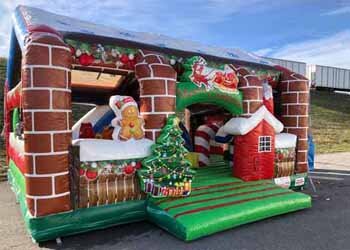 $319.00
Please call to reserve this item.

Description
Christmas Wonderland Toddler Inflatable Rental York, PA
Perfect for a Holiday Party or Christmas in July theme!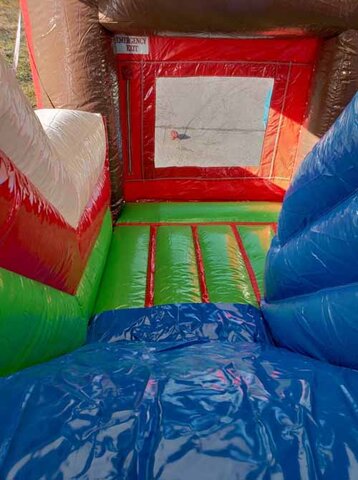 What's more perfect for your theme than to create an amazing Christmas/Holiday theme bounce house party with this adorable Christmas Wonderland Toddler inflatable that is perfect to entertain little ones and get them excited about the vibrant and fun colors and features throughout this inflatable. The Christmas Wonderland welcomes you into the unit with a great big Christmas Tree in the entranceway with a beautiful chimney and of course complete the entranceway with a large smiling snowman to get the kids excited and eager to explore more. While just inside awaits inflatable popups in a present form, Giant size candy canes, and even Santa on his sleigh.
So much to explore in the Christmas Wonderland Toddler Inflatable for Rent!
From the popups, crawl through areas, and climbing areas to the slide the Christmas Wonderland Toddler Inflatable is packed with vibrant and fun colors to keep the toddler's interest throughout along with exciting elements like presents, snowmen, Santa, sleigh, candy canes, and a slide.
This is one of those inflatables that will be an exploration obstacle for those early learners and walkers who can wander around and explore all the nooks and crannies that are packed into this inflatable and wonder and get excited about Christmas Little ones will squeal in excitement as they find Santa on his sleigh and find snowmen smiling at them.
Create even more excitement with our other Christmas-themed items!
We encourage you to check out the growing Christmas-themed items that we have available for your fall/winter parties and even your summer Christmas in July events. What is cooler than a Christmas Wonderland Toddler Inflatable? An Entire Collection of Christmas Inflatables & Attractions.
Check them out below:
The Holiday Express Trackless Train Jr
Our Holiday Express Trackless Train Jr entertains both kids and adults on our trackless train decorated beautifully with Christmas lights, wreaths, and garland to create a magical holiday train for participants to ride around on and enjoy.
The Holiday Express Santa Train Conductor
The Holiday Express Train SANTA Train Conductor adds Santa Claus to our Trackless Train Rental which is a 2 hr train rental so this would add Santa for the entire 2-hour train rental which creates even more excitement to your event.
Christmas Arch
This Christmas Arch is a grand holiday-inspired inflatable arch that is perfect to create an entrance area to your Holiday themed party. It creates excitement and gives you an entranceway that is quite grand.
Little Snowies
These little snowmen create little flurries of snow that will bring a holiday feel to your event regardless if it's fall, winter, summer or spring.