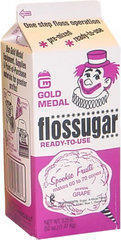 Cotton Candy Servings Additional Quanities
Cotton Candy Additional Serving Rentals York Pennsylvania Area
3 Monkeys Inflatables is your Cotton Candy and Additional Servings Rental Specialist in Harrisburg, Lancaster, Hanover, Gettysburg, Reading, Baltimore, and Dallastown Area.
Extra Supplies
This would include a 52 oz Floss (serves 50-60 servings), and cones to serve 60 guests. You will still need to order the Cotton Candy Machine Rental and you should do that before ordering this extra supply rental. This is for Do it yourself events where you are renting/running the machine yourself. FYI: Unfortunately we do not rent out just cotton candy supplies without a machine rental. We also do not allow other floss to be used in our machines. Keep in mind that we do not return any concession supplies due to food safety guidelines.
Cotton Candy Machine Rental
3 Monkeys Inflatables offers Cotton Candy Machine and Concession Rentals in Central PA, and Northern Maryalnd. We supply the machine rentals with supplies. We have Cotton Candy Machine Rentals, Snow Cone Machine Rentals, Popcorn Machine Rentals, Pucker Powder Machine Rentals, Shaved Ice Machine Rentals, State Fair Donut Maker Rentals and Hot Dog Machine Rentals.

Book your Concession Rental
3 Monkeys Inflatables offers online booking with real-time availability so that you can book anytime 24/7 online by just clicking on check availability and follow the prompts to book your concession and/or inflatable rental. You can also call our office at 717-650-7657 or 410-581-5867 to get booking assistance or email us at info@3monkeysinflatables.com