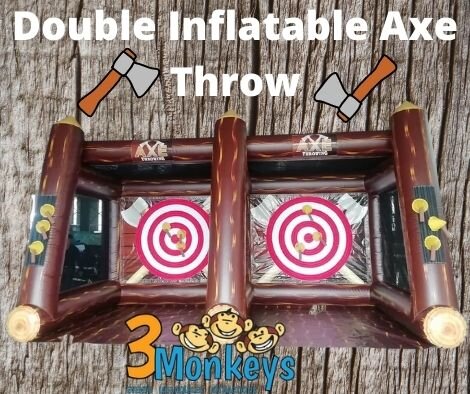 Double Inflatable Axe Throw
Double Inflatable Axe Throw Rental York
Our Double Inflatable Axe Throw Rental in York, and surrounding areas is a huge hit for kid events and events where you don't want the real thing with real axes. 3 Monkeys Inflatables is the leader in Pennsylvania Axe Throwing Rentals with now offering Inflatable Axe Throwing as well as Professional Axe Throwing lanes. With both options now available it's amazing entertainment. 3 Monkeys Inflatables offers the new inflatable double axe throw rental where you can see if you can hit the bullseye throwing axes. These are not real axes, as they are foam and inflatable axes that will allow for any age group from children axe throwing to adult axe throwing. This is fun for both adults and kids. Be prepared this will be something your guests will want to keep trying and getting better and better as they change positions and learn how to throw the axes to stick to the bullseye. The inflatable ax throw measures 12.8'L x 22'W x 12.9'H.
How can I book the double axe throw party rental for my order?
Adding the inflatable axe throw game rental to order is as simple as clicking add to my cart, and completing the cart detail, and placing a 25% deposit payment. Once that is complete you will have reserved this item, and any others you booked in your cart. If you need help along the way, you can reach out to our office staff by calling 717-650-7657 or email us at info@3monkeysinflatables.com
Looking for a competitive game rental?
Look no further! Axe throwing is a competitive game rental that is a perfect activity where you throw inflatable axes and try to hit the target. Your participants will compete to see who can get all 3 axes on the bullseye. How close they get will be up to them on their skills at axe throwing. This is fun, safe entertainment, delivered to you perfectly for all ages and skill levels. The beautiful design detail to make the inflatable axe throwing station in the wood theme really make this unit one of those party stoppers that will attract all of your guests over to the game station to play.
Are you looking for a competitive Package?
3 Monkeys Inflatables is the area leader in having the biggest and best selection of competitive games as well as unique rental equipment. We have the 411 on what you need to create not only a competitive party package, but the biggest adventure competitive game and party package you will wonder if you dreaming. Your party will be the place to be and you will be the hit of the party! Give our office a call or email us if you want help building your competitive package. What I would suggest is you to look at our website and click on the left-hand corner next to our logo the red box with 3 white lines and check out the drop-down boxes that show up there. Click to check out our extreme competitive items like our Water Slide Rentals with some of the biggest and longest waterslides in the area like our extremely popular 27ft Lava and 22ft Tropical water slides that feature double lanes for racing and competing with your friends. Our Obstacle Course Rental category is just literally non-stop action of racing against your opponent to see who will be able to run and weave their way through the obstacle course challenges, as well as of course one of our biggest competitive categories our Extreme Interactives that features big-time competitive inflatables and attractions like our bumper car rentals, rock wall rentals, meltdown, foosball, Mechanical Bull, Zorb, Defender Dome, and of course our Sports Combo Arena. But wait, there is more with Giant Games, Foam Parties, Escape Room Rentals, Virtual Reality, Digital Video Game Rentals, Xtreme Racing Simulators, Mini-Golf competitions, and IPS Battle Zones there is really likely we can't blow your mind with the choices available for a small party to the biggest party you can afford!
Ready for the big-time? We have professional Axe throwing lanes available to rent too!
It's so new and exciting to have these huge axe throwing lanes available in the mobile version that allow for safety and fun in one complete unit. With our axeperts on hand to walk you through training and be available to continue to coach your guests, and ensure safety is followed it's hard to imagine that you can get the best of both worlds instead of going and booking an appointment for just you and few guests at an Axe throwing Party location you can throw your party at home, at your corporate headquarters, your bank, your school or college, your church event, your man or woman club, your fundraising, virtually anywhere we can bring a trailer and park it outside your event or because it folds down so compact we can even bring it in a barn, a venue location that has high ceilings, or whatever you may need to give us a call and we will walk you through the options of having both the axe throwing inflatable and of course the real thing also on our site.