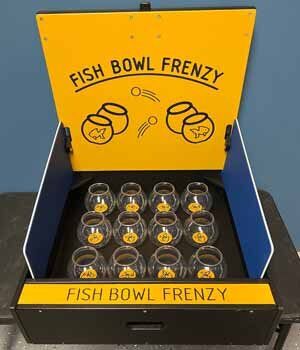 Description
Fish Bowl Carnival Game Rental
Fish Bowl Frenzy Carnival Game for Rent in York, Lancaster, Harrisburg, Baltimore, Bel Air, and Other PA and MD Cities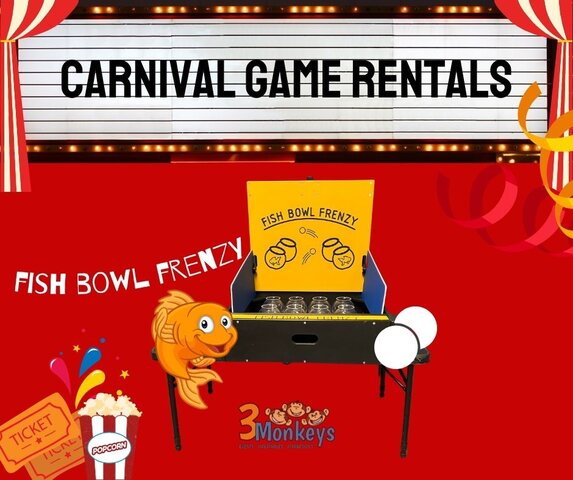 The fish bowl carnival game rental is sure to be a hit at your next event. This adorable, fun, tabletop game is made to sit on top of a table. If you have or rent an 8 foot table, you can sit 2 bin games per table! Don't worry Mom and Dad, this carnival fish bowl game has no risk of taking home an actual goldfish! These carnival games are simply played for fun or for prizes provided by the coordinator of the event.
How to play Fish Bowl Frenzy Carnival Game Rental
One player at a time steps up to test their aim when they play the fish bowl game! They are handed ping pong balls which they will aim, throw, and try to land into the plastic fish bowls which aresituated in the bottom of the bin game. The great thing about the fish bowl carnival game is that you get to set the winning goals. Do you want them to sink 3 balls? Maybe you want to set a higher goal like 5? Maybe you have a little one playing and they get a prize if they get just 1 in?! The sky is the limit with Fish Bowl Frenzy.
Other carnival games for rent that pair well with Fish Bowl Frenzy
We have quite the impressive carnival game selection here at 3 Monkeys Inflatables. We have recently upgraded our carnival game inventory so that you have a new, fresh selection of carnival games to rent for your event. If you like the tabletop bin games be sure to check out other's such as Troll Dentist, Tic-Tac-Toe, Bottle's Up, Monkey Mayhem, Rattlesnake Roundup, Bullseye, Monster Blast, Wacky Wire, and more! These games do not require power to operate, just good old fashioned hands-on players! You will need a table to set the carnival games on, so you can either provide your own or add a table rental to your party rental.
Where does 3 Monkeys deliver carnival games like the Fish Bowl Frenzy Game to?
3 Monkeys delivers to cities in Central PA and Northern MD. Some of the deliver cities in Pennsylvania include Lancaster, York, Harrisburg, Felton, Red Lion, Mechanicsburg, Carlisle, and more. Some of the cities in Maryland we frequently deliver to include Baltimore, Owings Mills, Bel Air, White Hall, Freeland, and others.