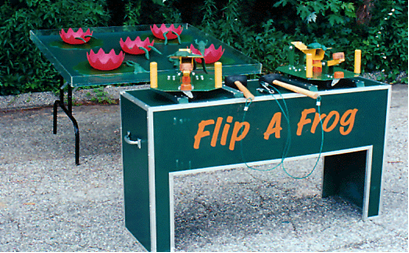 Description
Flip a Frog Game Rental
3 Monkeys Inflatable
Rentals delivering to York, Harrisburg, Lancaster, Baltimore, Reading, Owings Mills, and more Pennsylvania & Maryland Cities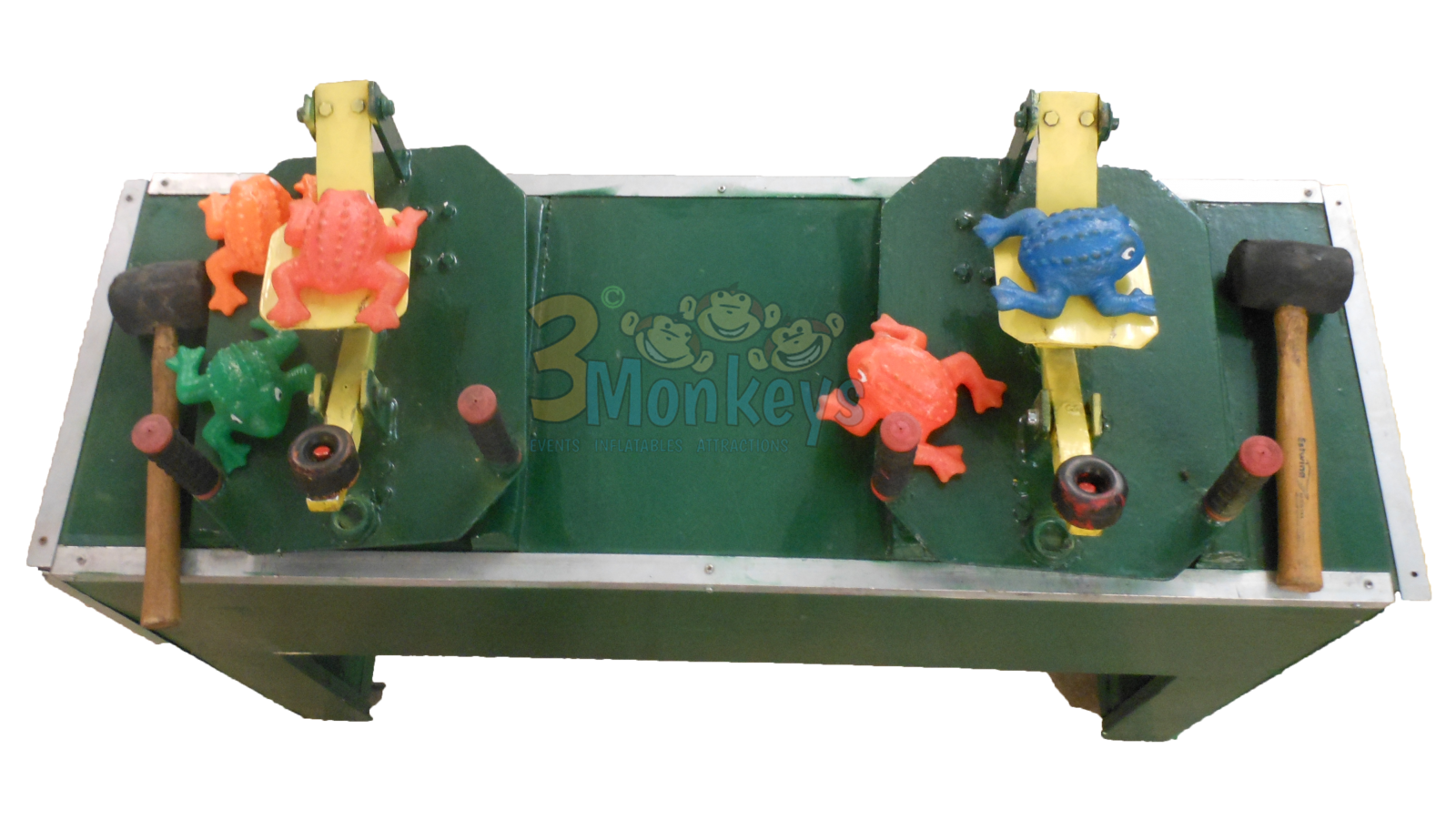 Flip a frog game comes with a 2 launching pad stands and a square table filled with lilly pads to catch frogs in. On the launching pads you will receive at least 12 frogs and 2 rubber mallets. The object is to launch the frogs and land them into the lilly pads. This can be a team effort or a individual game as you see who can get the most frogs into the lilly pads. This game is very entertaining and interactive and really gets the little ones excited when they are able to land a frog. You may hear lots of giggles as the participants try to lauch and land them in the lilly pads. Do you have good aim and the right amount of finesse to launch the frogs in the air to hit the lilly pad targets? This is a great game for carnivals, maydays, fairs, festivals, church events, bar mitvahs, bah mitvahs, birthday parties, and any other special event where games and carnival games are needed.
3 Monkeys Flip a Frog Carnival Game Rental in York, PA
3 Monkeys Inflatables has this awesome carnival game known as Flip a Frog. This game comes with 2 launching pad stands and a square table that has lily pads placed on top of it, that are designed to catch the frogs. The launching pads come with a minimum of twelve frogs and two rubber mallets. The object of Flip a Frog is to use the mallet to take a whack at the launch pad which sends the frog sailing in the air across the way to the table with the lily pads, where they will hopefully land in a lily pad. You can award points for each frog the participant is able to land in a lily pad. This game can be played by individuals or as a team. Participants can work together to see how many frogs they can get in the lily pads or they can play against one another to see who can get the most frogs to land in the lily pads. This is a great game for both players and spectators as you will hear the giggles and laughter as those frogs go flying through the air towards the table. Flip a Frog will test your strength and accuracy.
What other fun carnival games do you have?
If you are planning a carnival, May Day, fair, festival, church event, bar mitzvah, birthday party, or a corporate event and are looking for entertaining and interactive games you have come to the right spot. 3 Monkeys offers a large variety of games to choose from that can be fun for guests of all ages. We have frame games, bin games, inflatable game, tabletop games, and giant games. If you are looking to have a larger event be sure to check out our inflatable rental options like bounce houses, obstacle courses, combo bouncers, slides, and extreme interactives. If you are looking to go even bigger, make sure you take a peek at our Bumper Cars, Rock Wall, Grand Slammer Meltdown, and even our VR Coaster. We have other items that make us a one stop shop for your event planning needs. We have grills, tents, tables, chairs, concessions, and more!
Do you deliver to my area?
Our primary delivery location is to Central Pa and Northern Md. However, this does not mean we do not come to your area. If you go through the checkout process and your city is not on our drop down menu, please call the office so that we can calculate your travel fee for you and add your city to our system. Please also note, that depending upon your distance from our shop location there may be a required order minimum in addition to the travel fee. Some of the cities you will frequently spot our trucks are Red Lion, Dallastown, York, Spring Grove, Manchester, Delta, Airville, Lancaster, Mechanicsburg, Hummelstown, Hershey, Chambersburg, Manheim, Lititz, Bel Air, Baltimore, Hunt Valley, and Westminster just to name a few! Book online or call one of our reservation specialists today at 717.650.7657