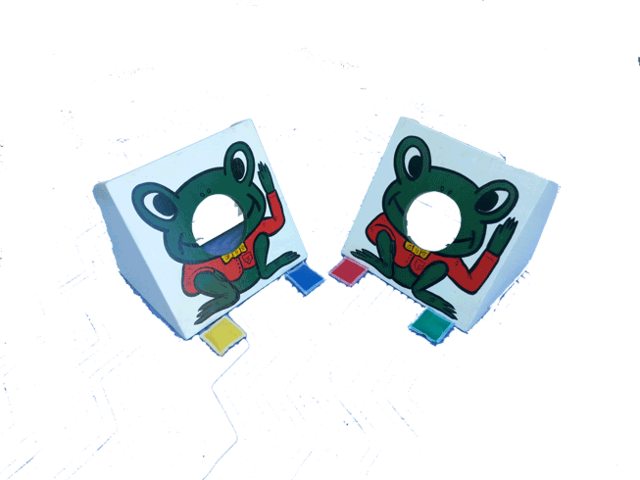 Description
Froggy Toss Game Rental York Pennsylvania Area
3 Monkeys Inflatables is your Froggy Toss Game Rental Specialist in Harrisburg, Lancaster, Hanover, Carlisle, Reading, Baltimore, Hershey and Spring Grove Area.
Our Froggy Toss Carnival Game rental is a simple yet fun Frog themed, bean bag toss game that challenges the players to accurately toss their bean bags into the mouths of the frogs. This game has the versatility to be played as single player, one versus one, or teams of two versus two. If using as a single player game the participant gently tosses the bean bags into the frog's mouth to see how many they can get! If playing against one another, place the wooden frog boards facing one another at least 10 feet apart. Participants then choose a frog to stand by and will take turns throwing the bean bags at the opposite board while aiming for the hole which is the frog's mouth. Keep score, 1 point per bean bag, and the first person to reach the agreed upon number, is the winner! The other great thing about this carnival game for rent is that it can be played either on the ground or you can raise it up by putting it on tables. It is however suggested and best used as a lawn game.
Simple and Funn Froggy Toss Carnival Game Rental
3 Monkeys Inflatables is always looking for fun, easy activities that are both simple and fun to help create those amazing memories. The froggy toss game rental is definitely one of those games that is simple enough for just about any age to participate in and a fun novelty carnival game that will make it a perfect fit whether you use it for a backyard party or you have it at a mayday, festival or fair. We also have a wide variety of frame games or bin games to choose from for your party fun. Both frame and bin games are uncomplicated to set up and provide additional fun for your guests. If you have extra space or want more for your guests to do our games are perfect for this!
Easy Setup of our Carnival Games for Rent
The froggy toss game rental provides an effortless setup. Begin by simply laying out the distance you want the frogs to be in and place the bean bags at each end to setup. Play is equally just as easy as you encourage players to see who can get the bean bags into the frogs mouths the quickest. If you want you can also encourage single play and setup both of these near each other and just see who can get the beanbag in the mouth and they are a winner. Another great thing about this carnival game rental is that it can be used indoors or outdoors and does not require a huge amount of space so it can be made to fit in whatever space you have to work with. Looking for something for adults to do while the youngsters play Froggy Toss? Check out our Giant Corn Hole rental for adults because don't forget, they like to have fun too!
How to Book the Froggy Toss Carnival Game
Booking your party rentals with 3 Monkeys is easy. You can either book online with our real-time calendar or you can get assistance from our office staff who is waiting to help you. You can reach our office staff by calling 717-650-7657 or by emailing us at info@3monkeysinflatables.com.