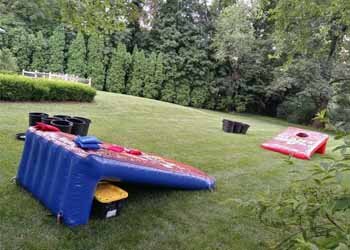 Description
Giant Corn Hole Game Rental York, PA
Corn Hole Rentals to Lancaster, York, Harrisburg, & Other Central PA Cities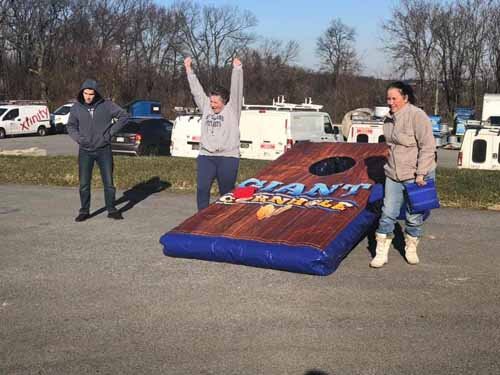 Giant Corn Hole Game Rental York, PA is similar to regular Lawn Corn Hole but because of it's Giant Size and paired with it being a closed air inflatable base it changes from all competitive like a regular corn hole to adding some fun and luck to it as well. These bags can bounce and jump right off of the closed air unit adding that element of surprise to your game. The size of these corn holes are so massive that guests are sure to arrive and be attracted to it immediately. 3 Monkeys Inflatables & Party Rentals has really stepped up the fun with this giant version of corn hole.
About the Giant Corn Hole Game Rental
Giant Cornhole or Giant Bean Bag Toss game Measures 5 feet wide x 8 feet Long with a hole size of 15 inches. This comes with extra large bags to make this game really challenging. Everyone these days loves a good game of Corn Hole so grab a partner, find another team to play, and choose your side next to a Giant Corn Hole board! Partner number one is going to stand at one board while partner number two stands at the other. One team will throw the red bags and the other team will throw the blue bags. The object of this game is to sink your bags into the giant hole but landing your bags on the board will still earn you points. If you toss and miss, bummer…no points for you. And remember, if you knock your opponents' bag(s) off the board, they lose their point(s)! Recommended space required: 8'x 30' Dimensions: 9'5"x5'5" x3'6" 57 lbs.
What type of event should Giant Corn Hole be a part of?
Almost every backyard picnic should have Giant Corn Hole. If you and your guests like playing regular Corn Hole, you are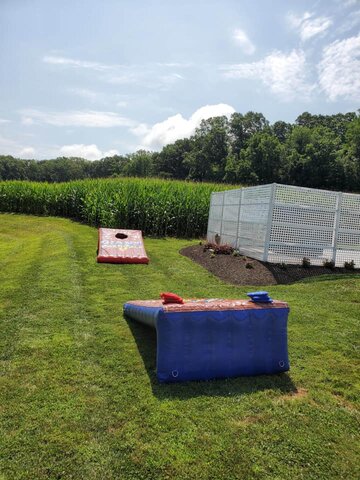 going to love this oversized game even more! This game provides fun, family friendly competition for all. Giant Corn Hole is also a great addition for any birthday party, college event, community events, wedding receptions, festivals, Fall Fests, church function, corporate events, and backyard parties! The Giant size game rentals are always a fun rental to add because it adds another depth to your event rental with added items that allow for less active participants who may not want to play inside a Bounce House Rental, Water Slide Rental, Obstacle Course Rental, or the other hundreds of Inflatable Rentals we offer but want a way to participate and play with other guests. The best part of corn hole is it really allows for less skill if you want to just have a fun and silly game or you can have a very skilled competitive game - whatever you decide both ways offer for a fun and exciting game rental and addition to your backyard party, community event, team building, corporate event, graduation, or any other type of fun social gathering.
What if I want to rent Giant Corn Hole?
If you would like to rent Giant Corn Hole for your next event, visit the top of this page and click the 'Add to Cart' button. This will take you to our checkout screen where it will prompt you to fill in your personal information such as your name, phone number, and address. If you prefer to speak with one of our event specialists please call our office at, 717.650.7657, and we can help secure this rental for you. Don't forget about the many other Giant Games, Carnival Games, Concessions, Tent, Table, Chair, Generator, and Inflatable Rentals we have to offer. Regardless of what you call them Jumpy Houses, Jumpies, Inflatables, Bouncy Houses, Castles, Inflatable things and many other terms used you can rent them at 3 Monkeys Inflatables as your #1 Central PA and Northern Maryland Event & Party Rental leader. 3 Monkeys Inflatables is your one stop Party & Event Rental specialist providing not only awesome equipment but one of a kind service and expertise that only the area rental leader can provide! We deliver to popular areas such as York, Lancaster, Harrisburg, Hershey, Reading, Gettysburg, Owings Mills, Baltimore, Towson and many more.