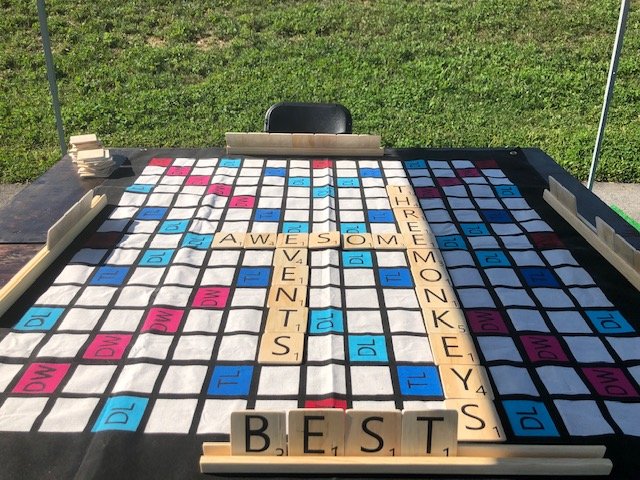 Description
GIANT SCRABBLE GAME RENTAL York, PA
3 Monkeys Inflatable

Rentals delivering to York, Harrisburg, Lancaster, Carlisle, Baltimore, Reading, Camp Hill, Wyomissing, Towson, Owings Mills, and more Pennsylvania & Maryland Cities
Mid-Altantic's Best Game Rentals
Are you a scrabble or words with friends game lover? We have the ultimate life-size Giant Scrabble Game for you. It's absolutely amazing with extra-large tiles and tile holders for each player, and a Giant playing board where you and your friends can compete against each other to see who can score the most points and be the champion of the Giant Scrabble Game. Can you just imagine inviting those friends over for a game of scrabble and having this setup outdoors either on the grass or on 2 - 6 foot tables the reaction you will get when they arrive? The excitement of playing this oversized game will definitely get the competitive spirit going for sure!
Giant Scrabble is Perfect for all types of Party Rentals
Giant Scrabble Rental is also perfect for a church gathering, family gathering, school events, corporate events, and of course College events. What better way to get to know people than over a game of scrabble. This game takes outdoor lawn games to the next level. The pieces are made of wood and the canvas game board is of incredible quality.
Add the 'wow' to your party with our party rental options!
Next time you are looking to add wow and excitement and that just the ordinary get together think about how 3 Monkeys Inflatables can deliver not only Inflatables, Games, Rock Walls, Mechanical Bulls, Escape Rooms, and more but they also deliver on the promise to be innovative, unique, and bring the newest and greatest new items from the industry to you locally.

What included:
- 5 x 5 Hand Painted Canvas playing board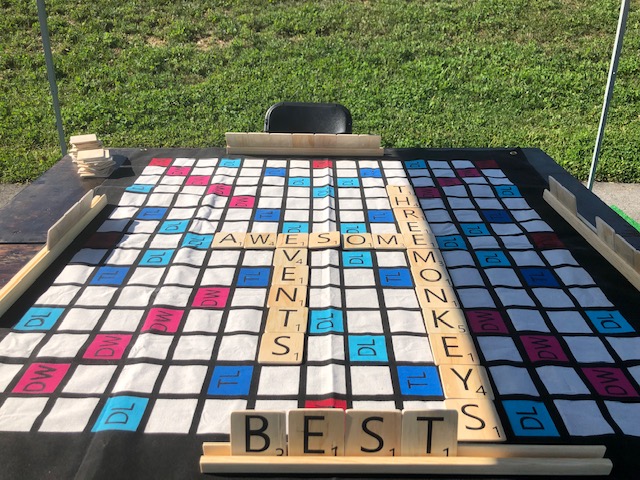 - 100 - 3 1/4 x 3 1/4 Wooden Letter Tiles
- 4- 24" Wooden Letter Holders
- Drawstring bag for letters
- Carrying bag with a strap for the entire game

This comes also with grommets in corners so we may stake it if it is on the grass.

We can set up this scrabble in two different ways:

- Grass setup staked for you to sit around on the lawn and play this Giant lawn game

- Setup on (2) 6-foot tables with 4 chairs around for all players to sit at. We do have table and chair rentals and you can book the (2) 6-foot tables by clicking HERE and the (4) black folding chairs by clicking HERE

Giant Scrabble Game Rules
(We also made some simple to follow game rules you can print off and use as well. (Click here)
Giant Scrabble/Words with Friends Canvas Lawn Game Directions of Play
Official Rules
Players exchange turns forming words horizontally or vertically on the board, trying to score as many points as possible for each word.
Put all the tiles in a pile mixed up.
Each player starts by taking 7 tiles each.
Tile Placement:
• The first word must be placed so that 1 of the tiles is on the star in the center of the board.
• Every word following that must be placed so that at least 1 tile is shared from another existing word on the board.
• Tiles can only be placed in the same line vertically or horizontally each turn.
• Tiles can be placed so that multiple new words are formed simultaneously using neighboring letters.
• Words cannot be placed if they create an illegal word using neighboring letters.
• All participants should agree on *if it's an actual word, if not all participants agree the word needs to be revised to make a 100% agreement of participants or you can appoint a judge to make the final decision.
Scoring:
• Double the value of any tiles that were played on a DL space and triple the value of any tiles that were played on a TL space on this turn. • Add the values of all letters in the word, even if some were played on a previous
turn.
• 35 points are awarded as a bonus whenever a player is able to use all 7 tiles on
their rack in a single turn!
End Game
• The game ends when one player plays every tile in his rack, and there are no tiles remaining to draw from. The game could also end if 3 successive turns have occurred with no scoring and as long as the score is not zero for all participants.
• After the last tile is played, the opposing player will lose points equal to the sum of the value of his remaining tiles. This amount is then awarded to the player who placed the last tile.
Click Here for a Scrabble Game Score Board you can print out.