The Ultimate Holiday Party Package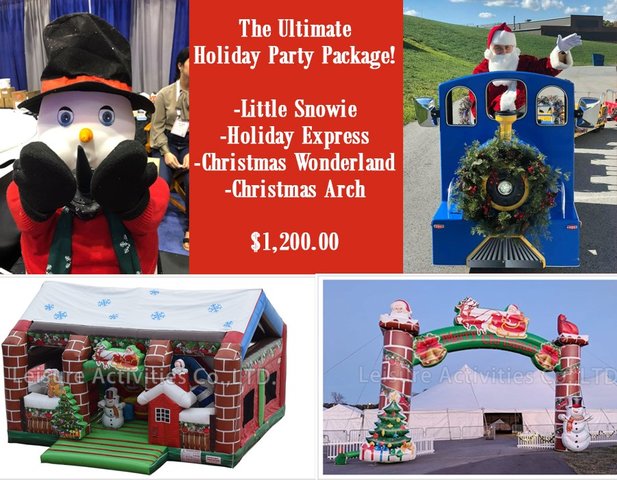 Description
The Ultimate Holiday Party Package Rental York, PA
Holiday Themed Event Package with Trackless Train, Santa, Inflatables & even a snow machine!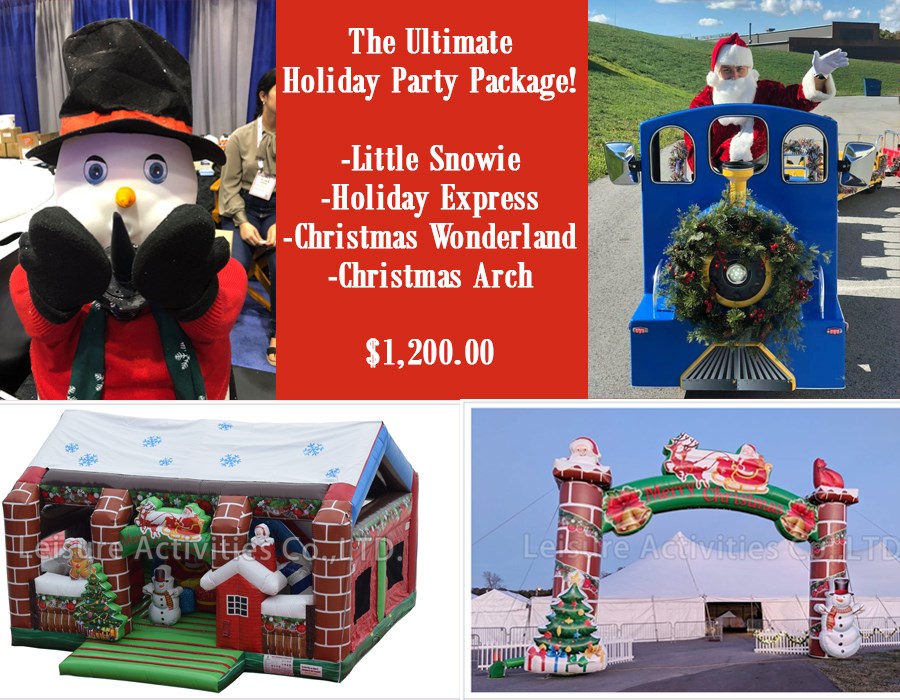 The Ultimate Holiday Party Package includes the following items:
One Little Snowie Snowman Snow Machine

The little snowie snowman snow machine is the perfect snow machine for a little party or event that you are throwing where you may want to have artificial-looking snow blowing. Not only does it look beautiful and set the tone for the holiday season, but it also gets kids majorly excited when they see snow!

Christmas Wonderland Toddler Inflatable

The Christmas Wonderland Toddler Inflatable is a cute toddler inflatable bouncy rental that has a pop-up holiday and Christmas-themed inflatable pop-up and crawls through inflatable holes to keep the kids exploring while bouncing and having fun!

Christmas Arch

The Inflatable Christmas Arch is something that really drives your event home with this grand entrance type of arch. It will welcome your guests to your holiday event in fashion!

Holiday Express Trackless Train Rental

The Holiday Express Trackless Train Rental is an amazing electric train rental that will allow kids and adults to hop aboard the 3 Monkeys Express Train around your event, or on a specific path. The express train has all the safety advantages with seat belts, and reminders from our conductor to keep all hands, legs, and items in the cart at all times. Special theme music can play on the train during the ride as well.

Santa as the Train Conductor

The Santa Train Conductor is really a treat to have Santa driving the train but also to just have him there talking to kids and wishing them a happy holiday! This is all based on a 2 hour Holiday Themed Event that is perfect for your next Holiday event for this winter or possibly a Christmas in July theme. We provide you with a grouping of popular attractions that will excite all of your guests and have them talking about next year's event and how will you top it!
Train Conductor
The trackless train will come with a dedicated SANTA Conductor to drive the train, along with your volunteers that will be able to oversee the Toddler Inflatable and one additional volunteer to fill up the little snow as needed throughout your 2 hr event. This event is so simple to run with just those 2 volunteers along with our staff that you will find it ends up being one of the easiest events you will be a part of.

About us
3 Monkeys Inflatables have been providing exciting and innovative Entertainment and events for over 12 years across PA & MD and looks forward to working with you so you can become one of our amazing customers. 3 Monkeys Inflatables is based in York County, PA but travels all across Central PA and Northern MD. We continue to strive to bring new items to our customers so they are able to have the most unique events possible with equipment that is exciting and fun to play on. Our goal has always been to make you as the coordinator/event host shines with all of the great equipment and our friend's set-up staff.
We look forward to your Holiday Event with 3 Monkeys and hope to see you for many more. If you like to host holiday parties and are ever planning a Halloween event, be sure to check out our Inflatable Haunted Maze for rent.