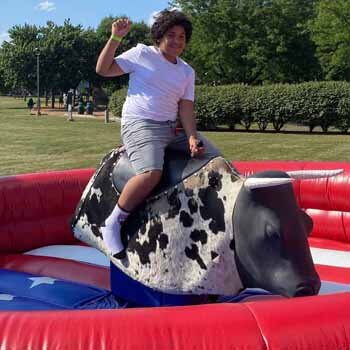 Actual Size: 20x20
Monitors: 1 Trained Attendant comes with the rental
Outlets: 2 outlets | 7.5 amps + 16 amps
Description
Mechanical Bull Rental
Top Choice for Mechanical Bull Rentals in the Central PA area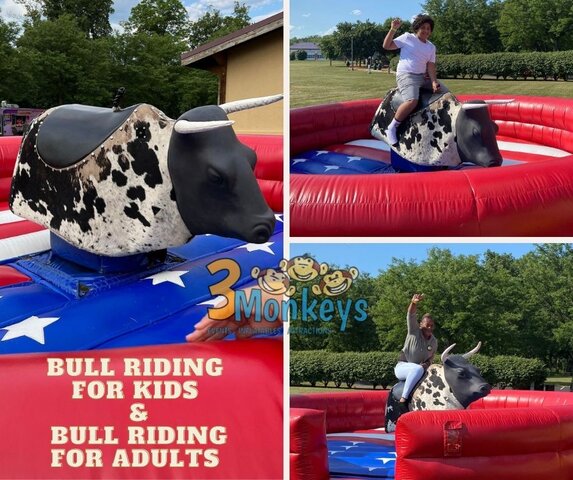 Safety, with Mechanical Bull rental, is very important to us as we imagine it's an important part of your decision on how we operate and maintain our Mechanical Bull Rentals. Some of the ways we maintain safety for our business are: Our mechanical bull rental is surrounded by a 16' x 16' air mattress making us a top choice for mechanical bull rentals in the Central PA area. This is inflated fully and per safety standards set up by our manufacturer and strictly followed and trained on with 3 Monkeys Inflatables, the bull will never be run without it in place. The constant airflow allows the mat to be inflated and offers maximum protection at all times. Give the 3 Monkeys Inflatables Mechanical Bull Rental near me a call for your next event if in Pennsylvania, Maryland, or the surrounding area. We offer the Best Mechanical Bull Rentals near me! Mechanical bull rentals refer to the service of renting out a mechanical bull, which is a machine designed to simulate the experience of riding a bucking bull. These rentals are typically used for entertainment at events such as parties, fairs, schools, churches, corporate, team building, and festivals.
We are often asked if the Mechanical Bull is legal in Pennsylvania or Maryland. Interestingly enough the Mechanical Bull Ride is something that needs to be registered in PA and MD with little different regulations for each state. For example, in the state of Pennsylvania, the mechanical bull needs to be registered, licensed based on its unique serial code, and purchased from a restricted vendor list of pre-approved manufacturers that have provided documentation on safety and design in addition to providing the state with a $1 Million+ insurance policy and the rules of following manufacture and state guidelines. Maryland is very similar to all of those restrictions however they also require the bull rental to be an arcade-style setup with coin operation installed onto the mechanical bull in order to operate in the state of MD. As a registered company, we also list your event with the state with the proper inspection affidavit attached. Keep in mind that 3 Monkeys Inflatables the Top Mechanical Bull Rental In Pennsylvania also only uses a Galaxy Mechanical Bull which has a proven track history of providing the safest bull rentals in the US. We also train all our employees based on state guidelines, manufacturing guidelines, and training they provide, as well as our own company's on-site training.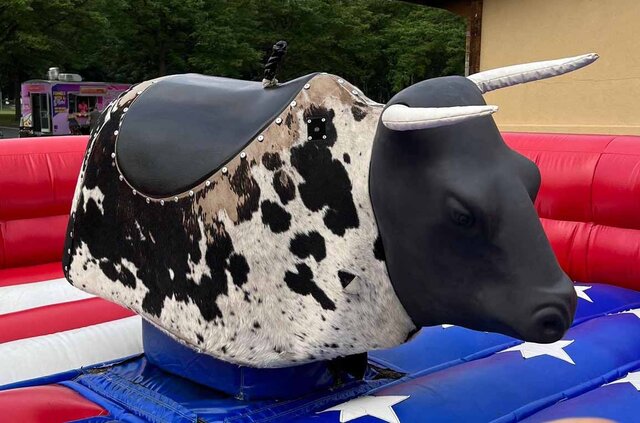 Mechanical Bull Features
One of the features we love about our Mechanical Bull Rental is the bull's head and horns are padded - they are very soft in fact they are made with a material called Sofolex™ consists of a soft foam material coated with a hard-wearing flexible poly skin. The Bull Safety precaution is when riding the bull you will hold onto a rope instead of a strap or metal post. What we have found along with the manufacturer is this allows for a safer dismount from the bull if you fall off. We also require a one-handed grip on the handle with one hand in the air for safety. There are various speeds at which the bull operates. These different speeds allow anyone, regardless of age or ability, to safely ride the bull.
Trained Operator
There is a qualified and trained operator running the mechanical bull rental at all times. The operator has been educated on the importance of bull rental safety. They are in control of the speed, the buck-and-spin, and the direction of the spin. Every ride is customized to ensure it is fun and safe no matter the age of the rider. We have given rides to smaller kids through the wiser and older guests. :)
This is for a 3-hour rental. You can add an additional hour at $125 per hour.
Mechanical Bull Delivery Area:
3 Monkeys delivers bounce house rentals, water slides, and party rentals to the Pennsylvania towns of York, Lancaster, Harrisburg, Hershey, Dallastown, Dover, Red Lion, New Salem, Spring Grove, West York, Dillsburg, Wrightsville, Shrewsbury, East York, Stewartstown, Glen Rock, New Freedom, Manchester, Lewisberry, Seven Valleys, York Haven, Mount Wolf, Goldsboro, East Prospect, Felton, and more. Mechanical Bull Rentals York near me, Maryland Mechanical Bull Rentals, Mechanical Bull Rentals Lancaster near me, Mechanical Bull Rentals Harrisburg near me, Cockeysville Mechanical Bull Rentals, Hunt Valley Mechanical Bull Rentals, Towson Mechanical Bull Rentals, Mechanicsburg Mechanical Bull Rentals, are very popular towns for mechanical bull rides near me.
Mechanical Bull Requirements:
Occupancy: 1
Dimensions: A 20' x 20' area for the inflatable mattress, blower, and control stand is needed.
Outlets:
2 separate circuits: 1 Circuit for Blower= 7.5amps 2nd circuit for Main Power 10-16amps depending on the weight of the player Mechanical Bull Generator Rentals
are available.
Attendants/Monitors: This item requires (1) the Attendant to stay with the unit while in use which is included in the rental price.
Setup: Please specify when you book this item if you will be setting up Indoors or Outdoors. If outdoors we would need to know specifically if it will be on grass or asphalt a minimum of 5 days prior to your booking. All anchors need to be secured using a spike or sandbag according to the manufacturer's guidelines. We prefer to use ground stakes when possible, if this is not an option we will need to anchor using sandbags.
Mechanical Bull Setup Location:
1. Your setup location needs to be free of rocks, pet waste, sharp objects, or any other hazards.
2. We cannot set up under any utility lines and must have a clearance of 5 feet in all directions away from any obstacles.
3. Please make sure you clear a spot for us to park & unload the equipment as close to the location as possible. If your parking is further than 75 feet please notify our office or put it in the notes portion of your booking.
Waivers: All participants are required to fill out a waiver per event. Participants under the age of 18 are required to have a parent's signature on file, or fill it out and give it to the operator.
Mechanical Bull Rental Includes:
Professional setup/tear down.

A qualified and trained operator

We are registered with the Department of Pennsylvania/Maryland State Amusement Industry

We have Liability Insurance

Pre and Post Event Cleaning, Sanitizing, and Inspection

Staking and/or Sandbagging

Extension Cords (we bring out the extensions needed to get electricity to the spot you are setting up in) Keep in mind we can only go 100 ft max.

Safety Training
Frequently Asked Questions and Answers About Renting a Mechanical Bull
Q: How old do you have to be to ride the mechanical bull?
A: The bull is able to be ridden by both children and adults. A good rule of thumb is that if they mount the bull on their own, they can ride.
Q: Does renting a mechanical bull come with an attendant?
A: When you rent a mechanical bull with 3 Monkeys Inflatables, we provide a specially trained operator to run the bull ride from start to finish. He or she is trained through the manufacturer training and our company-specific safety training. Because we have a trained attendant who is in control, this is a great kids mechanical bull or adult mechanical bull.
Q: Do you need to sign a waiver to ride the bull?
A: Our insurance company does not require all riders to sign a waiver. If you wish to have a waiver at your event for your own purposes, we can provide you with our mechanical bull waiver.
Q: Can the bull be set up indoors?
A: Absolutely! This bull ride rental can be set up indoors so go ahead and plan your mechanical bull party! We just need to ensure there is enough room to enter the space without harming our equipment.
What Our Customers Think About the Mechanical Bull for Rent
"They saved our butts when another company backed out and the two guys that came to set up and run the bull were amazing to work with!"
-Brooke