Modular Wet/Dry Combo
16.4Lx15.4Wx13H | 7.5amps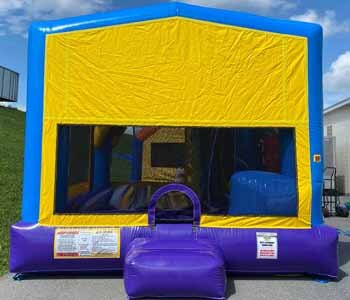 Description
Modular 4 in 1 Bounce House Combo Rental
3 Monkeys Party Rentals delivering to York, Harrisburg, Lancaster, Carlisle, Baltimore, Reading, Camp Hill, Wyomissing, Towson, Owings Mills, and more Pennsylvania & Maryland Cities
Modular 4 in 1 Wet/Dry Combo Bounce offers a plain bounce house (with teal, yellow and purple colors throughout in this Extra Large Modular 4 in 1 Combo! This combo bounce house features a complete 180 square foot bouncing area, a basketball hoop, a climber, and 9 9-foot slides at a 65-degree angle. 3 Monkeys Party & Event Rentals make this Modular Combo Bounce House Rental available to rent in York, Red Lion, Lancaster, Harrisburg, Baltimore, Owings Mills, Reading, and surrounding areas.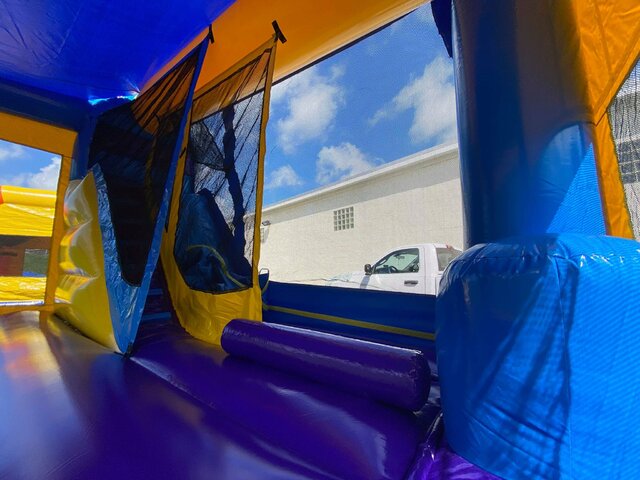 Perfect Modular Bounce House Combo Rental
Modular Combo is perfect for that little one that either wants to add one of our theme banners that you can choose from or just love the color themes in this super cute and fun combo bounce. The Modular Bounce House Combo has tons of room for up to 8 friends to play in. This combo is 20'4 feet long x 15'10 wide, and 14'6 is the height.
Modular Bounce House Combo Details
The Modular Bounce House Combo Rental features a large bounce house area to play in with a basketball net to jump and play basketball with your friends and then sturdy foam stairs to comfortably climb your way up to the slide and then slide down. You stay within the unit when you exit the slide you are back into the bounce house area. This slide can also be transformed from a dry slide to a water slide simply by our staff connecting your water hose (make sure you have enough hose that can reach the combo rental) and we will attach that to the Modular wet/dry combo to make it a water slide rental. This will allow you to use it all summer long in the heat with a cool refreshing twist. Of course, the Modular Bounce House Combo does not need the water features in the spring, fall & summer as it has so much packed in it to do from bouncing, and sliding, and basketball playing with your friends. It can accommodate up to 8 kids or 800 pounds, whichever you exceed first.
How to book the Modular Bounce House Combo
The Modular Combo can be added to your cart by clicking CHECK AVAILABILITY to start a cart and then choosing your date/times along with the Modular Combo. If you are in need of anything else you can continue shopping and choose items that pair well with our Modular Combo Rental like our Carnival Game Rentals which we have a big selection of carnival, bin, frame, inflatable, and unique games to choose from we even have Giant Games to choose from that can add a grand element to your next party or event! Don't forget to order your Table Rentals, Chair Rentals, Tent Rentals, Generator Rentals, and of course no matter is ever complete without ordering some great Concession Rentals! If you are looking for some other water inflatables to pair up with your Frozen Combo we have the biggest and best selection of Water Slide Rentals in Central PA & Northern Maryland with slides that will not only cool you down but get your party guests excited and engaged as well as having Dunk Tank Rentals, Misting Tents and Misting Fans to really help cool things down with our huge line of Water Inflatable Rentals. We also supply Hand Washing Stations, Instant Sanitizer Stations, and a Unique Clean Crew that you can add during your event for big Bouncer social distancing events where you might not know everyone on the guest list and need extra precautions.
Frequently Asked Questions
Q: Why should I trust 3 Monkeys Inflatables for my Modular Wet/Dry Combo Bounce Rental?
A: 3 Monkeys Inflatables has been in the party rental industry for over 13+ years with a proven track record. Our inventory and Modular 4 in 1 Bounce House Combo Rentals are regulated by the Department of Agriculture Ride Safety Division for safety and standards. 3 Monkeys Inflatables has 3 State Ride Inspectors on staff who are heavily involved in creating and executing our Ride Safety Training with our staff. We continually evaluate the safety standards by the state paired with our own safety standards, parent-tested, & add continuing education for our team. We were the first company in our area to offer Combo Bouncer Rentals, and continue to be the only company in the area that is a trusted manufacture and industry repair company.

Our Modular Wet/Dry Combo Bounce Inflatables and Party Rental Equipment are well maintained and are cleaned and sanitized. We are fully insured and meet/exceed all safety inspections daily. 3 Monkeys Inflatables is family-owned and operated. The business is part of our family and has begun business in 2007 when our kids were small. In 2020 both of our oldest sons became full-time in the business, with the youngest son joining the business part-time as well.

Our rentals are for 8 hours. We offer up to 8 hours for one low price We treat all of our customers like family and old friends. They are important to our business and we love making sure their events highlight the fun and easy rental with lots of love and laughter and the only focus is the actual celebration!
Q: Do I need to supply my own Water Hose for this modular wet/dry combo?
A: Yes. All of our water unit rentals come with a connector hose attached to the unit. However, that hose does need to attach to your water hose and be able to run the distance to where you are setting up to the hose bib. If you are worried that you don't have enough length of hose, please contact our office we do have rental hoses that you can use if you happen to not have a need for a long water hose. Our office number is 717-650-7657 or 410-581-5867.