Bounce House Rental Central PA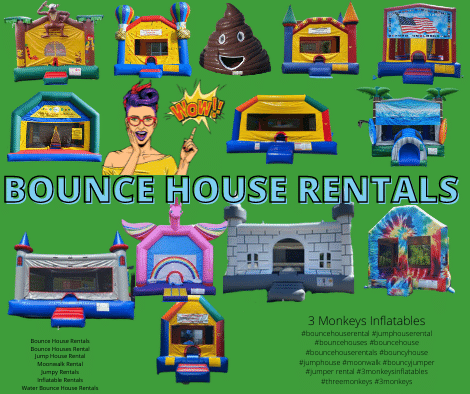 Rent Bounce House Rentals by 3 Monkeys Inflatables
Are you searching for a Bounce House Rental? You have arrived at the right place. Take a look around our Bounce House Rental page below and be amazed at the huge selection of all types of Bounce House rentals available. Central PA
Best Bounce House rentals
from 3 Monkeys Inflatables are the best bounce houses in Pennsylvania & Maryland. 3 Monkeys Inflatables offers the largest selection of inflatable jump houses to rent in many popular themes and generic styles. We have over 15 years of experience and provide customer service that is superior to other party rental companies.
Bounce House Rentals
is not only a party extra, they provide the opportunity for kids to get exercise while playing and having fun. With just 25% down on booking and balance due at the time of setup, our Best Bouncing House Rentals will be sure to get ALL ages jumping around in excitement. To rent a Bounce House rental near me with 3 Monkeys Inflatables, simply pick the Jump House you are interested in renting by adding to your cart (don't forget about the awesome
Selection of tents, tables, chairs,
concessions, and
Biggest game rentals in York
we have to add to your cart) and then simply add your booking details like your address, email, and phone number and complete the order with just a 25% deposit now with the remainder not being due until the day of your event. It's simple and easy to book a jump bouncer for rent! Family-owned since 2013. Call or email us with any questions.
Call 717-650-7657
| 410-581-5867 or email: info@3monkeysinflatables.com
Bounce House Rental Lancaster
and
Bounce House Rental Harrisburg
are some of our biggest delivery areas.
Bounce House Rentals
are so much fun to explore and play whether your looking for just some family fun with your kids, planning the
best birthday party ever
,
backyard party rentals
, block parties,
fall events
, or
corporate events
, 3 Monkeys Inflatables have you covered with the largest and best selection of bouncing house rentals all across Central PA and even into Northern Maryland! Bounce Houses for rent are popular with all ages from kid's bounce houses, to teen bounce houses and even our popular
adult bounce houses
.
We encourage you to look at the hundreds of Google reviews posted about our business, and how we make every effort to make your experience not only a great one but to exceed your expectations. When we receive reviews we are proud that our standards are continually met and excited to work with our customers again. Here is a great comment we received recently that was shared by one reviewer saying
"bounce house was just as described"
, in fact have heard that sometimes that is not true with other companies, that is not something you will experience with 3 Monkeys.
Rent a Bounce House Rental of Central PA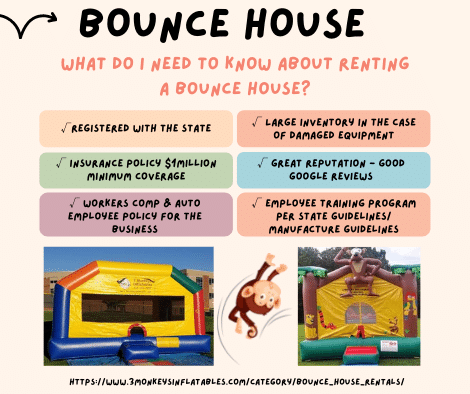 Bounce House Fun!
Bounce House
Rental
are a popular item to have if you are having a bounce house birthday party, planning for a bounce house party rental, church
bounce house rental
, school bounce house rentals, or corporate bounce house events. Bounce Houses add so much fun with a soft inflatable vinyl padding all across the top, sides, and bottom of where kids and adults are jumping that adds so much exercise, excitement, and fun to just about any type of bounce party! 3 Monkeys has been in business since 2007 and has 3 registered ride inspectors with the state, as well as a manufacturer repair center on the premises. We repair for big industry names like Galaxy, Galaxy Inflate-a-park, and even Big Bounce America as a few of the trusted manufacturers who have relied on 3 Monkeys Inflatables being a trustworthy business to work with. 3 Monkeys is also unique in the fact that we create lasting and lifelong relationships with our customers and they become friends who trust us to create the perfect events. We advise our customers on safety, as well as protect them with our insurance policy well over state minimums, workers comp, and auto policy that protects you in terms of our vehicles being on the property. We also have the most in-depth training program for our drivers and a great reputation with reviews. Check out our huge bounce house inventory...I think you will be surprised by how much we offer! A
bounce house
rental
not only is a great centerpiece party item, but it also creates hours of fun, that can keep the kids busy during the entire party. That is why a lot of home parties and events choose to have a bounce house rental present. Often we get questions on how to find a bounce house near us on our website. Simply enter the bounce house and your city name like York Bounce House, Lancaster Bounce House, or Harrisburg Bounce House and Google will provide a customized search just for you! Pay attention to reviews and also how long the company you are working with has been providing bouncy house rentals, and of course ensure they are fully licensed, and insured. It's easy to say yes to these questions, but demand proof when in doubt! Bounce Houses can be beneficial for what is gaining a ton of steam right now around parent groups called
Bounce House Therapy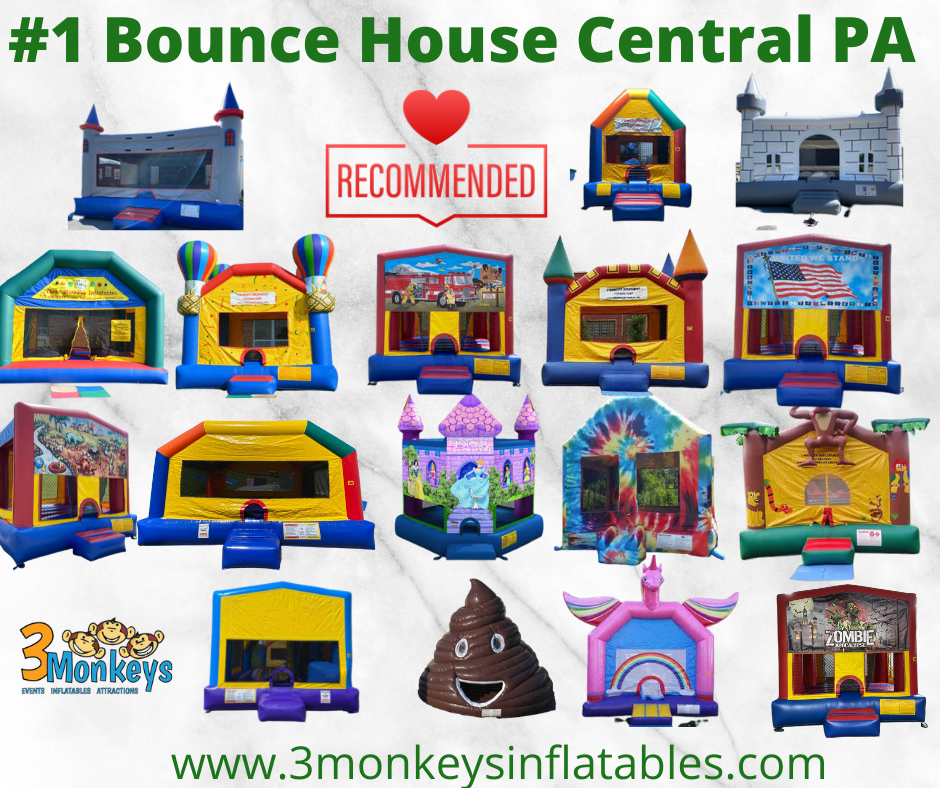 #1 Jump Rental in Central PA
Looking for a combo jumper rental Central PA, 3 Monkeys is the area leader for the best party and event rental jumps. Our inflatables are manufactured by trusted brands and have sufficient space for your guests to have fun. Our combo jumper rentals Central PA come in different shapes and sizes, so you would have the option to select the best fit or look for your event. Even if your event calls for a toddler jumper rental Central PA, we have you covered.
If you are hosting a themed party, no worries since our inventory consists of a variety of themed combo bouncers. Looking for something in Central PA, our tie dye jumper rental Central PA is sure to make an awesome centerpiece at your event. We will clean and anti-bac all inflatables before delivering them to your event. Our professional team members will set up and place your combo jumper rentals Central PA at your event, where you want it placed in no time. Our team members have gone through extensive training and are there to assist you with your event. We want you to have the best jumper rental Central PA at your event. If you are looking for a combo, obstacle course, slide, or some interactive inflatables in Central Pa then worry not as we have a huge selection of inflatables, games, and entrainment for just about any customer from small to adults customers we are your event superstar!
Check out our entire Jumper Bounce House Inventory here!
Articles about Bounce House Rentals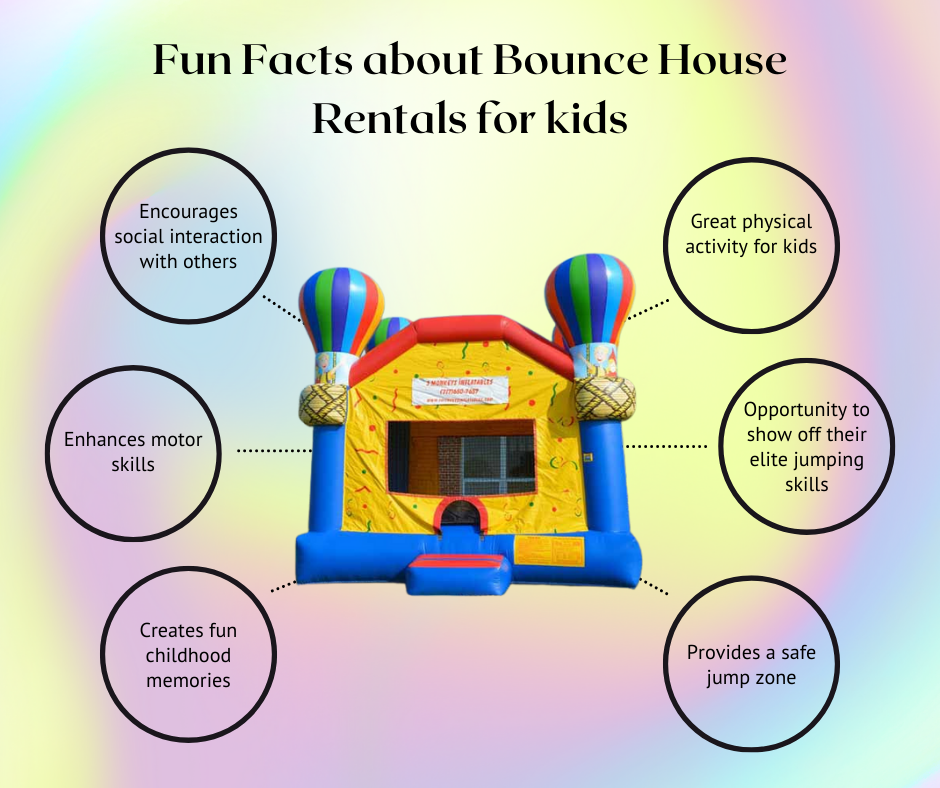 Bounce House Rentals for Kids
Kids Bounce House Rentals is perfect for all types of activities and fun event rentals. Check out our huge selection of all the great bouncy houses above!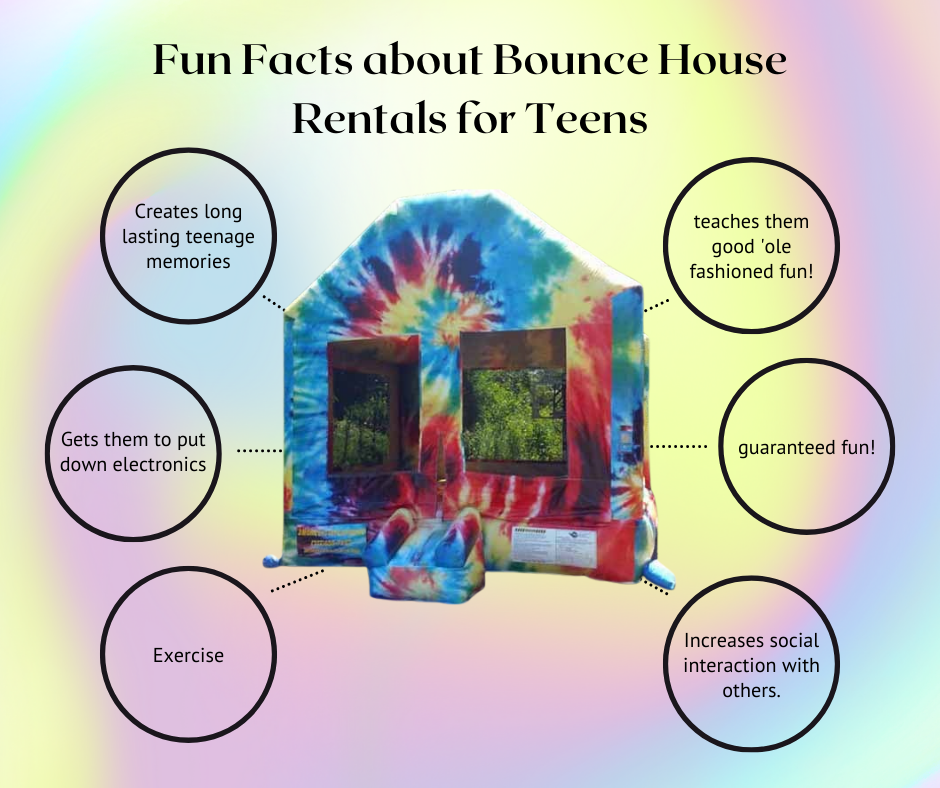 Bounce House Rentals for Teens
Teen Bounce Houses are so popular for Graduation Parties, Post Proms, Festivals, Fairs, Church Teen events, Camps, Community Groups, and much more!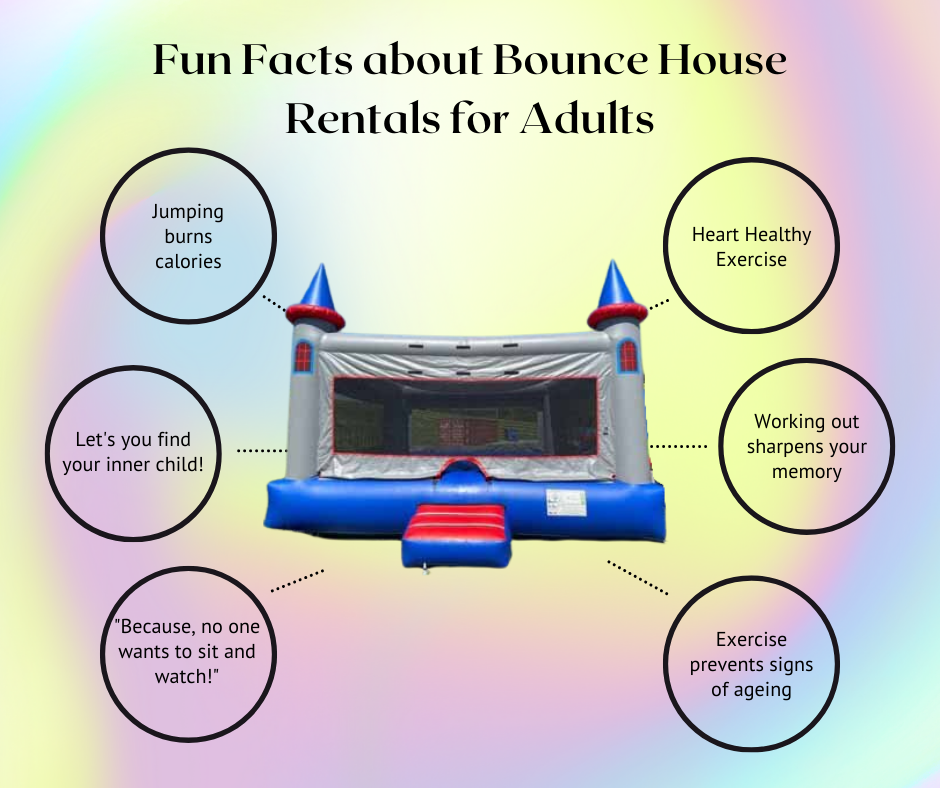 Bounce House Rentals for Adults
Adult Bounce House rentals are just as much fun as kid's parties, just perfectly planned for those 30th, 40th, and even 50th birthday parties! We plan bachelor and bachelorette parties, and plenty of other carnival & inflatable rides.
3 Monkeys Inflatables offers a huge selection of bouncing house rentals from themed, primary-colored, to unique and one-of-a-kind options! When you are ready to consider renting moon bounce items please remember we have a huge delivery area like York, Lancaster, Harrisburg, Reading, Baltimore, Hershey, and most of the PA and Northern Maryland area. We have the most unique options in the area such as Disney Princess, Superman, Batman, Pirate, Zombie, Jungle, Unicorn, and more unique ones like our Big Stinka, and Tie Dye. Bounce Houses are called by so many different names whether you call them Bounce House Rentals, Inflatable Trampoline, Jumping Castle, Bouncy Castle, Moon Bounces, moonwalks, Jumpers, Jump House, Inflatable Bounce Houses, bouncing house, bounce Rental, inflatable rentals, Inflatable bouncer rentals - whatever you want to call them even those jumpy things we have a huge selection for you to have fun with kids, teens or adults! Check out our service area for all the cities we deliver to. 3 Monkeys offers tons of Bounce Houses for rent, Jump Houses for rent, along with Inflatables for rent. Check them out here on this page and on other pages throughout our website. If you have questions or need helping to navigate we are just a phone call away @ 717-650-7657
Bounce Houses Rentals are a fun experience not only for birthday parties, and corporate events but for fun community events, field days, school events, and more. 3 Monkeys Inflatables is proud to offer bounce house rental to all of our Central Pa customers residential or commercial. We also offer bounce houses for rent in Northern Maryland areas as well. 3 Monkeys is the area leader for Rental for a bounce house, party rentals, and table and chair rental to Pennsylvania, Central PA, and Northern MD 3 Monkeys Inflatables is insured by
Oliver VanDyke Insurance
, as well as our units are inspected for every public event, and once a year by the Pennsylvania Department of Ride Safety, Department of Agriculture Division. We have 3 Pennsylvania State Certified Inspectors on staff at 3 Monkeys Inflatables. 3 Monkeys Inflatables is dedicated to providing our staff with in-depth training, not just on the operation of a bounce house, but why we set up the way we do to ensure your guests, family, friends, co-workers, and children with safety in mind. With this comes safety day literature, continued training, and policies made up from the state guidelines, manufacturer, and company guidelines. Check out our awesome customer reviews with hundreds of happy bounce house and party customers on
3 Monkeys Google Page
, or
3 Monkeys Facebook Page
The bounce house rentals start at $205 and up. Most of our 15x15 Large Bounce Houses cost in the $205-$249 range. Keep in mind this does not include sales tax and travel costs for some areas. The bouncing house is one of the most popular jump houses for party inflatables. Keep in mind the price does include up to 8 8-hour rental period, plus includes the full setup and pickup of the equipment. It's an easy rentable bounce house as you don't have to go pick up the heavy inflatables and then have to try to figure out the setup and staking...we provide all that you need to set up the unit so that you have the peace of mind of just having a fun time - just supply the electric within 100ft and we are good to go! We do allow
tipping of our bounce house
staff if you feel they did exceptional service that is a great compliment to receive.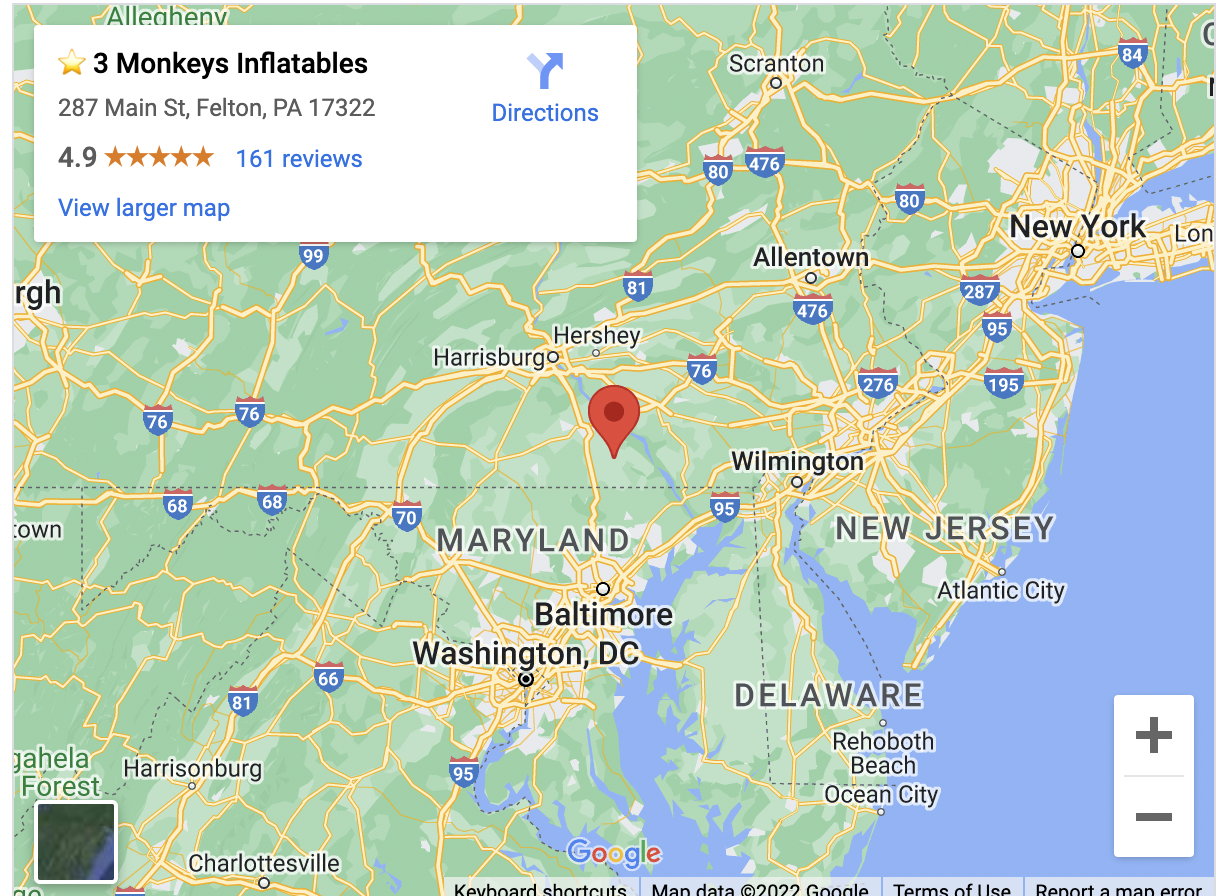 Service Area
3 Monkeys Inflatables proudly offers delivery to Central Pennsylvania and the Northern Maryland area. The communities we serve include
York Bounce House Rentals
Lancaster Bounce House Rentals
,
Harrisburg Bounce House Rentals
Hershey,
Dallastown Bounce House Rentals
, Dover, Red Lion, New Salem, Spring Grove, West York, Dillsburg, Wrightsville, Shrewsbury, East York, Stewartstown, Glen Rock, New Freedom, Manchester, Lewisberry, Seven Valleys, York Haven, Mount Wolf, Goldsboro, East Prospect, Felton,
Hunt Valley Bounce House Rentals
Lititz Bounce House Rentals
Enola Bounce House Rentals
, and many more surrounding areas. We offer a top-notch bounce house rental service while offering the best value to our customers. Here is a list of all the zip codes we deliver to. If you do not see your zip code in the list, please reach out to our friendly office team at 717-650-7657 to see if we can accommodate your rental location.
Bouncy Jumper House Rentals
Bouncing House rentals are commonly referred to by so many names like a house of rental, blowup bounce houses, bouncy house party rentals, renting inflatables near me, inflatable bounce house rental, cheap bounce house rentals, adult bounce house rental, adult party rentals, bounce house with water, and many others. Regardless of what you call them, they are big bouncing inflatables that offer endless fun to our customers for fun things like birthday parties, summer parties, and community and corporate events including school, college, and church events. The bouncy for rent and other fun entertainment items are known to bring not only fun to your event, but also attract lots of families, are a familiar signal to participants that the fun will be present at your party, and they also create a boredom buster activity!
Bounce House under $100
Looking for a "cheap" bounce house rental?
Bounce House Rentals are regulated in the state of Pennsylvania so finding a cheap bounce house under $100 is a pretty significant way to show that they are uninsured and not registered with the state. This should be a major red flag to you as they are operating against the PA amusement ride safety law which in turn can mean your attractions could be shut down by a ride inspector with the state of PA because the company is an illegal company. This also is a liability to the person renting because they likely have no adequate insurance and so therefore they are putting you at risk in the event of an injury or worse.