Bounce House Rentals
Bounce House Rentals
3 Monkeys Inflatable offers Bounce House Rentals delivering to York, Harrisburg, Lancaster, Baltimore, Reading, and more Pennsylvania & Maryland Cities
3 Monkeys Inflatables offers a huge selection of bounce house rentals from themed, primary-colored, to unique and one of a kind options! When your ready to consider renting moon bounce items please remember we have a huge delivery area like York, Lancaster, Harrisburg, Reading, Baltimore, Hershey, and most of the PA and Northern Maryland area. We have the most unique options in the area such as Disney Princess, Superman, Batman, Pirate, Zombie, Jungle, Unicorn, and more unique like our Big Stinka, and Tie Dye. Bounce Houses are called by so many different names whether you call them Bounce House Rentals, Inflatable Trampoline, Jumping Castle, Bouncy Castle, Moon Bounces, moonwalks, Jumpers, Inflatable Bounce Houses, bouncing house, bounce rental, inflatable rentals, Inflatable bouncer rentals - whatever you want to call them even those jumpy things we have a huge selection for you to have fun with kids, teens or adults! Check out our service area for all the cities we deliver to.
Bounce House Rental Information
To rent a Bounce House rental with 3 Monkeys Inflatables, simply pick the Bounce House you are interested in renting by adding to your cart (don't forget about the tents, tables, chairs, concessions, and game rentals we have to add to your cart) and then simply add your booking details like your address, email, and phone number and complete the order with just a 25% deposit now with the remainder not being due until the day of your event. It's simple and easy! We have been been in business since 2013 so your order helps our small family business continue to thrive. Thank you! Call or email us with any questions.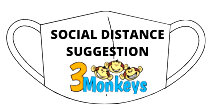 Social Distance Suggestion Tip: 3 Monkeys Inflatables offers cleaned & sanitized inflatables using Lysol Clean & Fresh as well as offering suggestions on how to have a safe event with safety suggestions on our social distance page, as well on individual category pages and item pages.
Bounce House Rentals offers you the ability to allow only 4 jumpers at a time giving ample room to keep a distance from fellow jumpers. We suggest that you encourage participants to wear face masks and anti-bac their hands both prior to entering and after jumping. This will help with the spread of any germs. Additionally, we suggest you post signage informing your guests of your requests. For more information please check out our Covid Suggestion Page.
Call 717-650-7657 | 410-581-5867 or email: info@3monkeysinflatables.com
Support your local business!
Please
subscribe
for fun & informative videos!
https://www.youtube.com/c/3MonkeysInflatables
3 Monkeys Inflatables is located in Red Lion, PA, and is your Inflatable and Party Rentals Specialist for many Pennsylvania and Maryland Cities. 3 Monkeys Inflatables offers a huge selection of themed and generic bounce houses to choose from. Bounce houses are timeless attractions for children. they offer fun while getting exercise so it keeps your children from sitting around at a party but being more active.
Top reasons to rent from 3 Monkeys Inflatables
1. All of our bounce houses are commercial bounce houses that are lead-free and safe for children to play in.
2. Our inflatables are cleaned and sanitized with every use and on-site with a spot clean for your safety.
3. All of our bounce houses are commercial bounce houses, adults are welcome to use the bounce house as well.
4. We do not use illegal banners on our bounce houses and ensure that any theme you rent from our company is licensed and legal for use.
We would love the opportunity to provide a bounce house rental for your next party or event. Please help support your local business.
How to make a Bounce House Reservation:
Browse the selection below and click on the item to add to your cart to make a reservation. You can select the date and times for your rental once you add the item to your card. We do ask for a 25% deposit at the time of booking and the remainder on or before the day of the rental in the form of cash or credit card, or business check. We send out reminder emails leading up to your party so you are prepared for our arrival and pickup times. If you have any questions or want us to book your party for you please contact us at: Call us at 717-650-7657 or 410-581-5867 or
to reserve your rental by date now!
Clean & Safe Fun!
We pride ourselves on our ability to provide clean equipment, great customer service, and great safety guidelines. 3 Monkeys are fully insured for a worry-free Entertainment Rental Experience!
Delivery Area
3 Monkeys deliver bounce house rentals and party rentals to the
Pennsylvania
towns of:
York
, Lancaster, Harrisburg, Hershey, Dallastown, Dover, Red Lion, New Salem, Spring Grove, West York, Dillsburg, Wrightsville, Shrewsbury, East York, Stewartstown, Glen Rock, New Freedom, Manchester, Lewisberry, Seven Valleys, York Haven, Mount Wolf, Goldsboro, East Prospect, Felton, and more.
Rentals
We have tons of bouncing house to choose from, from bounce house rentals that are smaller to large bounce houses to rent, and extra-large inflatable rentals. Bounce House rental is a very popular category as it's what most people think of when they think about the name they call it when they call which changes from person to person. They often are called Bounce House, Moonbounce Rentals, Jumpy House Rentals, Bouncy House Rentals, Bouncing House Rentals, Rent of bounce house, bounce house to rent, bounce around, inflatable rentals, rentals Lancaster pa, bounce house rental, bounce rental, bounces house, inflatables rental, bounces houses, rent bouncer, adult bounce house rentals, rental Lancaster, Lancaster rentals, Inflatable bounce house for rental, bouncy castle rentals, blow up the bounce house for rent, and so much more!
Copyright © . 3 Monkeys Inflatables LLC. All rights reserved. Red Lion PA (717) 650-7657